August 21, 2012
As I mentioned, last week was the start of another year of homeschooling- my first year of teaching both of my kidlets. So you are probably wondering how our first week went? Adjusting to a new schedule is probably the hardest part of homeschooling two boys. But I've found that waking up as early as possible is key to a smooth homeschool day.
Since starting homeschool this year, I've tried to get up at least an hour before the boys. This gives me time to make my morning latte', read some of my favorite blogs, catch-up on social media, and just….well….wake up! After that I get the boys up, dressed, and fed. We try to start school around 8 am. Two kidlets means that for right now it takes me twice as long to homeschool than it has in previous years when I was only teaching one. But on good days we are done around lunch time which isn't too bad.
Our first week didn't run smoothly by any means. We did come across a few bumps here or there as my kindergartener and second grader are both learning to adjust to having to share mommy during school time. Our worst day was definitely Thursday. It started when I woke up later than my intended time, which ment a rushed morning to start school. The whole day just went down hill from there. But I think having one "bad" day out of four isn't too bad. I'm still learning just as the kidlets are learning.
The next day, my husband had a surprise for the boys. We told them there was a surprise, something fun we were going to do, after school. They were so excited to find out what it was. After finishing all of our school work for the day it was time to reveal the secret. Hubby was taking us to a Baseball Game of one of our favorite teams. As some of you may remember baseball is my husband's favorite sport and with my oldest son playing in little league last year you can probably guess that he is definitely falling in Daddy's footsteps.
All afternoon excitement built as game time neared. We all dawned our favorite baseball gear and headed to the game for a little family fun. A very welcomed treat for the end of our first, kind of rough, week of homeschool.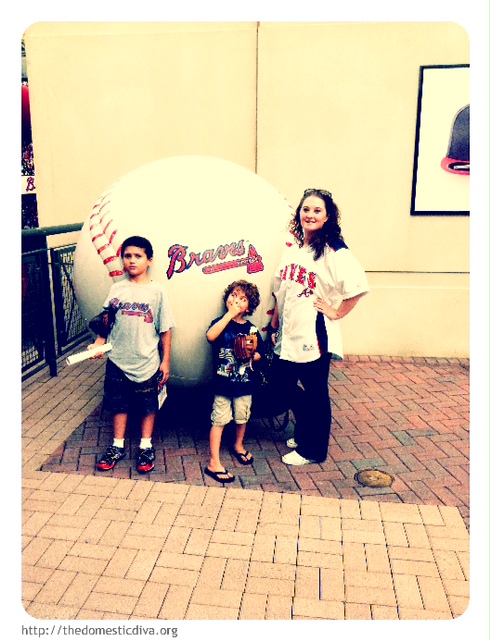 We had an absolute blast. We don't get to go to baseball games often, the last game we went to our youngest was just a baby. This game was different though, it was Friday which means at the end of the game they shoot off fireworks to music. When I asked the kidlets what their favorite part of the game was they of course said "the FIREWORKS!!!!". Our team did win if you were wondering.
Have you started homeschool? How was your first week of school?
How many years have you been homeschooling?