April 6, 2013
Disclosure: This post was sponsored by Walmart.
Spring is in the air. Have you been bitten by the spring cleaning bug yet? I think I have. I was recently given the opportunity to try out some Disney Paint that is now available at Walmart to give my kid's bedrooms a makeover which turned into a MUCH needed spring cleaning as well. So for the past week or so I've been doing just that. And I can't wait to share with you all the befores and afters. The difference is amazing (in my humble opinion).
Before I could start painting we of course had to gather our supplies, thankfully these were provided by Walmart, and prep each room. Which means we used lots of FrogTape to tape off the areas that we did not want to paint, drop cloths, and moved the furniture into other rooms if we could.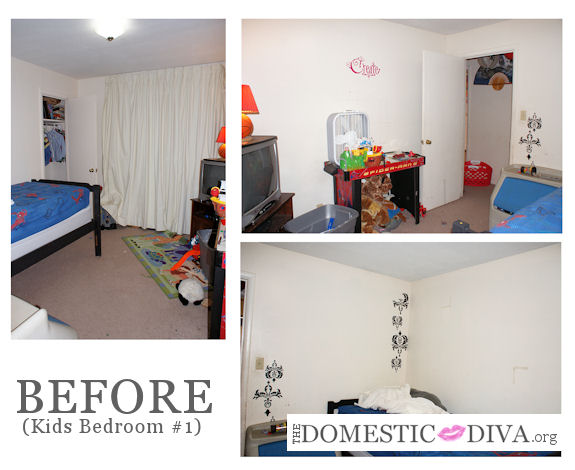 But before we talk more about the painting process, theme, etc. I'm sure you want to see a before photo. I know….it's bad. Besides being in desperate need of deep cleaning, the room just lacked character. Poor little kidlet just moved into this room which used to be my old home office. There were still old vinyl wall art from when I used the room up on the wall. While my youngest was thrilled to finally have his own room, those drab walls were definitely lacking something.
I asked my Mom for help in tackling this paint project for several reasons. (1.) She is an amazing artist. I knew she would have some great ideas and tips to help make my idea of a space themed room come to life. (2.) Painting with a "friend" is always a lot more fun and it just makes the time to complete the project seem to go by a lot more faster.
Onto the painting process. For my youngest son's room we chose to paint it in a space theme. The idea was for it to feel like he was inside of a spaceship orbiting the moon. We choose our base color for the walls and painted 2 coats of Disney Ultra Durable Paint, Color: Making Tracks which gave us a beautiful grey, spaceship-like feel to the room.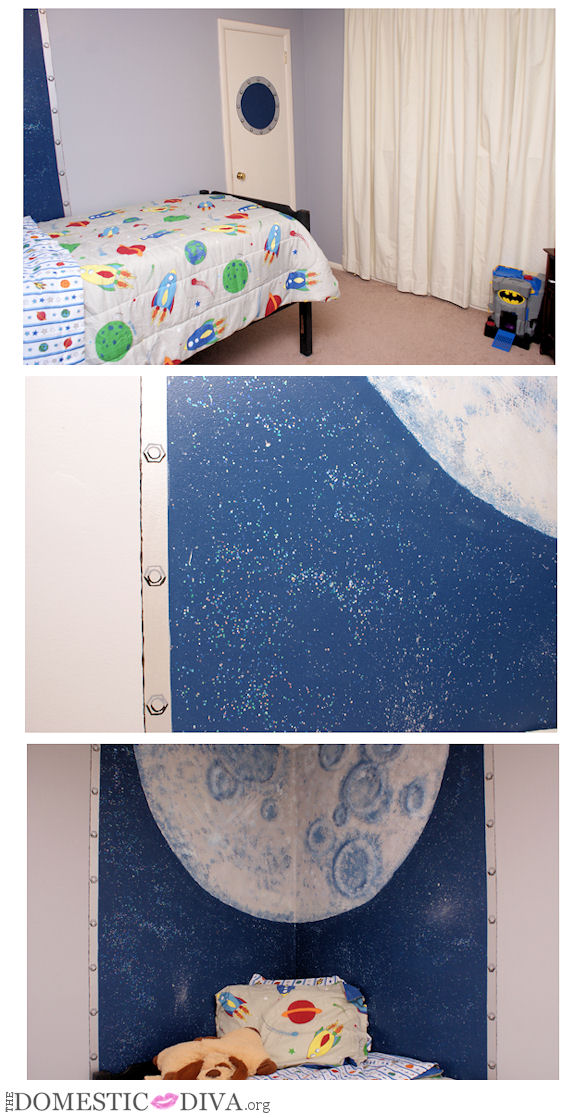 After painting the base color, it was onto the fun part of adding a bit of "magic" that would really bring this space theme to life. First we decided to paint faux windows, as if they were in a spaceship, onto the walls. To do this we first drew 2 circles onto one wall and another circle onto the closet door. We wanted to give the appearance of flying close to the moon so we made one huge "window" from ceiling to floor in the corner of the room where my son's bed is. The inside of the "windows" were first painted with Disney Ultra Durable Paint, Color: Sleepover Scare. After that was dried I then applied a coat of Disney Speck-Tacular which is a clear topcoat with large confetti like glitter pieces which twinkle and shine just like stars in the daylight. Then on top of that we splattered the windows with Disney Ready-Set-Glow to give that WOW factor at night.

My Mom added her artistic touch by mixing the Making Tracks and Sleepover Scare Disney Ultra Durable Paints together to create this amazing moon. We outlined around each window with Disney Magnificent Metallic Silver Paint and my Mom added the detail of the bolts that I thought completed the faux windows nicely.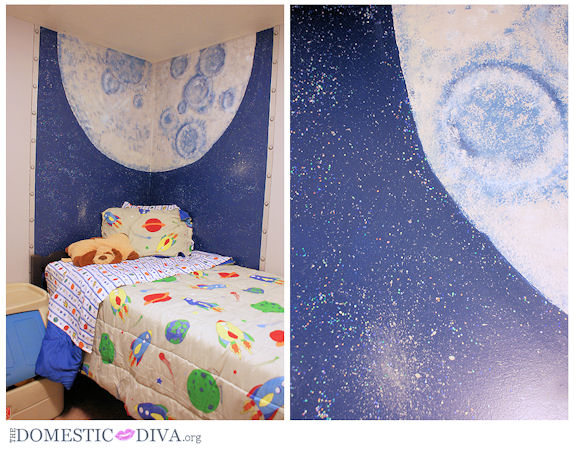 Not only is this room beautiful to look at during the day, but at night the real "magic" happens. Since we applied Disney Ready-Set-Glow splattered to look like stars in all the "windows", around the moon, and even stippling crescent shape on the moon itself, at night these areas glow when the lights are off.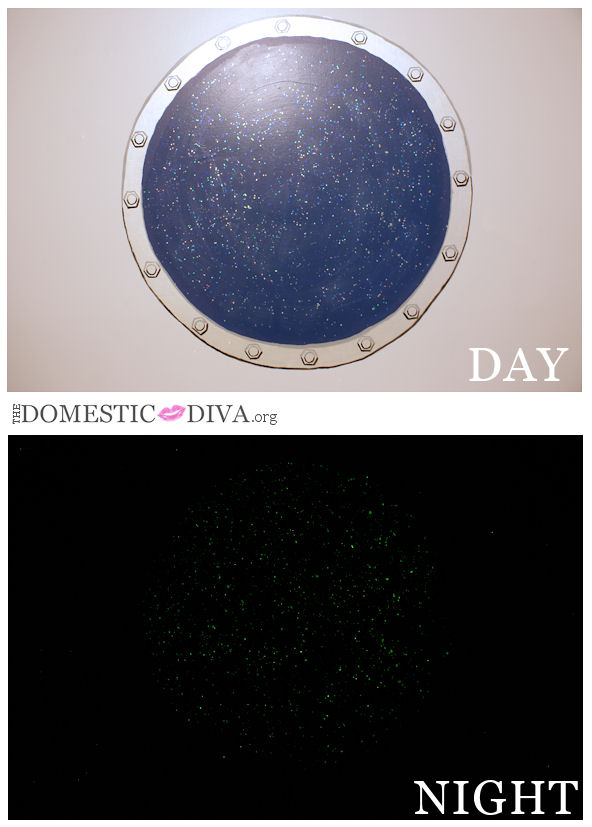 My son was so happy to have "real stars and a crescent moon" in his bedroom. Some nights for a little extra fun, he likes to go to bed with a flashlight so he can make the stars on his wall shine a little more brightly before falling fast asleep.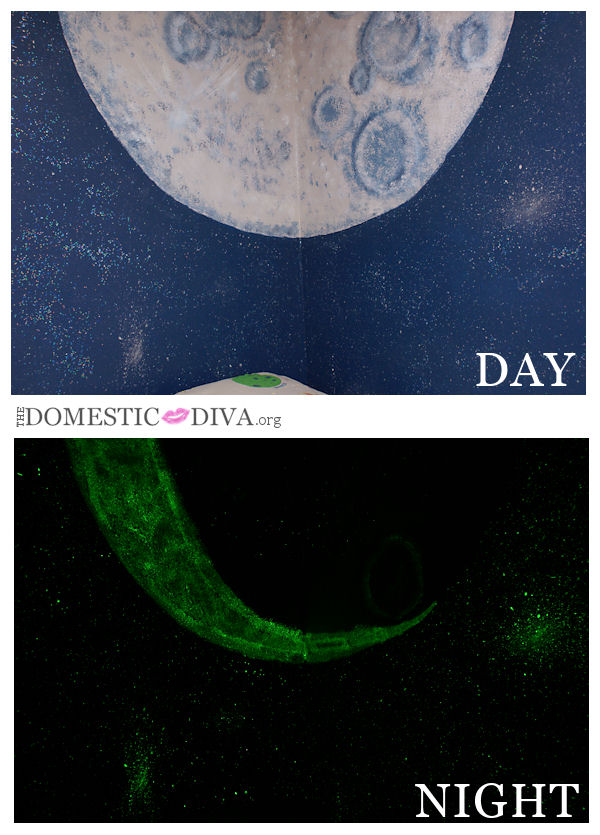 I discovered when trying to photograph the glow-in-the-dark magic that it is a bit hard to do. I don't think the photo above shows how awesome the glowing stars and crescent moon look in real life.
Moms out there will know that when you start decorating one kids room the other kidlets want something special done to their room as well. So with the extra paint we had leftover from our space themed kids bedroom we decided to do an all-star sports themed bedroom in my oldest son's room.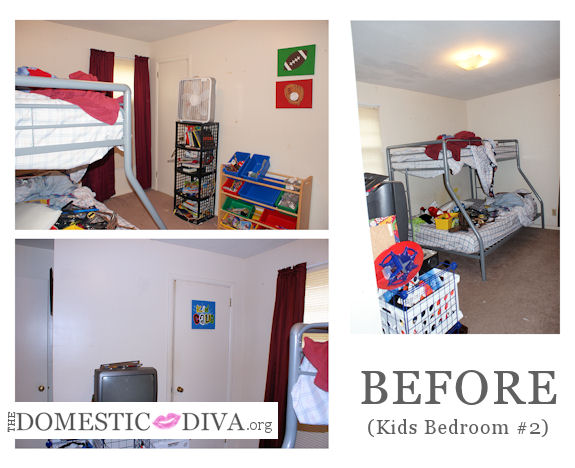 Like in my youngest sons room, my oldest son's room was just as drab and in need of sprucing up. And like in our spaced themed room, we used the Making Tracks Disney Ultra Durable Paint as our base color. We painted a banner, stripe, and one wall with the Sleepover Scare Disney Ultra Durable Paint for a pop of color.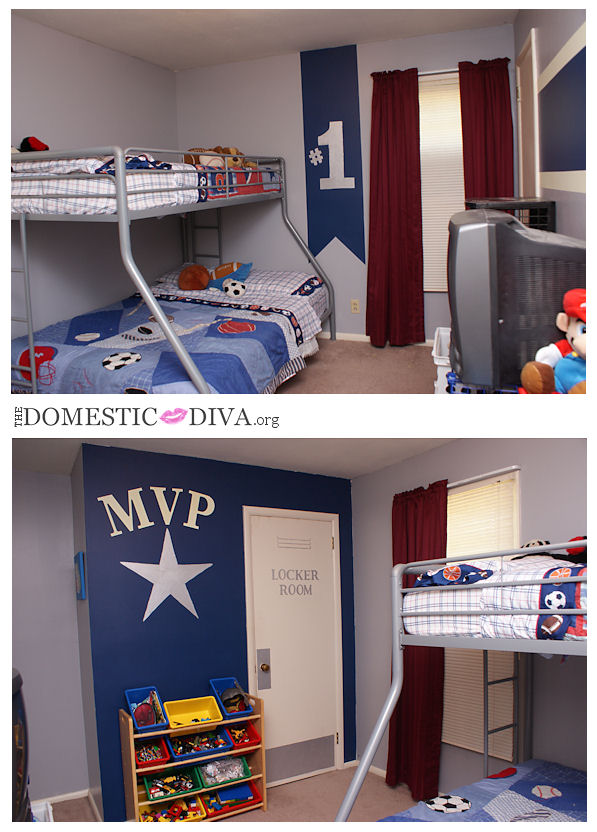 This room has a small bathroom in it, so we decided to paint the outside of the door to look like the entrance to a "locker room" that matched our sports theme. The locker room elements were first painted with one coat of Making Tracks Disney Ultra Durable Paint and then 2 coats of Disney Magnificent Metallic Silver was applied to give it that metallic like shine. The star and the #1 were both done in the metallic silver. The camera might not have captured it too well but the metallic silver is definitely shiny in person.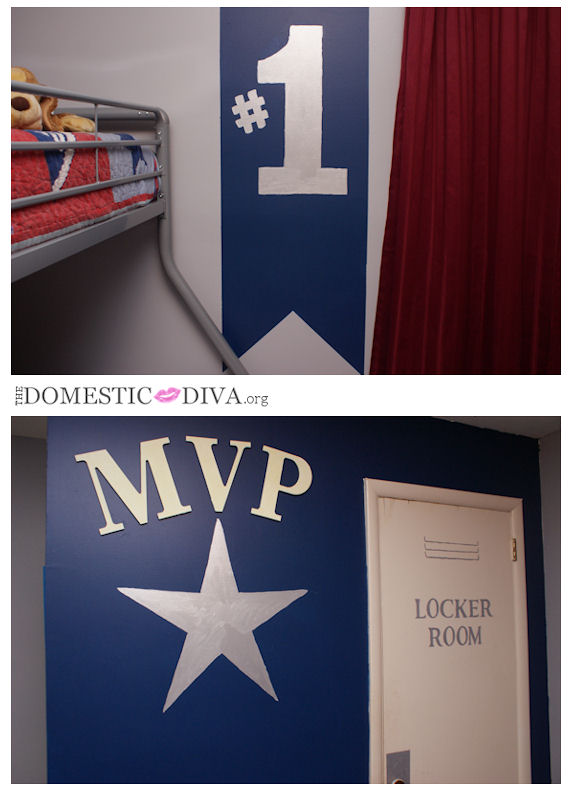 When my oldest son found out that his younger brother was getting glow-in-dark elements in his room, of course he wanted in on the glowing action too. My Mom loved the idea of these stripes on one of the walls so I suggested that we paint the lighter color stripes with Disney Ready-Set-Glow so that they would glow at night. We found when applying the Ready-Set-Glow to larger areas that it was best to use a stipple sponge for a more even application. When the lights went out we definitely got a "oh cool!" from the kids.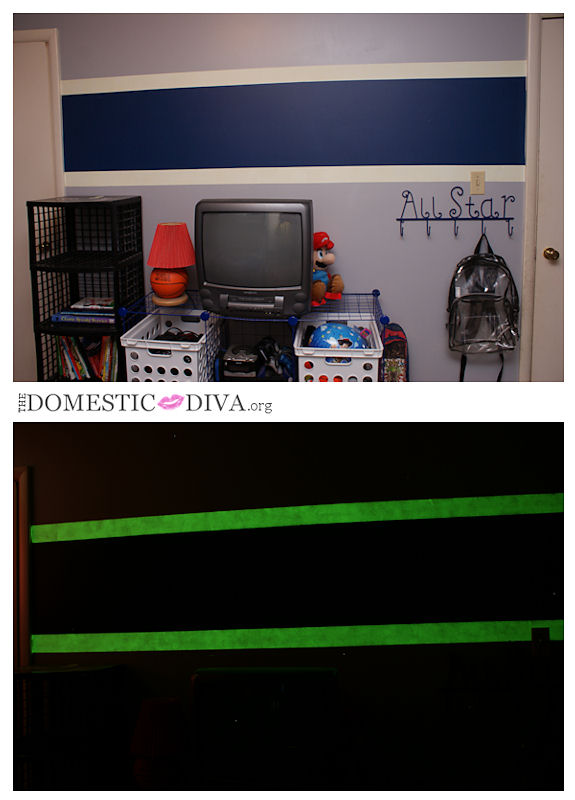 Even though we used the same paint colors for both of my son's rooms, each room shows each child's individual style through their chosen theme. I love how each room is painted with the same colors but they both came out looking dramatically different.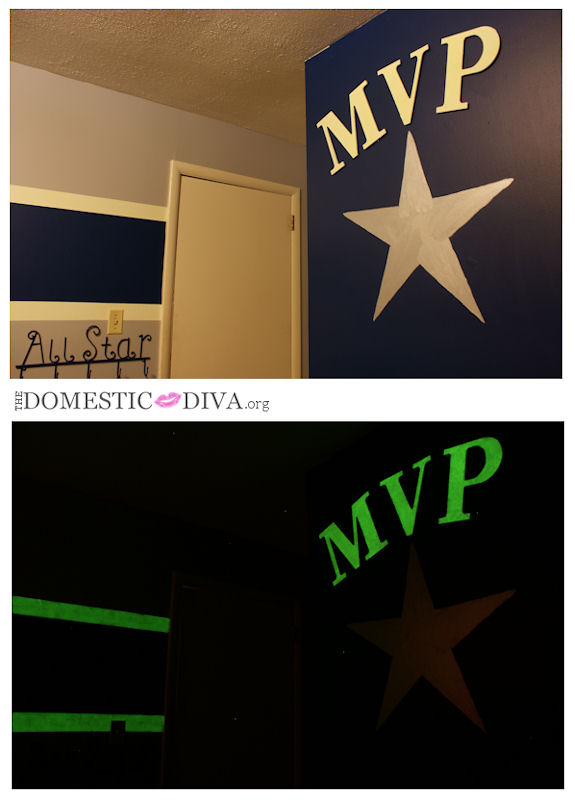 Some Painting Tips We Learned:
Only apply one coat of Disney Speck-Tacular topcoat. More than one coat and it looks a bit hazy. Also Disney Speck-Tacular provided the most sparkle when applied with a brush rather than a roller.
Disney Ready-Set-Glow looks great when splattered and looks like glowing stars from a distance. When painting a large area with Disney Ready-Set-Glow it looked the best when applying with a stipple brush and several thin coats.
The Disney Magnificent Metallic worked best when applied over top of the Making Tracks Disney Ultra Durable Paint.
Always apply a second coat of paint even if you don't think it needs it, chances are you may have missed some spots.
Yes, preparing a room to be painted is the hardest part. But it is also a very necessary step to getting started.
Which room is your favorite? All-Star Sports? Space?
Are you thinking of repainting a room in your home? Disney Paint is now available at Walmart in a variety of fun colors and specialty finishes. Walmart also carries everything you need to get the job done like painter's tape, drop cloth's, rollers, brushes, etc.