June 30, 2013
(sponsored post)
I recently took a trip out to Arkansas, as a part of the Walmart Moms, to learn all about summer entertaining and grilling with Walmart. While there I learned a bunch of different tips and tricks not only for grilling but also for entertaining as well.
The friendly folks at Better Homes and Gardens always have a ton of great ideas when it comes to entertaining. It is always a tremendous learning experience hearing them speak and share about how to use certain products that can be found at Walmart. One particular idea that stood out to me the most was the idea of a beach-themed tablescape (see photo above). In their demonstration they used a simple striped beach towel as the runner or table cloth. As a centerpiece they used a simple hurricane vase with a tall candle in the center. Around the candle, inside the hurricane, they used a mixture of sand and glitter with seashell accents. I loved this idea!
So when I got home I put my own "diva" spin on the look using items I already had around the house plus a few that I found at Walmart as well. I had a zebra printed towel that I found at Walmart last year that I wanted to use as my tablecloth. I wanted to create a small space on the deck that could be a romantic place for two. So I took two end tables that I had that were the same size and pushed them together between two bench seats and draped the zebra printed beach towel over top.
To recreate the centerpiece, I bought (with the giftcard provided) a large jar of white glitter at Walmart in the craft section and a small LED candle. I already had the small square vase, so all I did was add the candle in the center and sprinkled the glitter around it. I opted for an LED candle because I know my kidlets and they would have been trying to blow out the candle all night. The centerpiece is super simple to put together and can be customized to match whatever the theme for the night might be.
To finish off our tablescape, Better Homes and Gardens provided us with a a 16-piece dinnerware set in porcelain soft square ($39.92). The rounded square design was my favorite. I love plain white plates because they work for any occasion.
I thought the end look of our quaint table for two was cute. Whether you are BBQing with your family or having a romantic date night with your husband on the deck, adding the finishing touches to your summer entertaining is easy with these simple tips. Now you are probably wondering what did we eat?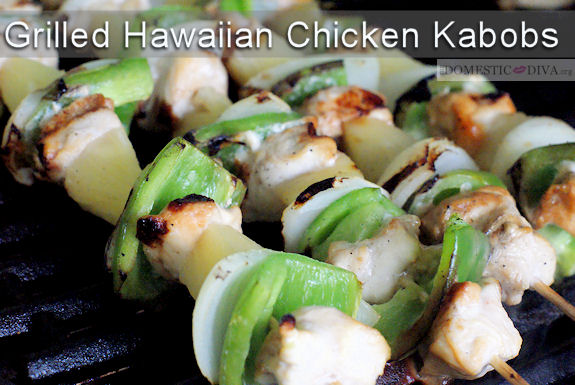 Grilled Hawaiian Chicken Kabobs

recipe provided by Char-Broil

Marinade
1/2 c. dark brown sugar
3 cloves garlic, minced or pressed in a garlic press
1 1/2 tsp. grated or minced fresh ginger
1 c. pineapple juice
2 tbsp. tamari (or soy sauce), plus more for drizzling

Kabobs
3 boneless-skinless chicken breasts, cubed
1 red bell pepper, cubed (seeds and stem discarded)
1 orange bell pepper, cubed (seeds and stem discarded)
2-3 cups Fresh Pineapple, cubed
1 Sweet Onion, cut into chunks

Instructions:
In a jar or bowl combine the marinade ingredients. Whisk until the sugar is dissolved. Store in the refrigerator until ready to use.

Skewer the chicken, pineapple, peppers, and onions alternately and place into a shallow pan or large resealable plastic bag. Pour marinade over top and toss to coat.

Marinate for at least 30 minutes, turning every so often.

Preheat your grill to medium high and cook for 12-15 minutes or until the chicken is cooked to 165°F and there is a good char on the vegetables.

Serve with rice of your choice. sprinkle with sliced green onions, and drizzle a little more tamari (or soy sauce) over top.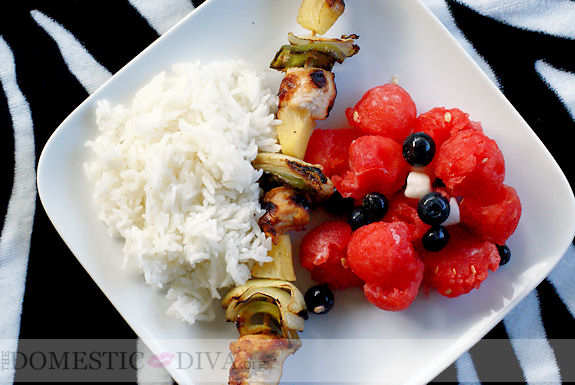 The people at Char-Broil made this Grilled Hawaiian Chicken Recipe for us for lunch at the Jackson House in Arkansas. It was absolutely delicious. I'm so happy they shared their recipe as I was craving it when I got back home. What I love about this recipe is that it is easily customizable. For our summer get together I opted to only do a few kabobs for the adults substituting with green bell peppers and canned pineapples. For the kidlets I left their chicken breasts whole and marinated them the same way since they didn't really care for the vegetables. I served our grilled hawaiian chicken/kabobs with a side of white rice since it was easy to throw into the rice cooker while I was busy grilling and a refreshing side of fruit salad from our Red, White, and Blue Watermelon Bowl. Thank you, Char-Broil, for sharing this amazing recipe, it is definitely a crowd-pleaser.
Grilling Tips from Grill Grrrl!
On my trip, I had the wonderful opportunity to meet and learn grilling tips from Robyn of Grill Grrrl. When I got home I was so inspired by the Grill Grrrl that I couldn't wait to try my hand at grilling. Below are a few tips from Robyn that I found really helpful:
Cast-iron skillet: If you want to use your grill as a stovetop and cook a side dish while also working on other recipes, a cast-iron pan is a great addition to your grilling repertoire.
Oil the grates: A well-oiled grill grate makes your food less likely to stick and eases cleanup. Fill a small bowl with canola oil, dip a folded paper towel in it and rub oil on the grates before starting your fire.
On a gas grill, create direct and indirect cooking zones by setting half the grill burners on medium to medium-high heat, and the other burners on the other half to off or on low.
For more helpful grilling tips, visit grillgrrl.com!!!
What have you grilled lately? Do you have any entertaining plans for the Fourth of July?
I want to send a special thank you to Walmart and all of the people behind the scenes for providing the opportunity to visit Arkansas and learn all of these wonderful summer entertaining and grilling tips.
Disclosure: As a participant in the Walmart Moms Program, I've received compensation for my time and efforts in creating this post as well as given samples and a giftcard to purchase the products needed to create this post. Walmart provided me with an all expenses paid trip to Arkansas to learn about summer entertaining and grilling. All thoughts and opinions are my own.