July 1, 2013
(sponsored post)
Yesterday, we talked about summer entertaining and grilling. In less than 3 days we will be gathering together with friends and family to celebrate the 4th of July. How do you like to celebrate the Fourth? Whether you are staying in or going out, here's a fun craft project that the whole family can do together.
My family and I like to wear red, white, and blue on Independence Day. Since I'm already rockin' a red, white, and blue manicure, I thought it would be a fun family project to create our own red, white, and blue tie-dye t-shirts that would be perfect to wear to a 4th of July BBQ. Walmart provided me with a giftcard, as a part of the Walmart Moms, to shop my local Walmart to gather our supplies.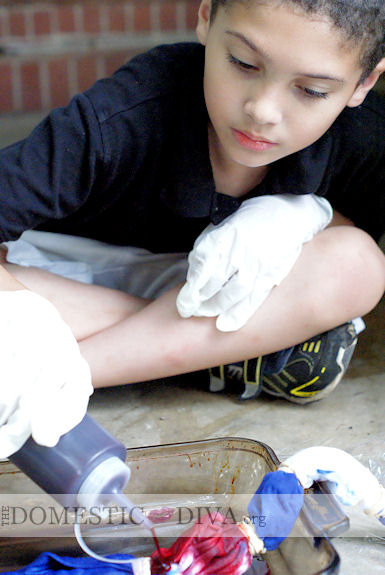 Since it is the Fourth of July, I of course wanted to do a red, white, and blue theme for our tie-dyed t-shirts so I picked up some liquid Rit Dye ($2.87) in Scarlet and Royal Blue (found on the laundry detergent aisle at Walmart). As well as some plain white shirts for me and the boys. Since I knew the kidlets would want to dye more than one shirt, I opted to pick up a couple 3-packs of Faded Glory t-shirts ($5.47) for them. I found a plain white, v-neck t-shirt for myself at $4.48. I already had some rubber bands and an old glass dish at the house but I couldn't forget to get two things I needed to complete our shirts: squirt bottles ($.97 found in the kitchen section of Walmart) and plastic wrap.
I was anxious to get started dying our t-shirts however with the random afternoon thunderstorms it can be a bit challenging to plan a good afternoon to complete our project. We did get the clear on one afternoon and the kidlets were excited to start making their shirts. Since dying anything can be messy we first placed some plastic wrap over the area we would be creating our shirts and used protective rubber gloves. I prepped everything ahead of time so the kidlets could get straight to the fun part. I followed the tutorial on Rit Dye's website on how to dye an accordion shirt. Some of you may remember when I followed one of their tutorials for dying a pair of rockstar inspired leggings. Since I'm fairly new to dying fabric, it helps to have a starting point. So I prepped all the shirts by folding them accordion style and tying 5 rubber bands on each one. With our dye mixed into kid-friendly squeeze bottles it was time to start the dying process. This particular tutorial used the microwave to set the dye into the fabric which was completely new to me. Since I was dying more than one shirt, I opted to do all of the rinsing outside so that I could get them into the wash after I was done. My youngest loved dying the shirts the most I think. So he helped me finish up the last few that we just tied randomly with rubber bands and he added the dye in no particular order all over the shirt to make a splattered tie-dye effect.
What I loved about tie-dying shirts as a family was that we were creating something together and that no two tie-dyed shirts came out the same despite using the same colors.
How are you celebrating the Fourth of July?
Disclosure: As a participant in the Walmart Moms Program, I've received compensation for my time and efforts in creating this post as well as given a giftcard to purchase the products needed to create this post. All thoughts and opinions are my own.