September 3, 2013
I have been running on fumes. Exhausted, with no end in sight. The beginning of a new school year always feels the most rushed for me. Adjusting to the change in schedule, learning all of the new and expected tasks/goals for the year, and desperately trying to figure everything out. It can all be very overwhelming. Thankfully though with each passing day it does become a bit easier and I know everything will eventually be completed on time. I just have to learn to breathe.
Since the beginning of the school year I feel as if we've been stuck in the basement, which is where we do our daily homeschool studies. So today I decided to try something different. We needed a change of scenery. So I had the boys complete all of their online work first thing in the morning while I gathered all of their offline work and packed them into their backpacks. Once the last online lesson was completed we piled into the car and took our lessons elsewhere. On the way, I picked up a surprise lunch and we headed to our favorite park. We found a nice shady spot with a somewhat comfortable bench. Enjoyed a relaxing picnic lunch. And completed the rest of our lessons outside, in the fresh air, in one of our favorite places.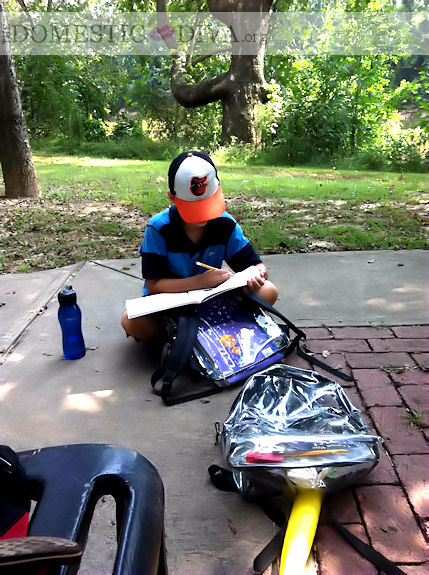 It was amazing to see the boys do so well on their schoolwork today. Excited to complete their lessons. My oldest concentrating and working independently without being distracted by little brother. The fresh, open air was a nice change of scenery from the stuffy basement office we are all too familiar with.
For those of you that homeschool, how do you keep from feeling overwhelmed? What kinds of activities do you do to make everyday homeschooling a bit more exciting?