December 3, 2013
(sponsored post)
We have a tradition that we like to do every year. The tradition is on Christmas Eve the entire family gets to open one gift. The gift however is something everyone can use that night and look fabulous in the next morning: new pajamas. As a part of the Walmart Moms, I was asked to visit my local store with the giftcard provided and find some affordable apparel gifts for my family. I immediately thought of pajamas!
Pajamas are such a simple gift to give. Walmart carries a wide variety of pajamas for the whole family to choose from. Holiday themed pajamas are a great option especially when taking photos on Christmas morning but I like to go the non-traditional route when choosing pajamas for my family. The problem I've found with holiday themed pajamas is that after the holidays we don't get much use out of them. So instead I like to find pajamas that shows each person's individual personality that they can get lots of wear out of even after the holidays are over.
Take for example the adult pajamas I was able to find in my local Walmart. My husband was given the opportunity to try out a pair of these Hanes flannel pajama sets (currently on Rollback for $14.00) before and absolutely could not stop talking about them. I just knew that he would love another pair in a different color. He loves the thin, comfortable material of the pants and that they are actually long enough for his tall height. For me, I went the diva route….of course. When I found this snow leopard printed sleep shirt from White Stag, I immediately fell in love. The price was definitely budget friendly at only $7.96 (similar fleece henley $7.96). I paired the sleep shirt with my slim & tone leggings that I wear often around the house.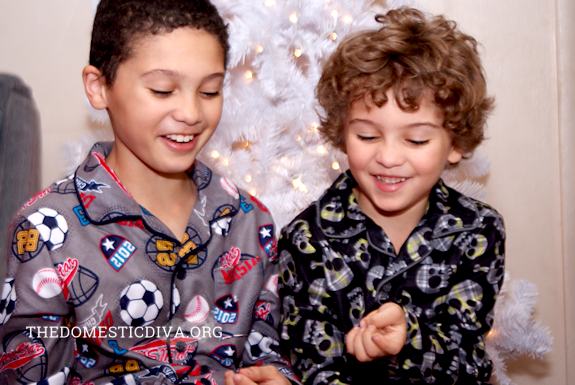 For the boys, I found these adorable 2-piece Pajama sets from Faded Glory for just $9.97 each. I, of course, found themes to match each boys personality. My oldest is rockin' a pair with a sports theme and my little one looks like a rockstar in his plaid skullies. When we tried on our pajamas from Walmart my oldest commented that he really liked how soft his pajama set felt.
Pajamas are just one tradition we like to gift during the holidays. Walmart also carries a great selection of slippers, slipper socks, and robes for the entire family as well.
What kind of Christmas Eve Traditions do you and your family have?
Disclosure: As a participant in the Walmart Moms Program, I've received compensation for my time and efforts in creating this post as well as given a giftcard to purchase the products mentioned in this post. All thoughts and opinions are my own. My experience may differ from your own.