Disclosure: This post was sponsored by Walmart. I was compensated for my time and efforts in creating this post. All thoughts and opinions are my own.
Jump to Recipe
This post was last updated: September 2019
Watching the Big Game? Get the recipe for mini garlic cheeseburgers to feed your entire crowd. These cheeseburgers will be the talk of the party. You won't believe how easy they are to make!
The best part of football season has got to be the food. Whether you love dips and appetizers or chicken wings and sliders, game day food is simply the best. When it comes to feeding a crowd, I like recipes that are not only easy but also delicious. Today I'm sharing with you how to make one of my favorite game day recipes. My family loves to eat mini cheeseburgers especially while watching a big game. Below you'll find an easy way to make mini garlic cheeseburgers for a crowd.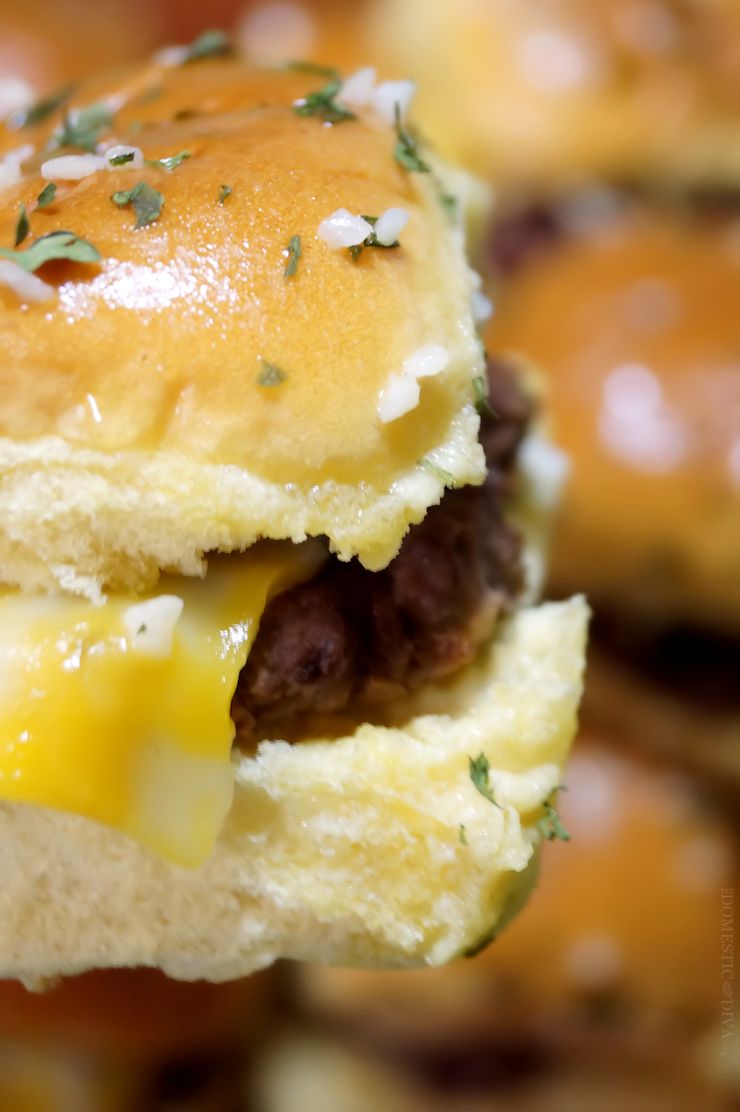 ---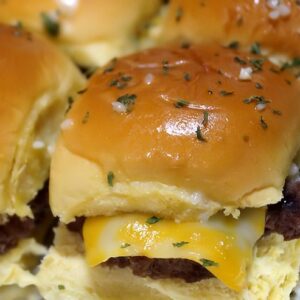 Mini Garlic Cheeseburger Recipe
Ingredients
Ingredients:
2

lbs

of ground beef

1

tbsp

dried minced onions

1

tsp

of minced fresh garlic

2

tbsp

of Worcestershire sauce

12

dinner rolls

or potato rolls

6

slices

of Colby and Monterrey Jack Cheese
Topping:
4

tbsp

of unsalted butter

melted

1

tsp

of minced fresh garlic
Instructions
In a large bowl, combine ground beef, minced garlic, dried minced onions, and Worcestershire sauce.

Divide meat into 12 even portions.

Roll each portion into a ball.

Between two pieces of plastic wrap, flatten each portion with a rolling pin until about 1/4 to 1/2 inch thick. You want the burgers just slightly larger than your dinner rolls as they will shrink to the perfect "bun size" as they cook.

In a preheated nonstick pan, cook burgers on medium-high heat. Once one side begins to brown, flip the burger with a spatula and continue cooking until cooked all the way through. Cooking times will vary. Burgers will be done meat is no longer pink in the center. OR….These mini burgers can also be cooked on an indoor grill like this Hamilton Beach Indoor Grill. Simply place each burger patties onto the bottom plate of the preheated (450°F) indoor grill, press the top plate down, and cook until burgers are done.

Once burgers are cooked, slice dinner rolls in half and place one burger patty inside.

Take one cheese slice and fold in half, place half a slice of cheese on each burger before place the dinner roll top back onto the burger.

Combine melted butter and teaspoon of garlic. After placing all of the assembled mini burgers onto a baking sheet, brush the tops of the dinner rolls with the garlic butter mixture. Cover baking tray with aluminum foil and bake in the preheated 350°F oven for 5 minutes until rolls are soft and cheese is melted.

Serve burgers with your favorite toppings (examples: mustard, ketchup, lettuce, tomatoes, etc.)
Video

---
Take your Mini Garlic Cheeseburgers on-the-go!
Did you make the mini garlic cheeseburger recipe above? Are you going to a party for the big game? To make this recipe travel friendly, after the burgers come out of the oven place the assembled burgers back into the bag that the dinner rolls came in. The dinner roll bag will help to keep the burgers warm and the buns soft while they journey to their next destination.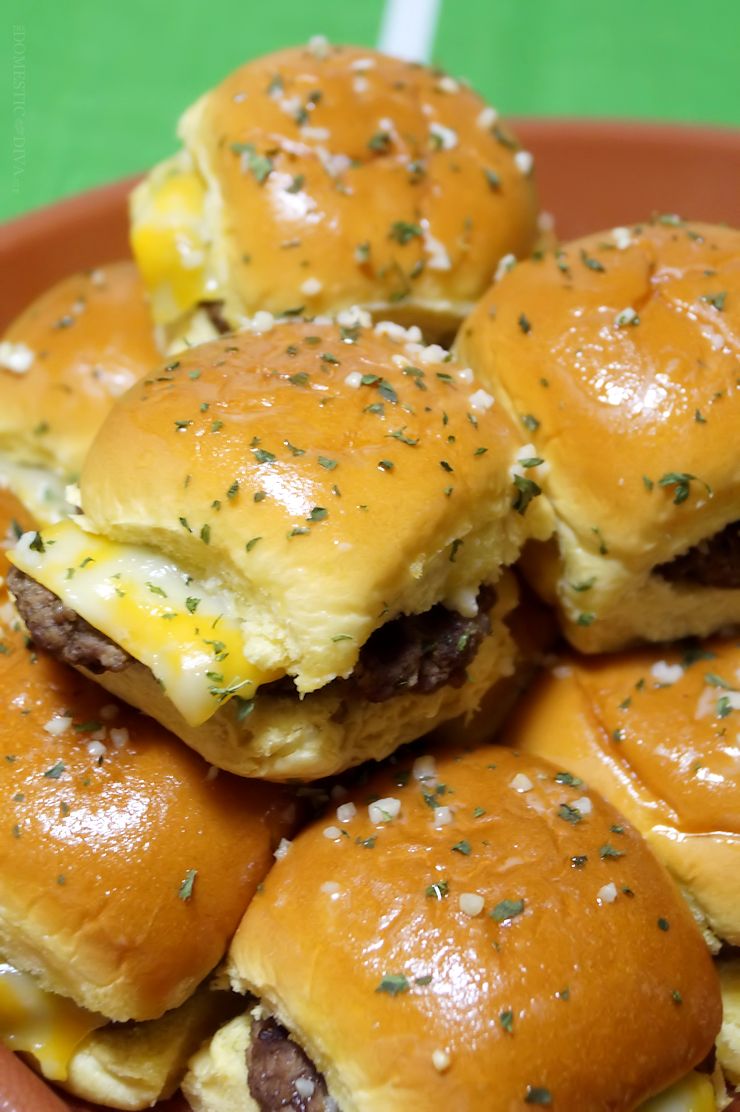 This Mini Garlic Cheeseburger Recipe + Homemade French Fries = a Perfect Game Day Meal
If you liked this recipe? You are going to LOVE this one! Learn how I make Homemade French Fries and the secret to The Best (most addicting) Seasoning Salt. These french fries go perfectly with the mini garlic cheeseburgers recipe and are so easy to make!
Do you have a recipe that you like to serve your family and friends during Game Time?