May 14, 2017
This page contains affiliate links to Amazon. By purchasing something after clicking one of these links on this blog or my Amazon Page, I may receive a small commission (at no additional cost to you). More information can be found on this Disclosure Policy.
Disclosure: No compensation was received for this post. Tickets for promotional consideration was provided by US Family Guide on behalf of The Georgia Renaissance Festival.
The Georgia Renaissance Festival is one of my favorite places to visit during the Spring in Georgia. The Georgia RenFest starts as soon as the weather begins to warm up down here in the south and lasts until the beginning of June. This festival is full of plenty to see and do.
The main attraction at the GA RenFest are the various shows. The day is full of varying acts. You'll have no problem finding something entertaining to watch at any point in the day. Our family definitely has its favorite shows that we just have to see each time we visit the Renaissance Festival in Georgia.
I mentioned a few weeks back, how you can score a discount on tickets to the Georgia RenFest. This helps to cut down the cost for families.
My family and I were given tickets to check out this year's festivities. We came back home with so many wonderful memories. We chowed down on giant turkey legs, rode camels, and of course laughed a lot with our favorite characters.
Here are a few photos of just some of the acts that we enjoyed seeing during our visit:
So what should you do at the Georgia Renaissance Festival? My first advise when visiting Georgia Renaissance Festival is to grab a schedule and make note of all of the shows (and the times they start) that you want to see. Some acts that I would highly recommend seeing: The Washing Wenches, Barely Balanced, Hypnotist Show, Hey Nunnie Nunnie, and the Birds of Paradise.
Also, the food is plentiful at the GA RenFest so there is plenty to choose from. But keeping with theme, I can't help but recommend a giant turkey leg as a great food option. Lastly, don't forget to check out the shops. There are plenty of interesting themed shops to check out and find a great keepsake in. If you are feeling particularly festive, you could also attend the festival in costume, dressing up as a family is a fantastic way to celebrate the festivities.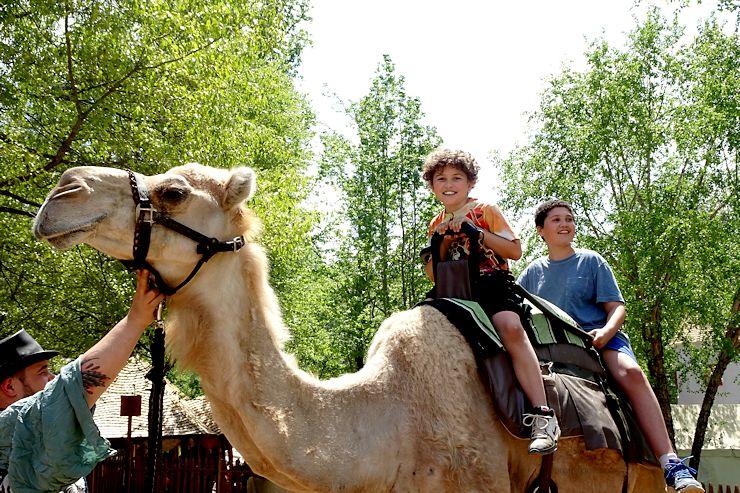 Have you been to the Georgia Renaissance Festival? What is your favorite act to watch?
If you are thinking of visiting the Georgia Renaissance Festival, don't forget to grab a discount code to save on admission.