This post contains affiliate links to Amazon. For more information, read our Disclosure Policy.
Do you know how easy it is to make incredibly delicious garlic bread at home? Today I'm sharing how I am able to put together buttery, perfectly soft and crispy garlic bread for our family dinners using only a few ingredients. This garlic bread is perfect for any meal from zesty italian dishes to savory soups. You'll want to keep these ingredients on hand for the next time that garlic bread craving strikes.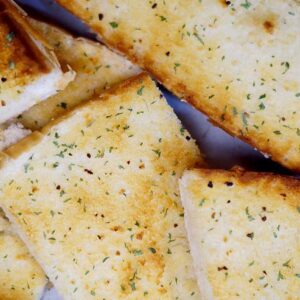 The Easiest Homemade Garlic Bread Recipe
Your family will rave about this garlic bread. So simple to make using only a few ingredients. This recipe is sure to become a family favorite.
Ingredients
1

loaf of Italian Bread

or bread of your choice

1

stick of unsalted sweet cream butter

softened at room temperature

1

tsp

minced garlic

1

pinch

of salt

dried parsley flakes for garnish
Instructions
Preheat your oven to 450°F.

Slice the loaf of Italian Bread in half and place cut side up on a baking sheet.

In a bowl combine softened, room-temperature butter, minced garlic, and salt.

With a knife, spread the garlic butter mixture evenly onto the sliced loaf of italian bread.

Place in the oven for 5-10 minutes, remove bread from the oven once the butter in the center of the bread begins to brown slightly.

Immediately after removing the toasted garlic bread from the oven, garnish with sprinkles of dried parsley flakes.

Slice and serve with your favorite meal.

It's that easy! What I love about this recipe is that it uses ingredients that are easy to keep on hand. I usually will find the loaves of bread marked down at my local grocery store and immediately store them in the deep freezer once I get home. That way they won't go bad until we have time to eat them. When I want to make garlic bread with our dinner, I simply take a loaf out of the freezer a few hours before I am going to cook so that it can thaw out and be easy to slice.
Lately, my favorite way to prepare bread for family meals is in our toaster oven. It is a lot easier and convenient to heat up just the toaster oven to make bread for our meals.