This page contains affiliate links to Amazon. By purchasing something after clicking one of these links on this blog or my Amazon Page, I may receive a small commission (at no additional cost to you). More information can be found on this Disclosure Policy.
Matcha is something that I have learned to love. When I first tried it, I wasn't a big fan. But like other things in my life, I've taught myself to love it for my health.
Matcha is a superfood because of its amazing health benefits. What is Matcha? Matcha is simply green tea leaves that have been ground up finely into a powder. Because you are consuming the entire leaf, you get all of the health benefits that are in green tea leaves. Matcha can be used in a variety of ways from lattes, like I'm going to show you today, to smoothies and even baked goods.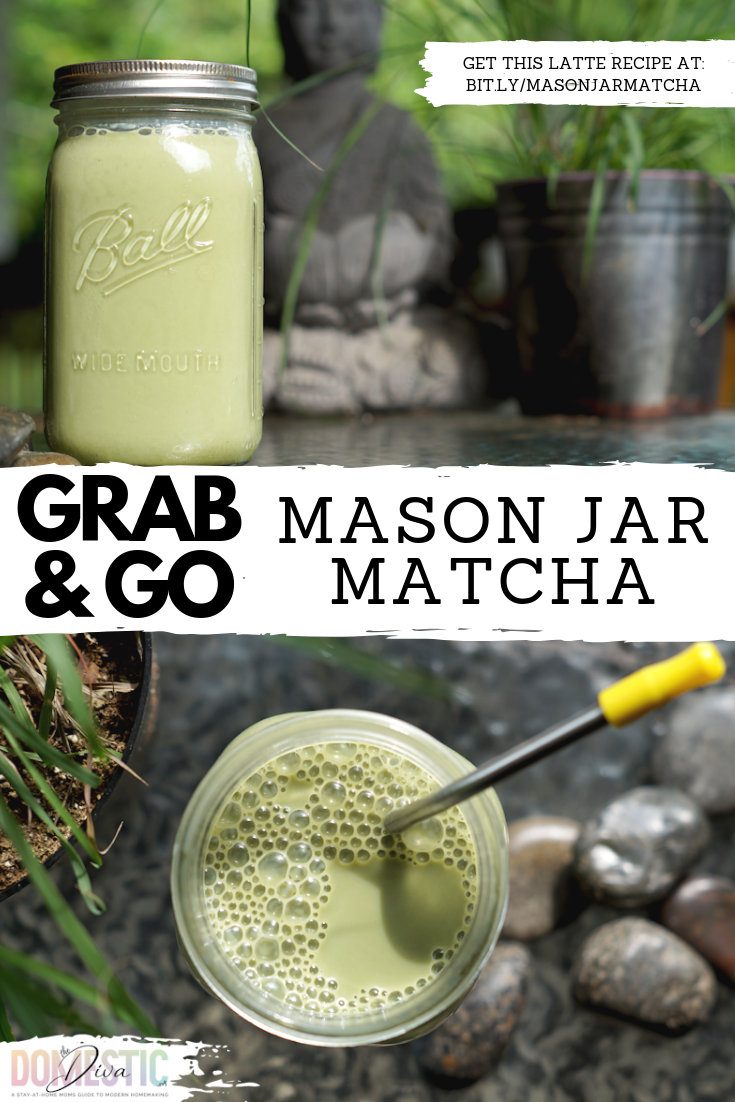 Where do you buy matcha? I purchase my matcha in bulk from Amazon. When purchasing matcha, you want to make sure that it is organic and ceremonial or culinary grade if at all possible. Matcha is full of antioxidants, vitamins, and minerals that your body needs.
Matcha also contains caffeine and is a better replacement for coffee. Unlike coffee, matcha doesn't make you crash because when your body digests the caffeine it produces a more steady stream of "relaxed alertness" instead of a high spik, jitteriness, and crash like the caffeine in coffee.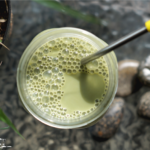 Grab & Go Mason Jar Matcha Latte
Rock your morning with a refreshingly cool matcha latte. This matcha can be made in a mason jar and stored in the fridge to grab and go when heading out the door.
Keyword:
Green Tea, Matcha, Tea
Ingredients
2

tbsp

granulated sugar

2

tbsp

brown sugar

4-5

tsp

matcha green tea powder

(depending on how strong of a taste you prefer)

1

cup

hot water

(not boiling)

5

drops

vanilla extract

2 1/2

cups

2% milk

(or milk of choice)
Instructions
In a 32 oz wide mouth mason jar, add sugar and matcha powder.

Pour hot water into the jar to the 1 cup (8 oz) mark on the side of the jar.

With an electric stick blender, blend up the sugar, matcha, and water until the sugars are thoroughly dissolved.

Once blended, add a few drops of vanilla extract to the mixture.

Pour in your milk of choice to fill the remaining space of the mason jar.

Seal the top with a lid and give it a good shake to mix the matcha and milk together.

Remove lid and enjoy with a reusable straw.
Recipe Notes
This recipe is best made in a 32 oz wide-mouth mason jar.
I recommend using an electric stick blender to blend the matcha. Alternatively, you could put a lid on the mason jar and just shake the jar to mix the matcha and dissolve the sugar in the warm water. 
Also, I recommend using a reusable straw to enjoy this delicious matcha latte.
I love to make these matcha lattes in 32 oz wide-mouth mason jars. During my night time routine, I make a couple jars of matcha lattes at a time and store them in the fridge so that I can grab one in the morning when I'm starting my day. Perfectly chilled overnight, this matcha latte is so refreshing, especially on hot summer mornings. Not having to make something in the morning is one way I keep my morning routine simple.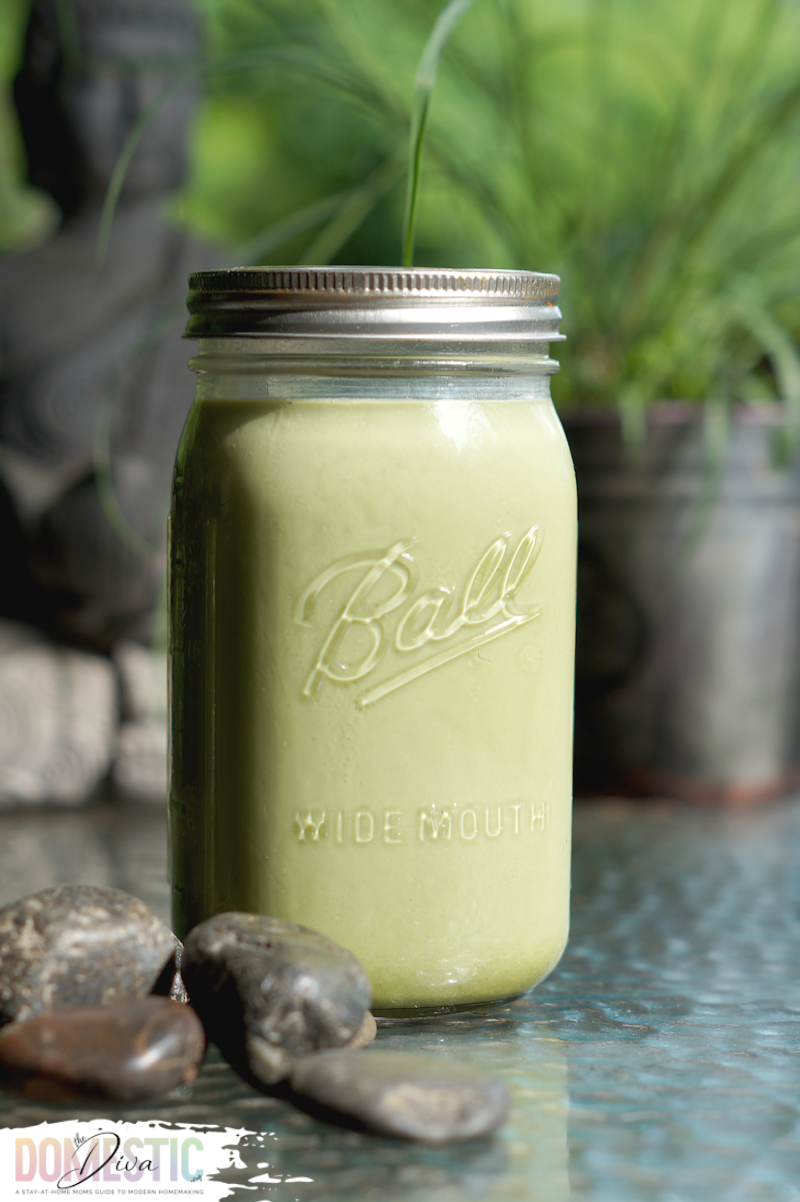 The Easiest Way to Make a Matcha Latte at Home
To make creating a matcha latte at home even easier, I recommend using an electric stick blender to blend the matcha. Alternatively, you can use a milk frother or simply put a lid on the mason jar and shake the jar to mix the matcha.
I find that one can skip the traditional japanese bamboo whisk and just use an electric stick blender. Not only is the stick blender quicker but it also ensures no clumps or lumps of matcha are floating around in my latte. With the stick blender everything gets perfectly dissolved in the warm water.
Having reusable straws on hand to enjoy this delicious matcha latte has been on of my favorite kitchen accessories. Why is it that drinks tastes better when you use a straw?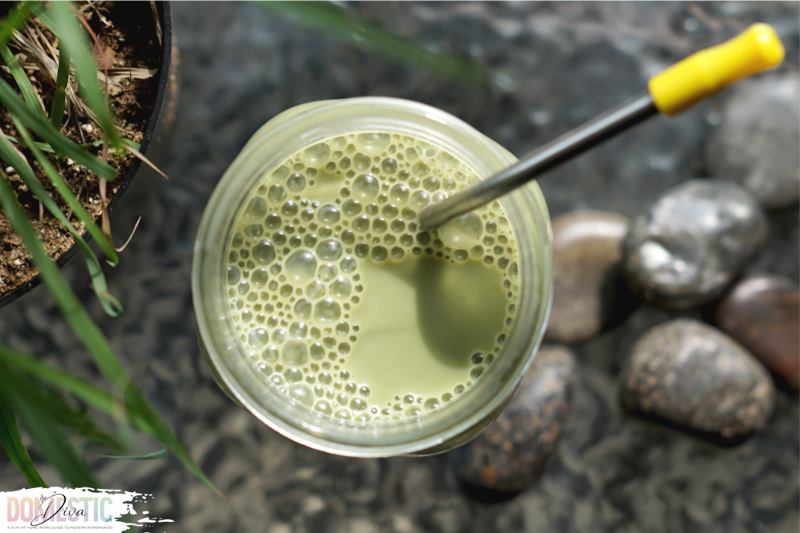 Interesting Articles About the Health Benefits of Matcha: