This post contains affiliate links to Amazon. For more information, read our Disclosure Policy.
We are ditching that instant packaged stuff and making banana nut oatmeal from scratch. Packed with nutrients, this recipe just might become your morning favorite too.
Who doesn't love a warm bowl of oatmeal on a cold morning? Oatmeal is so versatile. It can be sweetened or kept savory. It is the ultimate comfort food in the winter months.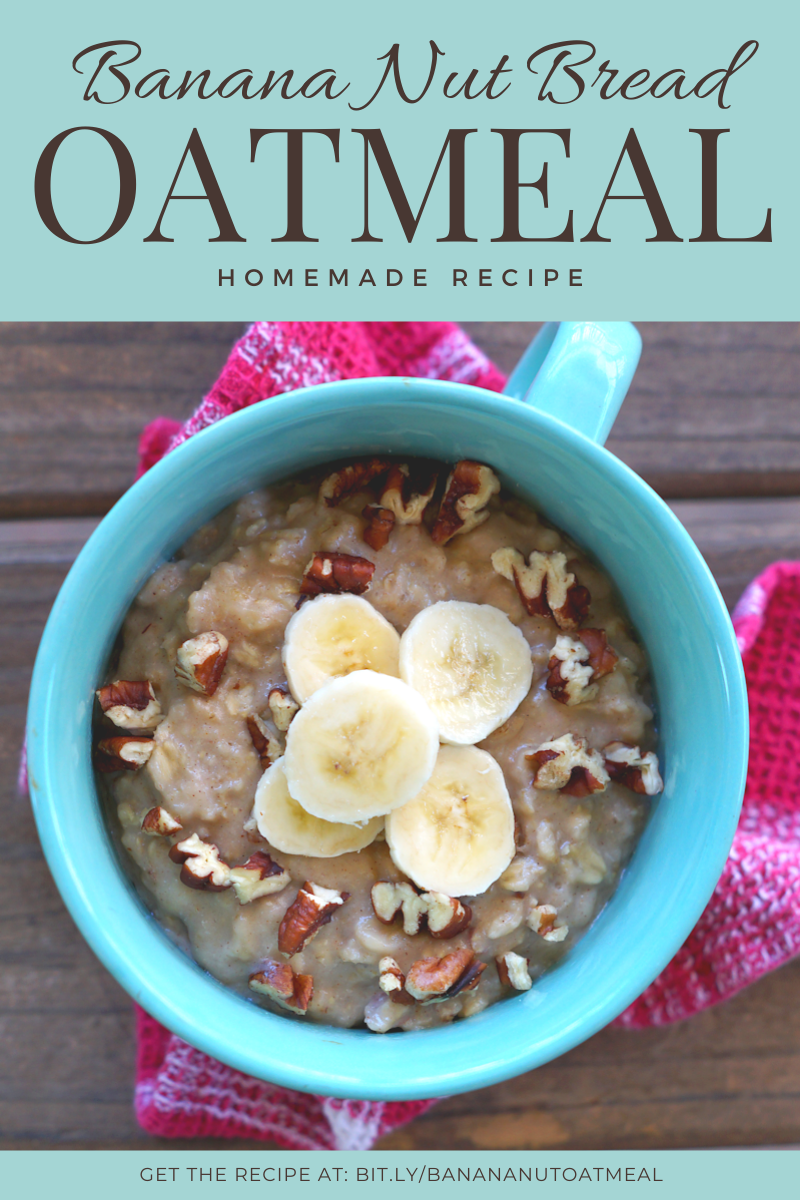 Always have Bananas in the house
I always have a pile of bananas in the house. I use them to make smoothies, banana bread, sandwiches, and the kids love to eat them as a snack.
We love bananas so much around here that each week I buy several bunches of bananas at the store and each week I got very odd looks. People ask me all the time "Why do you have so many bananas?"
Bananas are so versatile, packed with nutrients, and one of the cheapest fruits that you can buy at the grocery store.
Warm Banana Bread in a Mug
My favorite flavor of oatmeal has always been banana. Honestly, I don't eat any other flavor.
Since we always have bananas in the house. When it comes to making oatmeal, I want it to resemble a warm banana bread in a mug and this banana nut oatmeal recipe does just that!
When I was much younger I would always just eat the banana flavored packets out of the variety box. Then they started making an entire box of instant banana nut oatmeal with protein added and my little heart was ecstatic.
But as I've gotten a lot older, I have become way more health conscious than I used to be. My health and how I feel on a daily basis is always top of mind and I just can't bring myself to buy the processed food anymore. I love the flavor and its absolutely delicious but all of the unnecessary ingredients just don't sit well with my soul.
So I'm learning to recreate all of my favorite foods from scratch with simple, healthy ingredients.
Oversized breakfast bowls for the win
I'm obsessed with oversized breakfast bowls like these. They are perfect for everything.
I use this little teal bowl for all kinds of different cereals, banana nut oatmeal, soups and chili, even ice cream. The only regret that I have is that I didn't buy more of them when I purchased one. Back then, I had no idea how often I would use it but I've found over the years I use it for breakfast, lunch, and dessert mostly.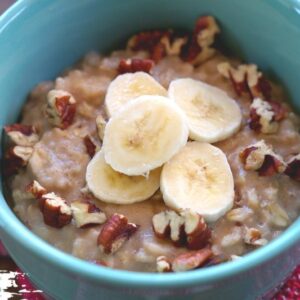 Banana Nut Oatmeal
Creamy homemade banana nut oatmeal tastes like warm banana bread in a mug. This breakfast recipe will fill you up and keep you going till lunch. Made with real bananas, old fashioned rolled oats, and pecans it has just the perfect balance of sweetness and only 10 minutes to make!
Ingredients
1/2

cup

old fashioned rolled oats

1

small

banana

ripe

1

tbsp

salted butter

1 1/2

tbsp

brown sugar

1/8

tsp

ground cinnamon

3

tbsp

pecans or walnuts

chopped

1/2

cup

milk

1/2

cup

water

1/2

tsp

vanilla extract

dash

of

salt

(if desired)
Instructions
In a bowl, mash the banana with a fork.

Add 1 tbsp of butter to small saucepan. Heat on low-medium heat until melted.

Add mashed banana to melted butter. Stir to combine.

Add in cinnamon and brown sugar. Cook for 2 minutes to allow sugar to melt.

Add milk, water, oats, and a dash of salt. Stir to combine. Turn the heat to medium until the oats begin to simmer.

After simmering, reduce the heat to low-medium and cook for 5 minutes stirring occassionally.

After oats have finished cooking, turn off the heat. Stir in vanilla extract and 2 tbsp of chopped pecans or walnuts.

Remove from heat and transfer oatmeal to breakfast bowl. Garnish with remaining 1 tbsp of chopped pecans or walnuts.

Single Serve Banana Nut Oatmeal Recipe
This recipe is perfect for one person. All you need is a small saucepan and your favorite breakfast bowl.
The entire recipe can be made in about 10 minutes. So this is perfect for any morning routine.
Don't Let Those Bananas Go To Waste
This is a perfect recipe to make when bananas are starting to get a bit too ripe.
Just like traditional banana bread, this banana nut oatmeal recipe is great when made with ripe bananas but not overripe.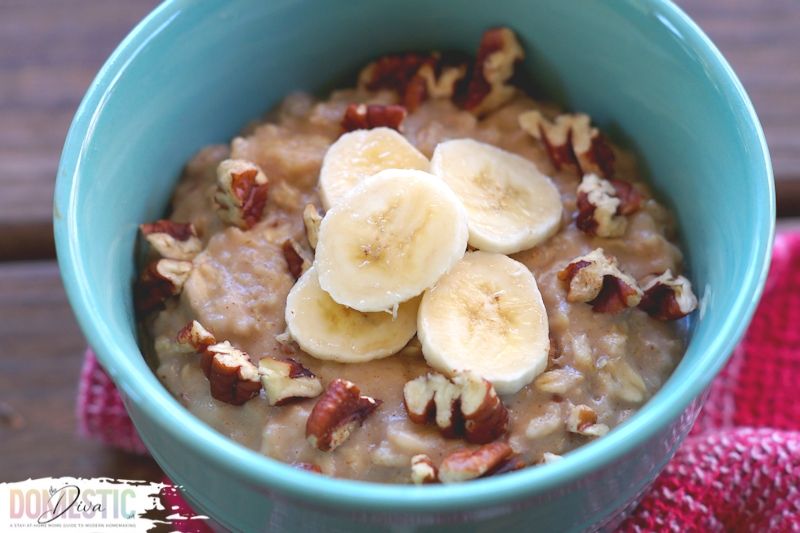 Brown Spots on Bananas are Great!
You want to see brown spots on your bananas because this is when they have the most nutritional value. You do not want to use bananas that are a solid dark color.
If your bananas are too ripe, they may be a lot sweeter than ripe bananas, so sugar might not even be necessary when recreating this banana nut oatmeal recipe.
If you notice your bananas are starting to get overly ripe before you have a chance to use them, I would suggest peeling then freezing them in a freezer-safe bag. Just allow the banana to thaw before using in this recipe.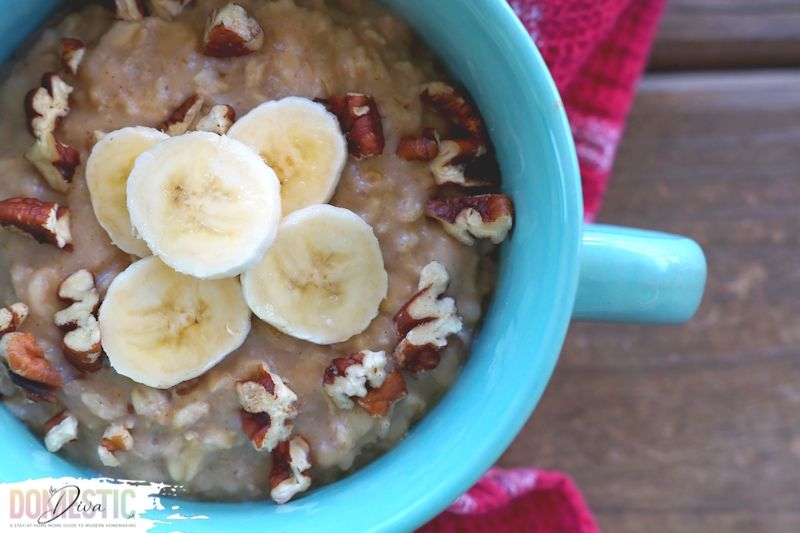 Check out these other breakfast favorites: