This post contains affiliate links to Amazon. For more information, read our Disclosure Policy.
One of my favorite vegetables in the colder months are sweet potatoes. They always add just the right amount of sweetness to any meal, making them the perfect side dish.
Sweet potatoes can be baked and eaten like a regular, ordinary potato. But one of my favorite ways to eat sweet potatoes is to dress them up a bit to make a standout dish for the holidays.
Today I'm sharing my southern twist on sweet potato casserole with a deliciously crunchy, pecan streusel topping. With a perfect balance between creamy and crunchy, salty and sweet, this recipe is worth saving.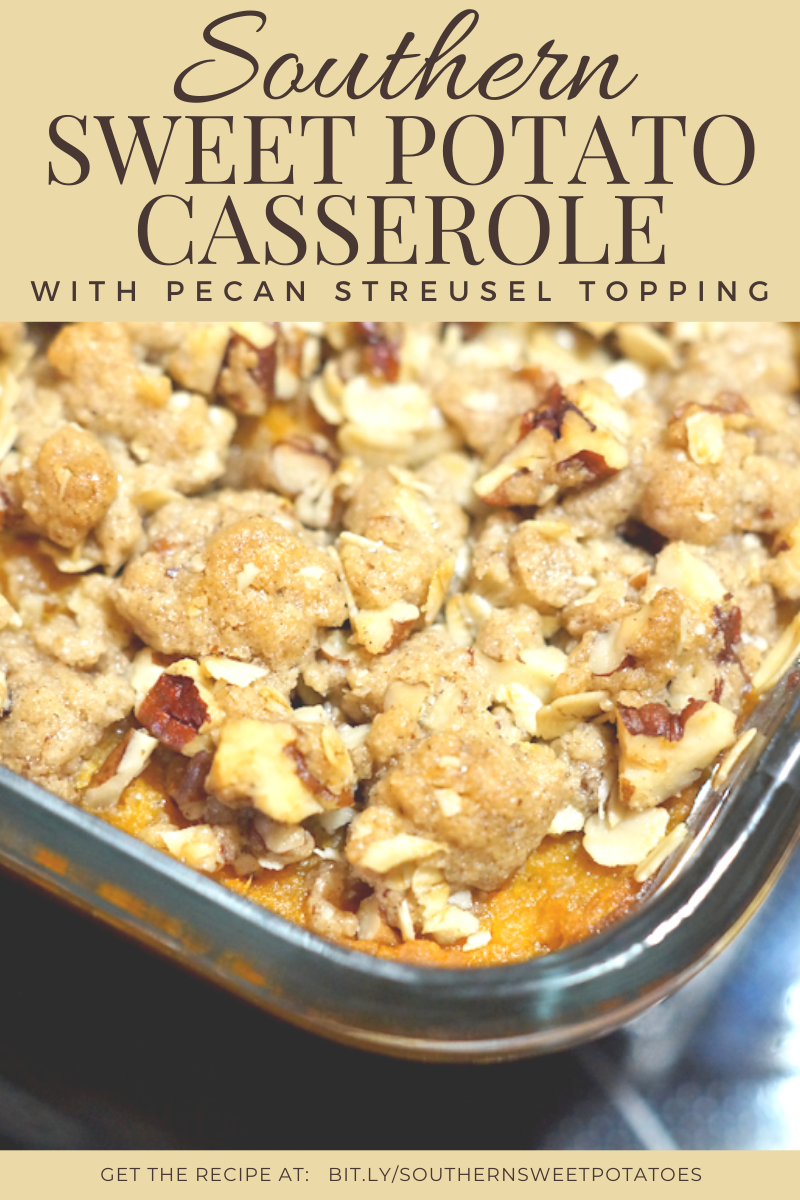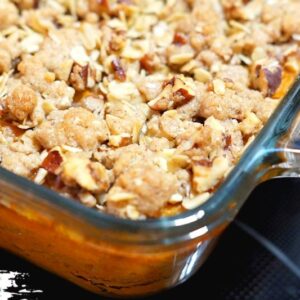 Southern Sweet Potato Casserole with Pecan Streusel Topping
Southern sweet potato casserole with a crunchy pecan streusel topping that's sure to be a favorite side dish recipe on any table during the colder months. Creamy Sweet Potatoes pairs perfectly with the crunchy pecan and oat topping. This side dish will bring a balanced sweetness to your savory holiday meal.
Ingredients
3

lbs

sweet potatoes

peeled & cubed

2

tsp

salt

water to cover peeled and cut sweet potatoes

2

tbsp

salted butter

4

tbsp

brown sugar

1/4

cup

heaving whipping cream

1/2

tsp

cinnamon

1

tsp

vanilla extract
Pecan Streusel Topping
4

tbsp

salted butter

, cold

1/4

cup

brown sugar

2

tbsp

granulated sugar

1/2

tsp

cinnamon

1/2

cup

chopped pecans

1/2

cup

all-purpose flour

1/8

tsp

nutmeg

1/4

cup

old fashioned rolled oats
Instructions
Cover the cubed sweet potatoes until just barely covered with water.

Add salt to the water and place pot onto the stove.

Turn on the burner to high, and allow sweet potatoes to heat until boiling.

Once boiling, reduce heat to low-medium and continue to cook sweet potatoes until fork tender. About 10-15 minutes. If you can easily cut a cube of sweet potato with a fork then they are done and ready to be drained.

Drain cooked sweet potatoes into a colandar in the sink. Allow the sweet potatoes to sit in the sink undisturbed for 5 minutes to allow the majority of the water to be drained out.

To the mixing bowl add: butter, brown sugar, heavy whipping cream, cinnamon, and vanilla extract.

In a seperate bowl, add the ingredients for pecan streusel topping: cold butter, brown sugar, granulated sugar, cinnamon, pecans, flour, nutmeg, and rolled oats. Mix these ingredients by hand until "crumbs" are formed.

Sprinkle the crumb mixture onto the sweet potatoes in the baking dish.

Bake the sweet potato casserole in the preheated 350°F oven for approximately 30 minutes or until the topping is golden brown.

Serve alongside your favorite savory dishes.

---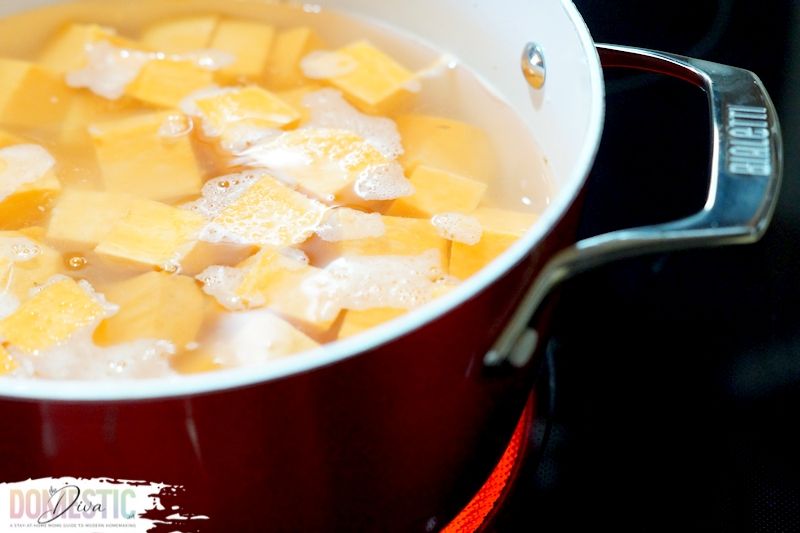 Start Cooking Sweet Potatoes with Cold Water
Wash and peel your sweet potatoes with a vegetable peeler. Cut the potatoes into cubes and add them to a large pot. Cover your sweet potatoes with cold water until just barely covered. You want to start your sweet potatoes out cold and then gradually bring up the temperature. By placing them in cold water and then turning the heat on the burner on high, the sweet potatoes will increase in temperature as the water warms. This will ensure that the sweet potatoes cook evenly, all the way through.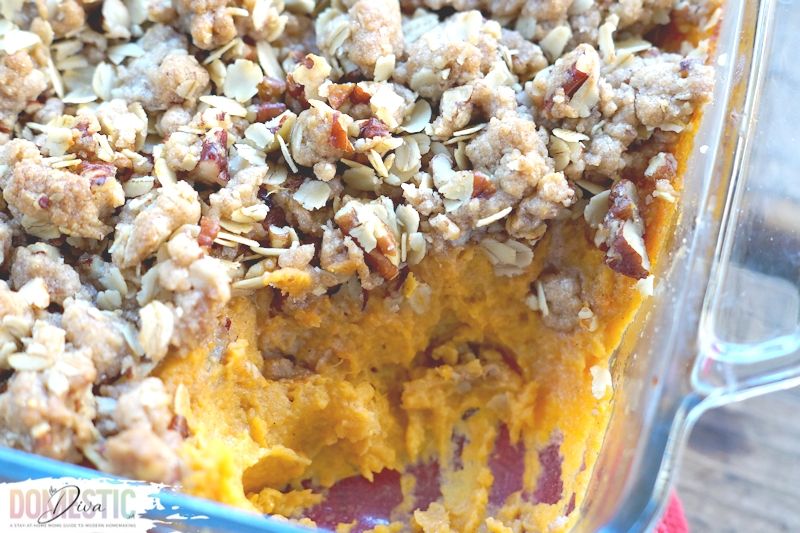 This sweet potato casserole bakes best in an 8×8 glass baking dish. Butter your baking dish prior to filling and baking. I always keep salted butter on my counter in a butter dish so that I can have softened butter on hand at all times. I have found having a butter dish on my counter extremely beneficial when wanting to butter toast in the morning or just to grease baking dishes when cooking.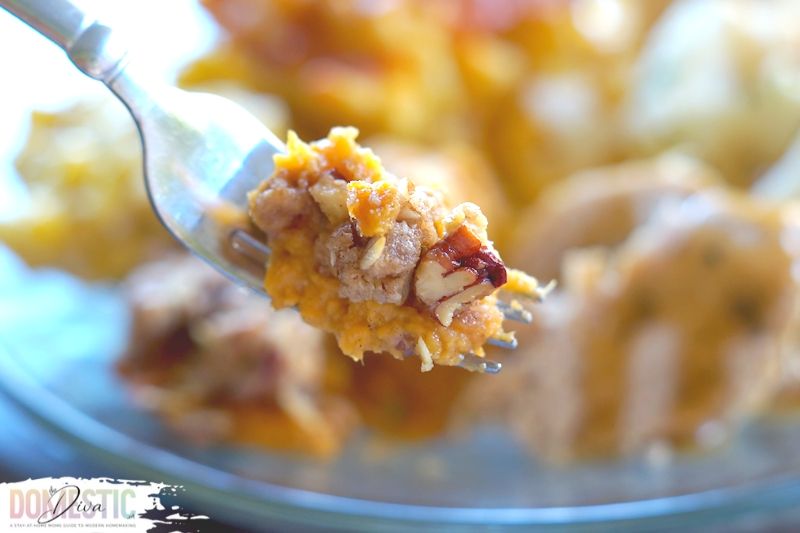 It is always a good idea to keep a stockpile of pecans in your pantry. If you are a fan of these little nuts, you'll know they add just a little something special to sweet dishes like this sweet potato casserole. I love adding pecans to cookies, pies, and oatmeal in colder months for a bit of a nutritious crunch.
Want more Southern Recipes?