January 9, 2013
Last Updated on
I'm no stranger to hair color. I've been coloring my hair in the comforts of my own home for as long as I can remember. Coloring my hair at home is something that I enjoy. Not counting cosmetology school, I've only had my hair professionally colored once at a salon and what I learned is that I definitely prefer to do it myself.
I've dyed my hair just about every color out there and have tried a variety of different at-home coloring kits. Garnier recently introduced a new at-home haircolor called Ganier Olia which Walmart asked me to try out as a part of the Walmart Moms. What is different with Garnier Olia versus other at-home haircolor products on the market is that it is has a 60% oil-blend formula of sunflower, passionflower, camellia, and meadow foam.

Haircolor before using Garnier Olia. A little drab and faded with golden undertones.
As soon as this new haircolor arrived on my doorstep I was anxious to give it a try. But first I needed to take a before photo to compare to after I was done. So above you will see what my hair looks like before I colored it with Garnier Olia. I hadn't colored my hair in a couple of months so my color was looking pretty faded and just plain drab. When I was asked to choose what shade of Garnier Olia I wanted to try out I went with the 5.0 medium brown since I like to rock darker hair in the winter months.
Opening the Garnier Olia, you pretty much get the typical tools one needs to color their hair at home like a mixing jar, applicator tip, developer, colorant, after color conditioner, and gloves. The kit is basically a 3-step process and the directions were easy to follow.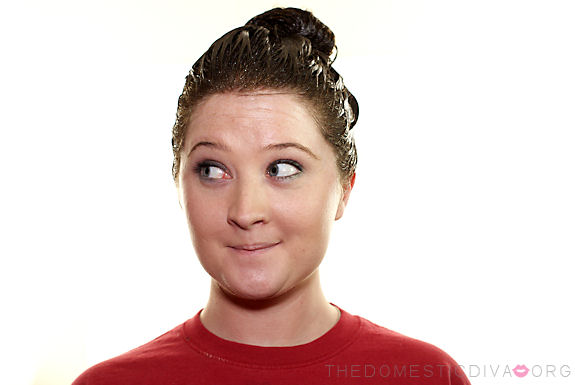 My hair while coloring with Garnier Olia.
After applying the product to my hair, I had to wait about 30 minutes for the color to do it's thing. While waiting I noticed that the product didn't have an overpowering smell like other at-home coloring kits I've tried. I love that it is 100% Ammonia-free. I did not have any problems with drips while I was waiting for the color to fully develop which was something I was worried about since I prefer foam hair color. Before I knew it, I used my wait time to browse Pinterest, it was time to rinse. I've always liked the after-color conditioner included in at-home haircolor kits because they tend to leave my hair really soft and Garnier Olia was no different.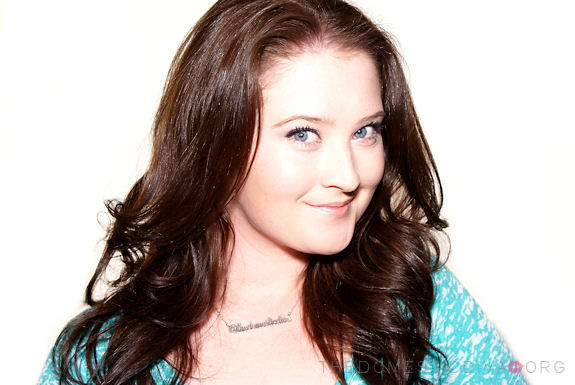 My hair after using Garnier Olia
As you might guess, I was anxious to dry and style my hair to see what it looked like. The color is definitely darker than what I had before but I am absolutely in love with it. I love how it looks as if it has different tones of color in the light. And I love that the undertone isn't a harsh yellow (read "golden") but rather looks like it has a bit of red instead. Garnier Olia 5.0 medium brown is pretty much as close to my natural hair color as I could get. One significant difference I noticed with how the Garnier Olia performed on my hair is that the ends of my hair did not come out darker than the rest of my hair which is what typically happens when I dye my hair at home myself. So I loved that the Garnier Olia gave me a nice even, all-over color. I also like that my hair is still shiny after using the product. I think this rich, chocolaty brown color is the perfect shade for me. What do you think?
Here is a side by side comparison of my hair before and after trying out Garnier Olia. You can definitely tell a difference in the color of my hair. Which one do you like better: before or after?
Garnier Olia will be available in 24 shades. Look for Garnier Olia haircolor to hit store shelves at Walmart soon (if it isn't there already) for $8.97.
Disclosure: I am a Walmart Mom. I have been compensated for my time and efforts in creating this post as well as given samples of the products mentioned in this post. As always my participation is voluntary and opinions are my own. My experience may differ from your own.