The following post may contain affiliate links. This simply means that by purchasing something after clicking one of these links, I may receive a small commission (at no additional cost to you). Thank you for helping support my family. For additional information, please see our
Disclosure Policy
.
(sponsored post)
I think I'm still in denial that we will be starting back homeschooling in a little over a week. The summer has just gone by way too fast! Nevertheless, when it comes to "Back to School" season there are a few must-have apparel items on our list.
When I think of back to school there is one must-have item that automatically sticks out in my mind and that is new shoes! The beginning of the school year means shopping for new shoes for my boys as they are either in need of a new size or just a stylish new pair. So with the giftcard provided the kidlets and I went to our local Walmart to find some of our must-have apparel items on our back-to-school list.
Browsing the shoe section at Walmart my boys picked out a couple of pairs of shoes that they liked. My oldest found a stylish pair of OP skater shoes for $13.97 and my youngest picked out a pair of Starter sneakers with his favorite color for $11.87. As a Mom, I appreciate the low prices that Walmart offers in shoes as they are an item that I find we need to buy fairly often as the kidlets grow.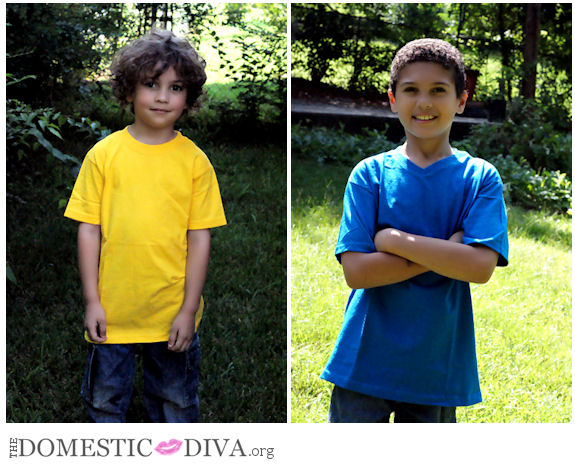 Another must-have apparel item for my kids are solid tees. Solid tees are a must because they can be paired with other items in their closet to put together several different outfits. These Fruit of the Loom solid tee's are just $3.47 at Walmart!
For that "fun" item on our shopping list, the boys picked out these really cool custom graphic tees. The material is smooth and soft, that feels great to the touch. The boys love their favorite characters on the tees. They love that the graphics aren't just on the front of the shirt but also continues onto the back of the shirt as well. There are similar shirts sold at walmart.com so the kidlets can look like their favorite super heroes. These shirts are currently my boys favorite shirts in their closets to wear. If they could wear them every day they probably would :) I was amazed that these shirt were priced at just $6.97 at Walmart.
Something for Mom….
On a recent trip to Bentonville, Arkansas, the Walmart Moms and I were given the opportunity to check out some of the new Back to School Apparel items that Walmart has to offer. Whenever I'm shopping in Apparel at Walmart, I'm always on the lookout for cute items to not only add to my boys closets but to my own wardrobe as well. The Junior section at Walmart is where I find on-trend items with a budget-friendly price. Whether it be a fun accessory like a pair of spiked earrings or a studded purse or a fashion top, one or two trendy apparel items can transition a wardrobe from season to season. The collage above is a few fashion finds that caught my eye during the presentation with the Walmart Moms. I'm in LOVE with the the multi-color sugar skull necklace, I'm definitely going to be on the lookout for it at my local Walmart, and I love how they paired it with a simple, sheer top. The Diva side of me loves anything that sparkles so the sequined backpack caught my eye the moment I walked into the room (great head turning piece). Whether I'm out on a field trip with the kids or just running errands around town, this Mom wants to look good too. I like that Walmart offers affordable prices on their trendy apparel and accessories for the whole family.
What is on your kids back to school list?
Disclosure: As a participant in the Walmart Moms Program, I've received compensation for my time and efforts in creating this post as well as given a giftcard to purchase some of the products mentioned in this post. All thoughts and opinions are my own.