The following post may contain affiliate links. This simply means that by purchasing something after clicking one of these links, I may receive a small commission (at no additional cost to you). Thank you for helping support my family. For additional information, please see our
Disclosure Policy
.
This is a sponsored post written by me on behalf of Hallmark Channel. All opinions are my own.
What is it that you love the most about the holidays? For me I think it has to be the down time. The holidays, while they can be busy at times, are a time to relax and reflect. My favorite way to relax is by watching movies with my family. We have movie night at our house quite frequently but during the holidays we like to add a few holiday themed movies into the mix to get into the holiday spirit.
This Sunday, December 18th at 8pm/7c my family and I will be tuning into Hallmark Channel to watch the premier of "Sleigh Bells Ring". "Sleigh Bells Ring" stars Erin Cahill ("Saving Grace," "Power Rangers Time Force"), and David Alpay ("Quantico," "Ice Sculpture Christmas"). Here is a brief snippet of what this Sunday's movie will be about:
Single mom Laurel Bishop is ready to be promoted to City Manager, but first she needs to put together a gorgeous Christmas Parade in just two weeks! When she finds a beautiful old sleigh she knows it will be perfect for the Santa float if she can fix it up in time. But things go awry as the magical sleigh seems to have a mind of its own, and keeps nudging her back to her handsome former high school sweetheart, David.
So get the popcorn ready, warm up a mug of hot cocoa, throw on a pair of cozy socks, and snuggle on the couch with your favorite holiday throw for movie night with the family this Sunday when "Sleigh Bells Ring" premiers at 8pm/7c on Hallmark Channel. Throughout the movie I will be live-tweeting as we watch so don't forget to follow me on Twitter as well as the hashtag #CountdowntoChristmas. For more information about the movie, you can check out the dedicated movie page on Hallmark Channel, the photos in the photo gallery are beautiful.
Speaking of getting into the spirit of the season, Hallmark Channel also has a fun way to remember your holiday family movie nights with their "Season your Selfie" filters. You can overlay these filters onto an existing photo to share with your friends and family. Below is an example of one of the many filters you can create with.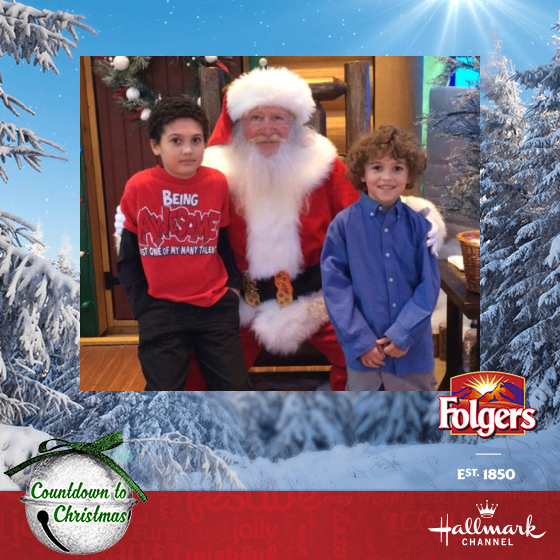 Don't forget to tune in this Sunday, December 18th at 8pm/7c to watch the premier of "Sleigh Bells Ring" on Hallmark Channel. Looking for more holiday movies to watch with your family? Check out this season's holiday lineup at Hallmark Channel for more original movies your family will enjoy. Also, be on the lookout for Hallmark Channel's 12 Days Countdown to Christmas where each day they feature a different celebrity sharing their traditions for the holidays leading up to Christmas.
I'm curious, what is your favorite holiday movie?
Disclosure: This post was developed in partnership with Hallmark Channel. I have been compensated for my time and efforts in creating this post. As always, all opinions are my own. Thank you for supporting the brands that help support this blog.