This post may contain affiliate links to Amazon. For more information, please read our Disclosure Policy.
This Instant Pot Turkey Breast recipe with buttery herb gravy is sure to be a family favorite. Quick and Easy, it can be ready in less than an hour.
Jump to Recipe
When it comes to cooking on Thanksgiving every time saving tip matters. This Instant Pot Turkey recipe will help save time and oven space this holiday season.
The Instant Pot has completely changed the way that I prepare our Thanksgiving turkey. Each year I've tried different ways to make our turkey. However, cooking a turkey breast in an Instant Pot has become my favorite because its so easy!
With an electric pressure cooker, you can have turkey on the table in less than an hour. Imagine how much time that could save you on Thanksgiving day! This makes this method of cooking a turkey my all-time favorite.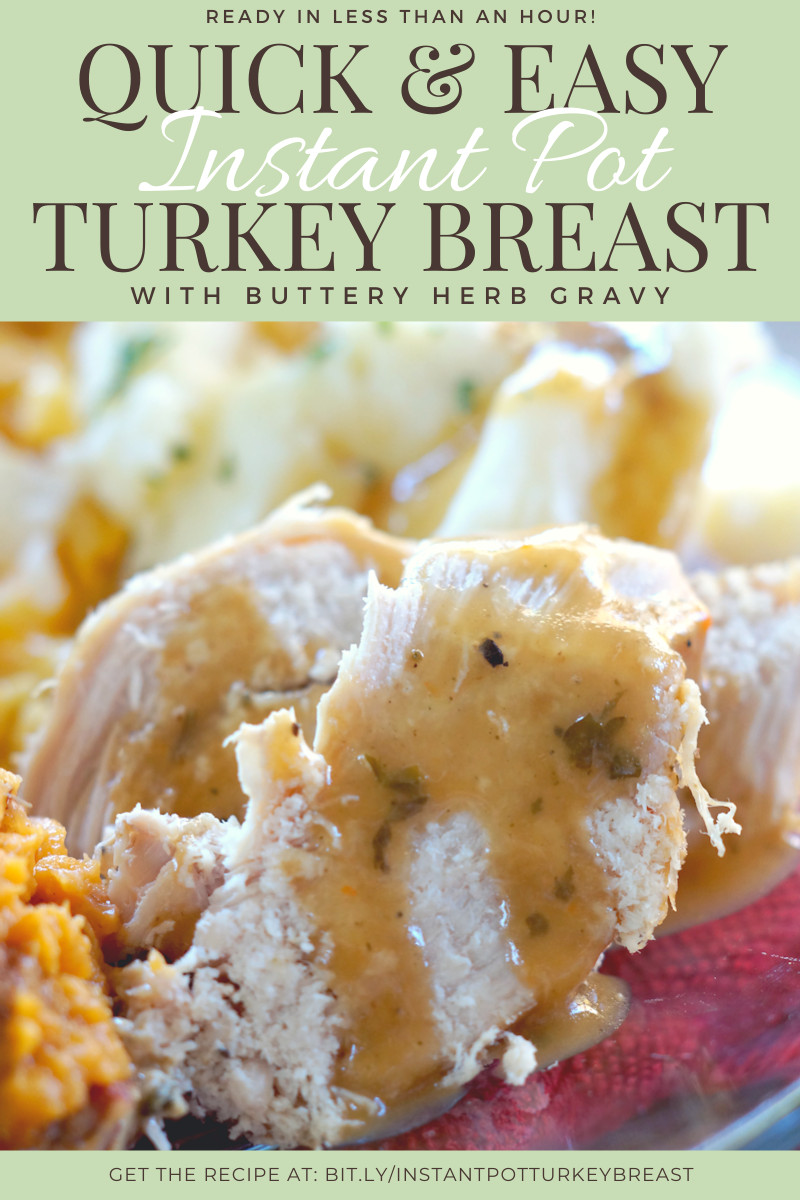 This Instant Pot Turkey recipe Changed the Way I cook Thanksgiving Dinner
There was a time, in the no-so-distant past, when I would spend an entire day cooking our Thanksgiving meal. Those days now seems like a mere memory as I can not imagine going back to the old way of cooking a turkey.
When I first received an Instant Pot, I had no idea how many ways it would change my life. It is true that there is a bit of a learning curve, but once you tackle that hurdle you will be making anything and everything in your Instant Pot.
Cooking your turkey for Thanksgiving in the Instant Pot frees up not only time but also space in your oven. Thanksgiving meals usually require a lot of oven use for various dishes and cooking a turkey in an oven would take up so much time. Oftentimes when the turkey is in the oven you can't cook anything else until it is done.
By cooking your turkey in an Instant Pot you no longer have to worry about not having enough time to use your oven. Besides this Instant Pot turkey recipe will have your turkey done in about an hour. This is also significantly more efficient in time than using an oven.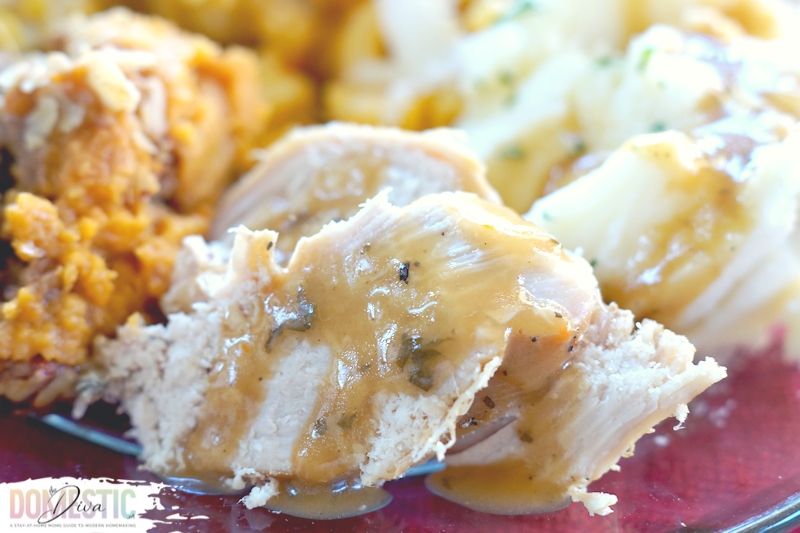 Why not a whole turkey?
Turkey breast comes in a variety of weights and sizes. I have found that a turkey breast is the perfect size to fit inside of a 6 QT. Instant Pot. I'm not a fan of dark meat so that other parts of the turkey isn't something that I or the majority of my family typically eats. So I thought that just making the portion that we do will cut down on less waste. However, if you are able to find a small turkey or whole chicken (if you'd rather use that) that is less than 5 lbs, either would be perfect to substitute in this recipe.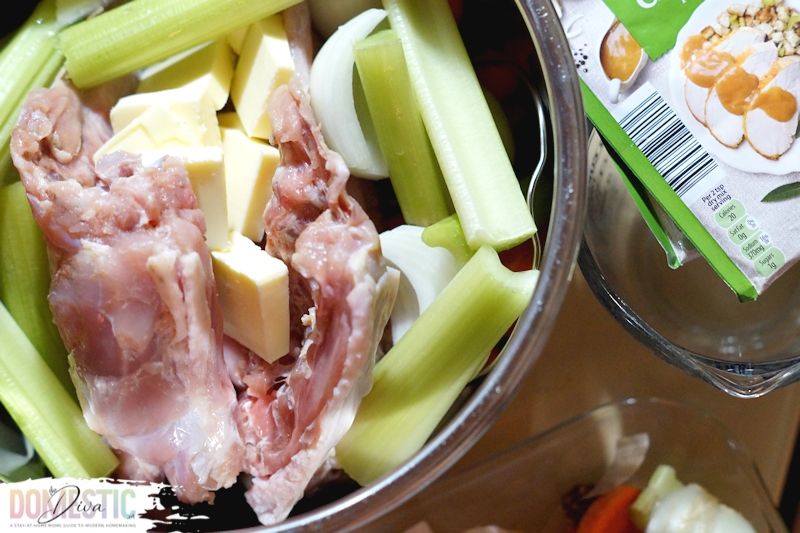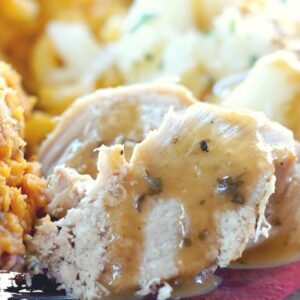 Quick & Easy Instant Pot Turkey Breast with Buttery Herb Gravy
This Instant Pot Turkey Breast recipe with buttery herb gravy is sure to be a family favorite. Quick and Easy, it can be ready in less than an hour.
Ingredients
4

lb

turkey breast with bones

skin removed

1

large

vidalia onion

quartered

3

celery stalks

cut into 3 pieces

3

carrots

peeled and cut into 3 pieces

5

tbsp

unsalted butter

2

turkey gravy seasoning packets

1 1/2

cups

water

1/2

tsp

ground sage

1/2

tsp

thyme

1/4

tsp

rosemary

2

tsp

parsley

1

tsp

salt

1/2

tsp

black pepper

1

tsp

garlic powder
Instructions
Remove the skin from the turkey breast and discard.

Remove gravy packet that comes with the turkey breast. Refrigerate until ready to use.

Place turkey breast on top of the trivet with the breast side down.

Fill the space around the turkey breast with the roughly chopped vegetables: onion, celery, and carrots.

Fill the inside of the turkey breast with the 5 tbsp of butter.

Pour mixture onto the turkey breast and vegetables.

Close the lid on the Instant Pot and turn the knob to sealing.

Press the "poultry" button or manual on high pressure. Set the cook time to 30 minutes.

After cooking "quick release" the pressure.

After releasing the pressure, remove the turkey breast from the Instant Pot and allow to rest.

Remove the cook vegetables and discard.

Remove the trivet and strain the buttery turkey broth that is in the bottom of the Instant Pot to remove any large clumps of vegetables or turkey pieces.

Put the turkey broth back into the Instant Pot. Add the gravy packet that came with the turkey. Stir to combine.

Set the Instant Pot to saute' and cook for 15-30 minutes or until reduced and thickend to your liking. Stir often as the gravy reduces and thickens.

Serve gravy on top of turkey breast and mashed potatoes if you'd like.

Refrigerate any leftover turkey breast or gravy.

Complete the Meal with Some Delicious Southern Side Dishes that are just as Quick and Easy to Make
You've got your Instant Pot Turkey Breast ready to go, now all you need are some delicious southern side dishes to go along with it. Here are a few of my family's favorites: