This post may contain affiliate links to Amazon. For more information, please read our Disclosure Policy.
The only baked southern macaroni and cheese recipe you need to feed a crowd. This macaroni and cheese casserole is a southern staple for any holiday table.
Jump to Recipe
One staple that is on my families holiday table is a baked southern macaroni and cheese casserole. It's so good that it doesn't feel like the holidays without it.
Table of Contents
There is something so comforting about this baked macaroni and cheese recipe. This casserole uses simple ingredients like elbow macaroni noodles, sharp cheddar cheese, milk, and eggs. Baked in the oven, it makes enough to feed a large crowd at your next holiday gathering.
Every holiday I make this recipe for my family. And every holiday this is the first side dish to be completely devoured. It is THAT good!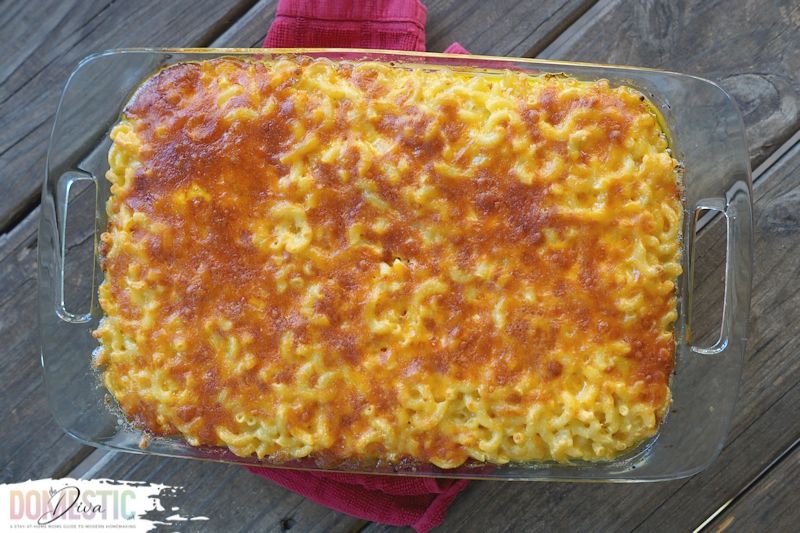 Southern Macaroni and Cheese Just like at a Restaurant
Visit any restaurant in the south and you may be surprised to find baked macaroni and cheese as a "vegetable" option or side dish. It is no secret we love macaroni and cheese in the south.
In the south we tend to do baked macaroni and cheese a little differently by using eggs. The use of eggs makes the southern macaroni and cheese bake into a casserole. It is firmer and holds its shape unlike traditional stovetop macaroni and cheese that is creamier.
Baked macaroni and cheese is often served alongside other traditional southern dishes like cornbread, creamed corn, green beans, etc. This is by far my favorite way to enjoy macaroni and cheese.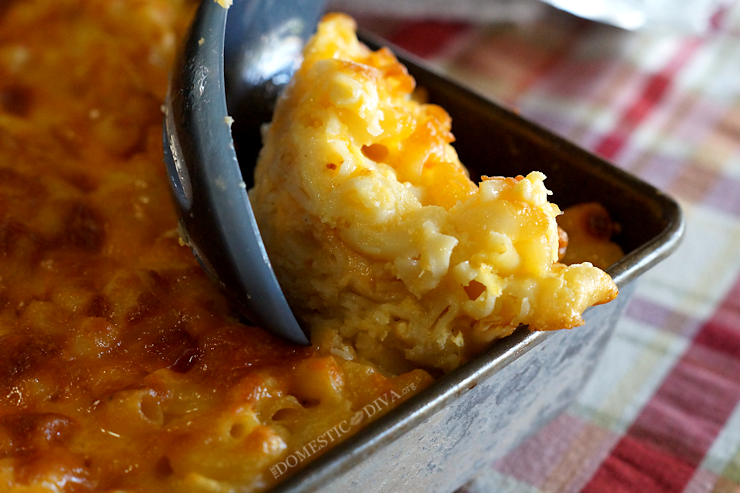 Baked Macaroni & Cheese Casserole: A Southern Family Tradition
The tradition of having this recipe served at our family table during the holidays began with my grandmother. We have reserved this recipe to only making it during a family get together. This isn't something that we make year round which is what makes it extra special.
Although grandmother's recipe will always be the best, I've since taken the family recipe and added my own unique tweaks to it.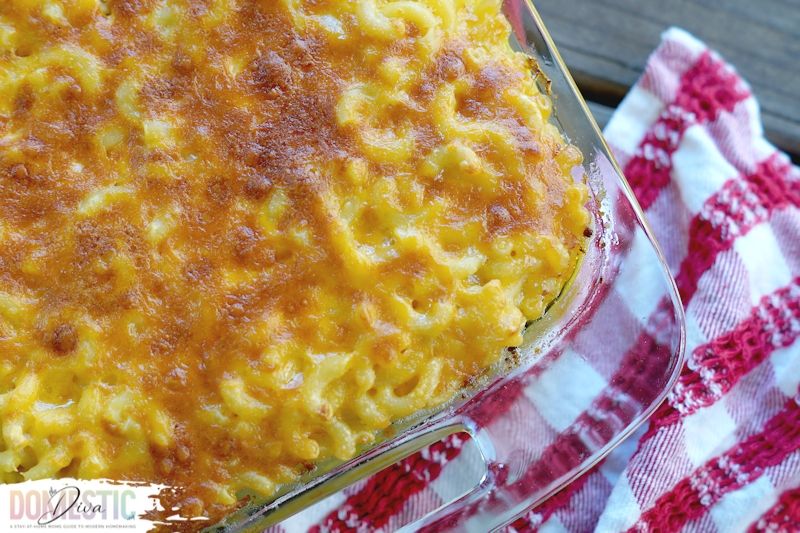 Save Time: Make this recipe the day before your celebration
What I love about this recipe is that you can easily make it ahead of time. If you have a lot of dishes to cook the next day like on Thanksgiving for example, save some time by assembling this southern macaroni and cheese casserole the day before. That way all you have to do is pop it into the oven to finish baking the day of your big celebration.
Need to bring something to a party?
This recipe also travels really well. I love glass baking dishes with lids just for occasions such as this. After baking this recipe, just pop the lid onto your baking dish and it's ready to be taken to your next party.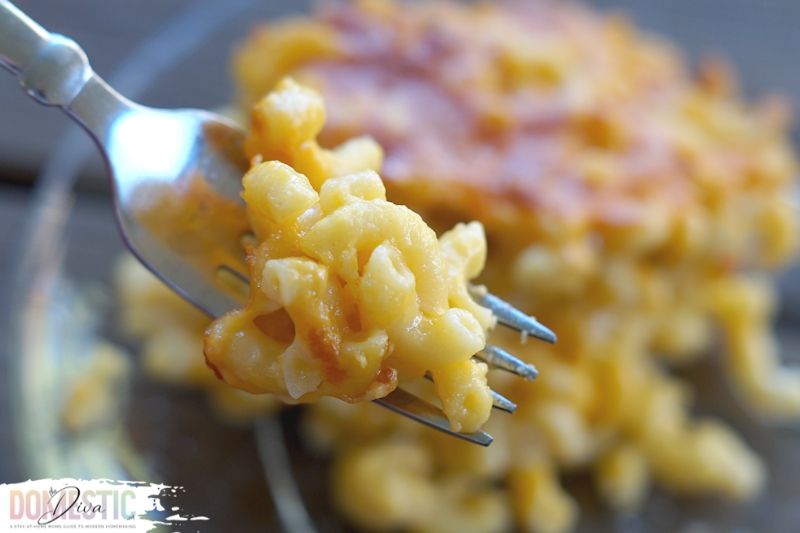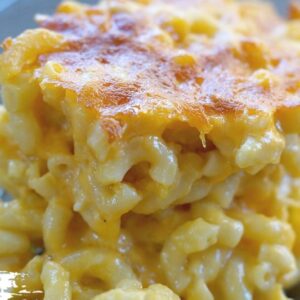 Baked Southern Macaroni and Cheese Recipe
The only baked southern macaroni and cheese recipe you need to feed a crowd. This macaroni and cheese casserole is a southern staple for any holiday table.
Ingredients
4

cups

dry elbow macaroni

3

TBSP

salted Butter

3

TBSP

all-purpose flour

2

cups

whole milk

3

cups

Shredded Sharp Cheddar Cheese

6

eggs

1/2

tsp

salt
Also Needed:
3

cups

Shredded Sharp Cheddar Cheese

halved (for layering before baking)
Instructions
Cook

4 cups dry elbow macaroni

according to package directions.  Drain into a colander and rinse with cold water to stop the cooking process.

While the elbow macaroni is draining you will prepare the cheese sauce in the original pot that you cooked the macaroni in.  First melt

3 TBSP salted Butter

on low-medium heat. Then, whisk in

3 TBSP all-purpose flour

and let cook for approximately 3 mins.

Whisk in

2 cups whole milk

. Continue stirring on low-medium heat until mixture begins to thicken. Don't Rush! Keep your heat low, if the heat is too high you will curdle the milk and not have a smooth cheese sauce.

Once your milk mixture has thickened, add

3 cups Shredded Sharp Cheddar Cheese

and stir until melted.

Remove the cheese sauce from the heat. Add the drained elbow macaroni noodles to the cheese sauce and stir to coat all of the noodles.

Once combined, stir the egg mixture into the macaroni and cheese. Stir well until everything is combined.

Sprinkle 1 1/2 cups of Shredded Sharp Cheddar Cheese onto the first layer of macaroni in the casserole dish.

Add the rest of the macaroni and cheese mixture on top of the cheese in the casserole dish then top with the remaining 1 1/2 cups of Shredded Sharp Cheddar Cheese.

Bake in a preheated oven at 400°F covered with aluminum foil for 30 minutes. Remove the foil and bake for an additional 15-20 minutes or until the middle of the baked macaroni and cheese is no longer runny and the top has started to brown a little bit.

Serve warm. Refrigerate leftovers.

Other Southern Recipes You Might Enjoy
Southern Macaroni and Cheese Recipe
Ditch the box! Make delicious, homemade macaroni and cheese from scratch in less than 20 minutes on your stovetop. No baking required! This quick & easy southern macaroni and cheese stovetop recipe can easily be scaled for a crowd.
Get this Recipe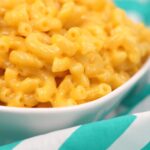 Easy Southern Creamed Corn Recipe
Cream corn like you've never had before. This creamed corn recipe is sure to be a hit at your next family gathering. It's quick, simple, and delicious. Make ahead or the day of. This recipe reheats well and is great for leftovers.
Get this Recipe