This post may contain affiliate links to Amazon. For more information, please read our Disclosure Policy.
Skip the frozen bagged stuff and make fresh, homemade french fries with just two ingredients!

Jump to Recipe
Homemade french fries are so incredibly easy to make and taste ten times better than the store bought, frozen kind. Once you learn how to make french fries at home, you'll wish that all french fries were made this way. Top homemade french fries with an addictive seasoning salt and you've got a recipe your family will be begging you to add to your family menu plan on a weekly basis.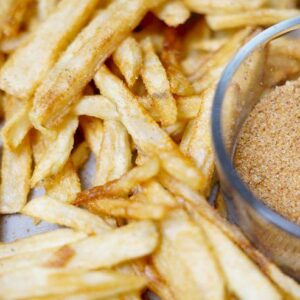 Homemade French Fries
Skip the frozen bagged stuff and make fresh, homemade french fries with just two ingredients!

Ingredients
4-6

Russet Potatoes

Vegetable Oil
Instructions
Preheat oil in a deep fryer to 350°F.


Peel potatoes to remove all of the skin. Then, rinse under cold water to remove any dirt or excess starch.

Next, slice potatoes long ways into french fry shaped stripes (about 1/4 inch thick).

Place "fries" into cooking basket of deep fryer.

Slowly lower the basket into the hot oil.

Cook until golden brown in color.

Remove fries from the oil, transfer to a baking sheet lined with paper towels. The paper towels will help to absorb any excess oil.

Sprinkle with a delicious seasoning salt like the one featured below and enjoy!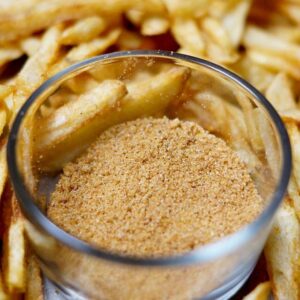 Homemade Seasoning Salt Recipe
Step up your homemade french fry game with your own seasoning salt recipe. This Seasoning Salt will add unique flavor to whatever you sprinkle it on. It is particularly addicting when added to hot, homemade french fries.

Ingredients
1

tbsp

pink Himalayan salt

1 1/2

tbsp

brown sugar

1/2

tsp

paprika

1/2

tsp

tomato bouillon

1/4

tsp

black pepper

1/2

tsp

onion powder

1/2

tsp

garlic powder
Instructions
Combine all ingredients into a small bowl.


Sprinkle desired amount onto hot fries.

I told you making homemade french fries and seasoning salt was simple! A countertop deep fryer has been one of my families best investments for the kitchen. I feel a lot safer using a small appliance dedicated to frying versus using a large pot to deep fry food on the stovetop.
Don't forget to invest in a good potato peeler!
Having a good peeler in your kitchen drawer is key to great meals using potatoes. You can either use a manual peeler, which allows you to peel the potatoes by hand, or an electric peeler that will peel potatoes more quickly.
Want to make a complete meal? This Mini Garlic Cheeseburger recipe isn't just great to make on Game Day but can be made easily, any day of the week. These mini burgers pair perfectly with homemade french fries. It's sure to be a family favorite.
What are some of your favorite foods to fry at home? Do you typically use a countertop deep fryer or do you prefer frying on your stovetop?