This post may contain affiliate links to Amazon. For more information, please read our Disclosure Policy.
Make Jasmine Rice quickly and easily using an Instant Pot. You are only minutes away from perfectly cooked rice.
Jump to Recipe
If you are like me, you may have recently received an Instant Pot and immediately fell in love with it. The hype is real. Electric Pressure Cookers are pretty amazing. Now you may be wondering what all you can cook in a pressure cooker. The better question would be, what can you NOT cook in a pressure cooker?
My favorite way to utilize my pressure cooker is to cook a perfect batch of rice. Each type of rice requires a different amount of water and the cook time often varies so it can be a little hard to figure out how to cook your favorite kind of rice in your new electric pressure cooker. Today, I'm sharing with you how to make one of my favorite types of rice, jasmine, in an Instant Pot.

The key to successful rice cooking in your Instant Pot is taking the time to rinse off the starch before cooking.
If you think this step doesn't make a difference, that is where you are wrong. It is an absolute MUST! The way I do this is I will place the measured amount of rice that I want to cook into the Instant Pot liner, then I will fill the pot with water and swish the rice around with my hand until the water because very foggy (kind of looks like milk). Then I will dump out that starchy water as much as I can without letting the rice fall out. I will repeat these same steps several more times until the water when swished around the rice is as clear as possible (each time you do you it the water becomes less and less cloudy).
Once the rice has been rinsed and as much starch removed as possible, then I add the measured cups of water to the pot. The ratio of Jasmine Rice to water in order to cook perfectly in an electric pressure cooker (Instant Pot) is 1:1. So, it would be one cup rice to one cup water.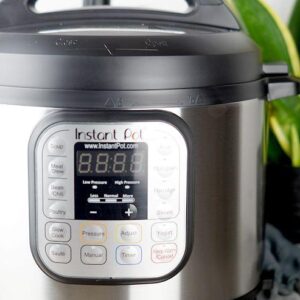 Jasmine Rice in an Instant Pot
Make Jasmine Rice quickly and easily using an Instant Pot. You are only minutes away from perfectly cooked rice.
Ingredients
4

cups

Jasmine Rice

rinsed

4

cups

water

2

TBSP

of butter

Pinch

of Salt
Instructions
In the Instant Pot, add 4 cups RINSED Jasmine Rice, 4 cups water, butter, and salt.

Lock the lid onto the Instant Pot and turn the release valve to sealing.

Press the manual button 2 times, this will turn off the "keep warm" feature. Then manually program it to cook on high pressure for just 3 MINUTES (yes, you read that right, only 3 minutes).

Once, the rice has cooked and the Instant Pot has beeped letting you know it has finished the cooking process. Allow the rice to sit in the Instant Pot undisturbed for 10 minutes after it has finished cooking. After 10 minutes, you can then do a quick release of steam from the pressure cooker before removing the lid.

After removing the lid, use a FORK to fluff the rice. DO NOT TRY TO FLUFF THE RICE WITH THE RICE PADDLE. If you use the rice paddle instead of a fork to fluff the rice you will only end of smooshing the rice into a squished mess. Once you have fluffed the rice with a fork you can then remove the rice from the Instant Pot using your rice paddle.