This post may contain affiliate links to Amazon. For more information, please read our Disclosure Policy.
The best homemade pizza starts with simple ingredients, most of which you probably already have on hand. Grab your favorite toppings and make some delicious pizza tonight.
Jump to Recipe
Table of Contents
Who doesn't like pizza? Pizza is a basic recipe every home chef should learn to master. The best homemade pizza starts with a good dough recipe. Easily customizable to include whatever toppings you prefer, pizza is a comfort food that the whole family will love. If you take a look at our family meal plan or follow along with my daily Instagram stories you will see that we have homemade pizza at least once a week. There are no complaints coming from the dinner table when it is homemade pizza night.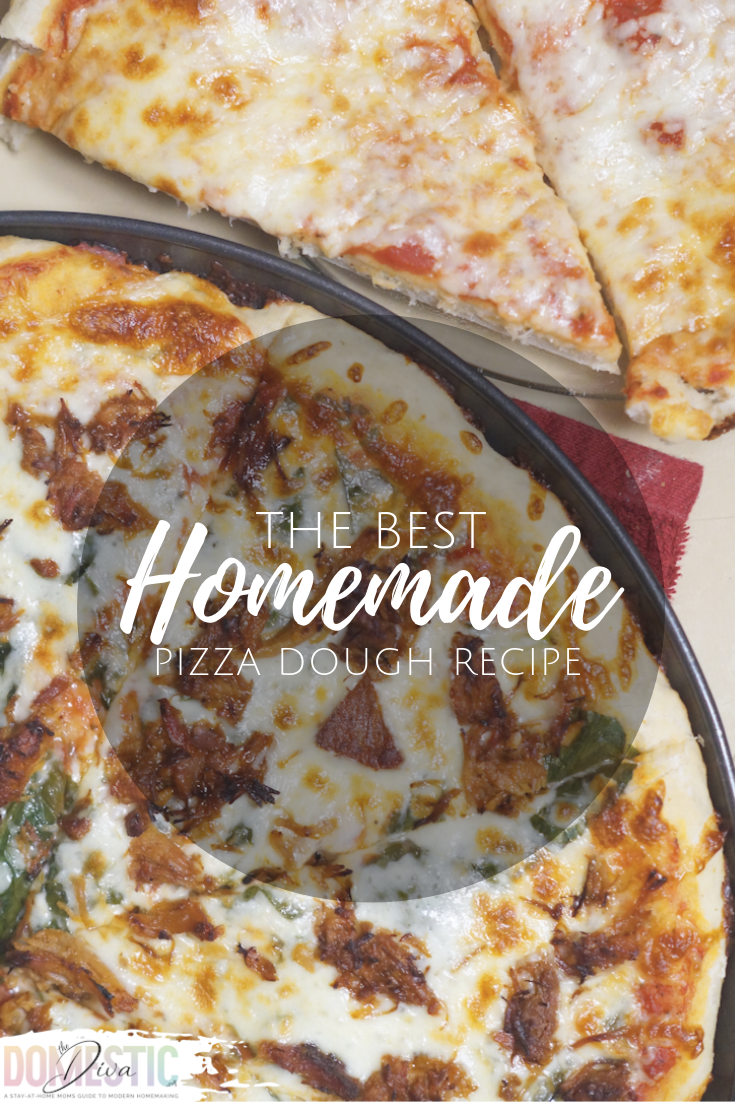 The Best Homemade Pizza uses Homemade Sauce
To complete your homemade pizza experience you need a good homemade pizza sauce recipe. Pizza sauce isn't fancy or complicated. In fact, like any good recipe, homemade pizza sauce is simple and delicious. The wrong pizza sauce can easily ruin a pizza.
Tools Needed to Make the Best Pizza at Home
When it comes to making pizza at home, besides having a great pizza dough recipe, you need a good pizza pan and pizza cutter. I prefer a nonstick, XL pizza pan with holes in it. The holes in the pizza pan allow for the air to circulate and crisp up the crust while you bake it in the oven. This insures that the crust will cook evenly and not be undercooked in the short cook time. Another pizza pan option would be a good cast iron pizza pan. Cast iron is always a good investment in the kitchen because it will literally last forever with proper care.
When it comes to cutting your pizza there are all kinds of knives and gizmos. A simple Pizza Cutter Wheel is what I prefer because it gets the job done quickly and efficiently, rarely do I have to cut the same slice twice. If you are not into pizza wheels, another great option for cutting your pizza would be a long, stainless steel blade made specifically to cut your pizza through a rocking motion like the professionals use in top pizza kitchens.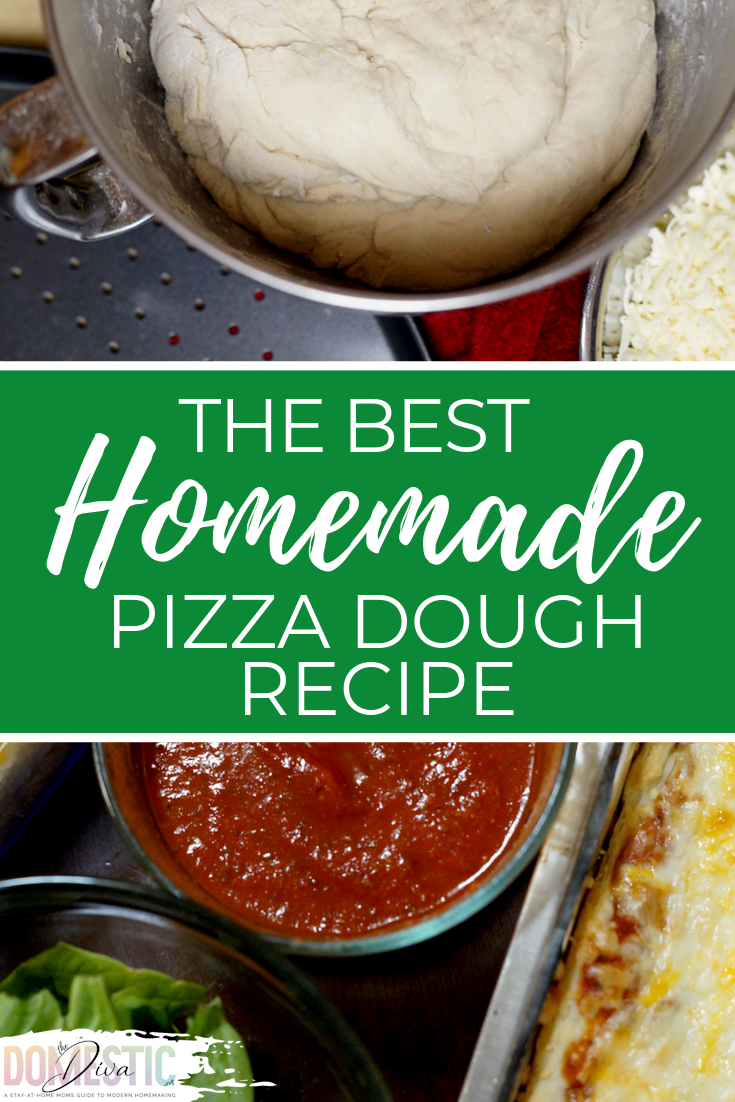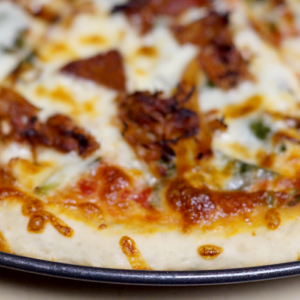 The Best Homemade Pizza Dough Recipe
The best homemade pizza starts with simple ingredients, most of which you probably already have on hand. Grab your favorite toppings and make some delicious pizza tonight.
Ingredients
1

tbsp

Fast Rising Yeast

3

tbsp

brown sugar

5

cups

all purpose flour

3

tsp

salt

2

tbsp

olive oil

2

cups

warm water
Instructions
Preheat oven to 450°F.

Attach the dough hook to your electric stand mixer, on low speed combine yeast, brown sugar, salt, olive oil, and warm water in the mixing bowl. Once thoroughly mixed, slowly add in flour on low to medium speed until a dough ball forms.

Cover with a towel and sit in a warm place to allow the dough to rise. Depending on the warmth of your kitchen, the dough can take anywhere from an hour to 2 hours to rise until doubled in size.

Once the dough has risen, punch down the dough. Then divide dough in half. This recipe will make 2 XLarge pizzas. If you have smaller pizza pans you will be able to make more pizzas depending on the thickness that you press out your crust dough.

Grease two large/xlarge pizza pans with olive oil or coconut oil.

With your hands, press out the half of the dough evenly onto each greased pizza pan. The size of the pan you will be baking your pizza on will determine how thick your crust is as well as how many pizzas this dough recipe will make.

Once you have your dough spread and shaped to fit your pizza pan, top with your favorite pizza sauce, mozzarella cheese (or other cheeses you prefer) and toppings of your choice.

Bake in the preheated 450°F oven for 5-10 minutes or until the crust and cheese begins to brown slightly. The more toppings you have on top of your pizza the longer it will need to cook in the oven before it begins to brown.

Once the crust around the edges and cheese has begun brown slightly, remove from the oven and allow to cool for 5-10 mins before slicing with a pizza wheel.

Other Recipes That Go Great with Homemade Pizza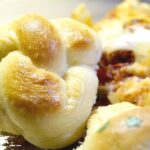 What toppings do you like on your pizza?