This post contains affiliate links to Amazon. For more information, please read our Disclosure Policy.
Table of Contents
This Easter Bunny Trifle will make for an adorable edible centerpiece this Easter!
Any holiday is a great excuse to whip up a tasty dessert to share with friends and family. This is especially true for Easter.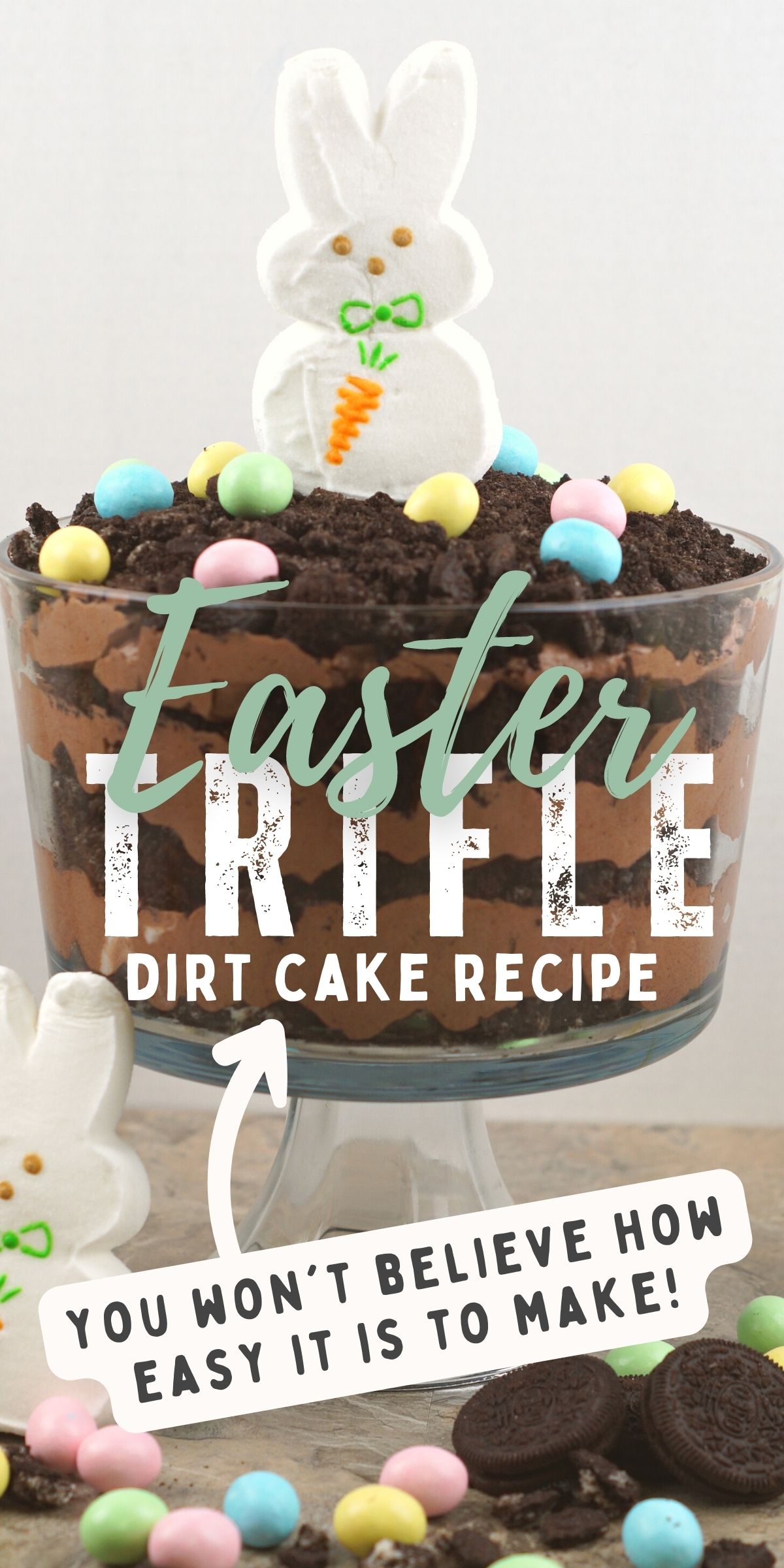 What you Need to Make this Easy Easter Trifle Recipe
Candy Coated Chocolate Eggs: any candy shaped eggs will work as a decoration in this recipe. I prefer Hershey's candy coated eggs but you might like a different type of candy egg like Cadbury Mini Eggs
Chocolate Cake Mix: any chocolate cake mix will do in this recipe. Just pick your favorite.
Oreos: in this Easter trifle recipe you'll need lots and lots of Oreos as this is the "dirt" in our trifle. You will either need the Family sized pack of Oreos or two regular size pack of Oreos.
Chocolate Instant Pudding Mix: any chocolate pudding mix will work in this recipe just make sure that it is Instant
Whipped Topping: you can use the store brand whipped topping or another brand like Cool-whip whatever you prefer
Bunny Shaped Marshmallow: I used a Giant Peeps Marshmallow Bunny as my Easter trifle Decoration but if you are unable to find one then you could also use a few of the smaller Peep Marshmallow bunnies or even the Large Marshmallow Peep Eggs.
Other ingredients you'll need are staples like: water, eggs, oil, and milk.
What Substitute Ingredients can I use in this Easter Trifle Recipe?
Milk instead of Water when making the chocolate cake: if you want your cake to taste a bit better swap out the water for milk instead. It'll make your cake super moist and delicious.
Homemade Whipped Cream instead of Whipped Topping / Cool-Whip: if you like to make your own homemade whipped cream you absolutely can use that instead of store bought whipped topping / Cool-whip
Any Shape Marshmallow PEEP: can't find a big marshmallow bunny, no problem any bunny shaped treat can work as the centerpiece of this Easter trifle recipe. If you can't find bunnies then regular peeps or egg shaped peeps will work as well.
Any Egg Shaped Candy: same with candy coated chocolate eggs. I like to use Hershey's candy coated chocolate eggs in this recipe, but if you can't find them you could use pastel colored M&Ms or even the foil wrapped chocolate eggs (just remember to remove the foil before serving)
Add Edible Easter Grass: nowadays they sell an edible easter grass it is made of sugar or coconut. This is a great addition if you want to add a bit of green grass to the top of the trifle.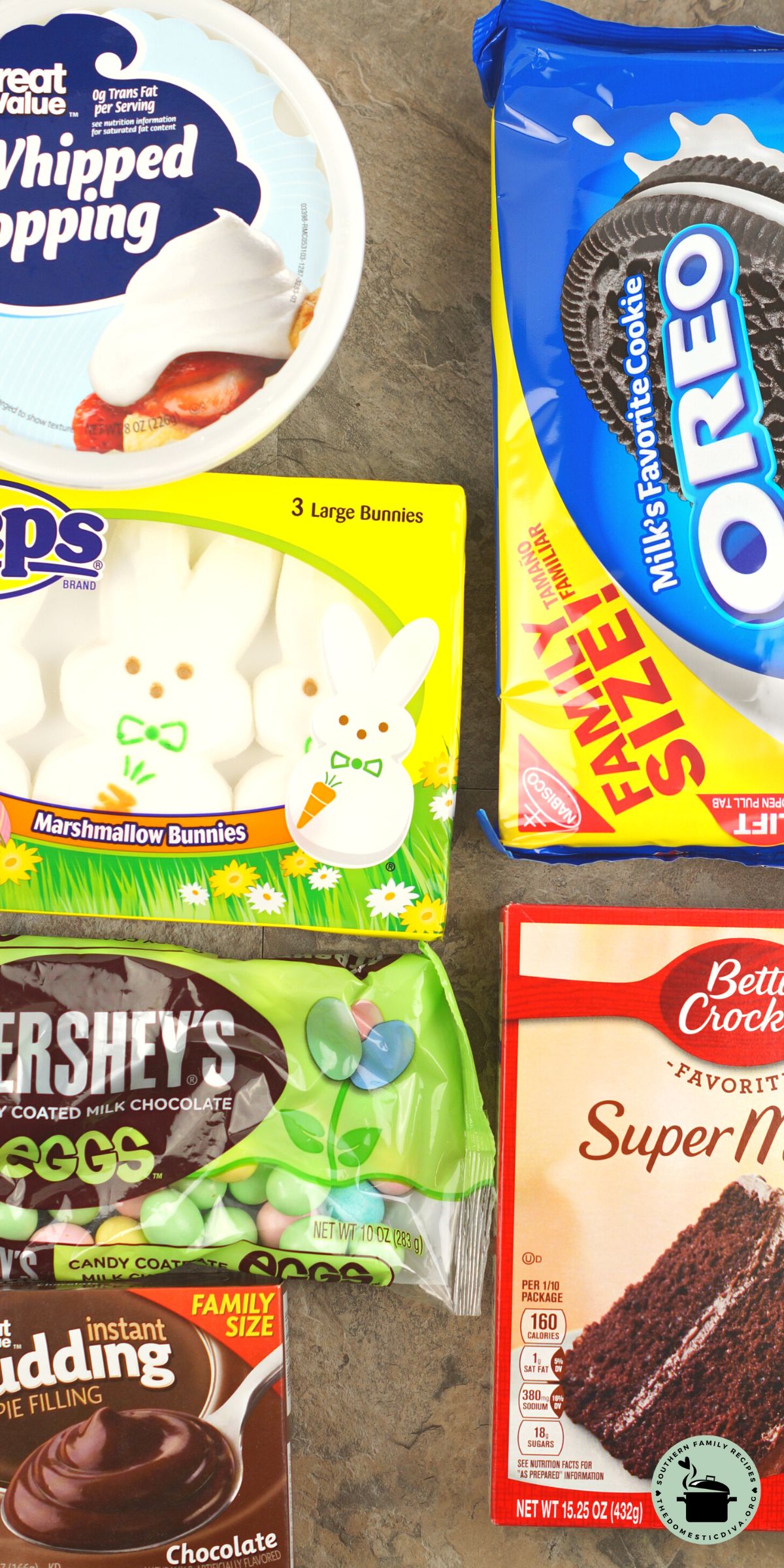 How to Make a Chocolate Easter Dirt Cake Trifle?
Grab Ingredients: gather all of your ingredients before making your trifle. You will need your chocolate cake mix, chocolate pudding mix, Oreos, as well as milk, eggs, oil, water, and whipped topping.
Layer in Trifle Dish: in the Trifle dish you will layer your prepared cake, pudding mixture and Oreos until you have 9 layers.
Decorate with Easter Candy: decorate the top of your Trifle with crushed Oreos, candy coated Chocolate eggs, and a big Marshmallow Bunny.
Equipment Recommended to make this Chocolate Easter Trifle Recipe
Glass Trifle Dish: this is what you will assemble your trifle in. If you don't have a trifle dish you can also use any clear or glass container that you have.
Food Processor: this is an easy way to crush up your Oreos. Just put into the Food Processor and pulse until the Oreos are broken up into tiny crumbs.
Mallet and plastic storage bag: if you don't have a Food Processor, don't worry about it. You can use a hammer, meat mallet (on the smooth side), or even a rolling pin. Put some of your Oreos into a zippered plastic storage bag and mash with your mallet until the cookies are tiny crumbs.
Hand Mixer: a hand mixer is great to use if you don't have a stand mixer. You can use it to mix up the cake batter as well as the pudding mixture.
Stand Mixer: Use a stand mixer to mix up your cake batter before baking. You can also use a stand mixer to mix up your pudding as well. When making your cake batter use the paddle attachment and the whisk attachment when making the pudding. If you don't have a hand mixer or a stand mixer then I would recommend using a wire whisk to mix up your cake batter and pudding mixer.
9×13 Glass Baking Dish: this is the dish you will use to bake your cake before assembling your trifle.
Glass Mixing Bowl: if you are mixing your ingredients by hand then you will need at least one mixing bowl to mix up your cake batter as well as you pudding mixture.
Silicone Spatula: this is used to scrape out all of the cake batter into a baking dish as well as folding the pudding mixture with the whipped topping.
Kids Can Help Decorate this Easter trifle
I think this dirt cake trifle is just as adorable as it is delicious. Not only is it delicious but it is also fun to make! The kids will have a blast decorating this trifle for Easter.
Children could help with the layering of the ingredients into the trifle dish or adding those finishing touches of the Easter Eggs and Bunny to the top of the dirt cake.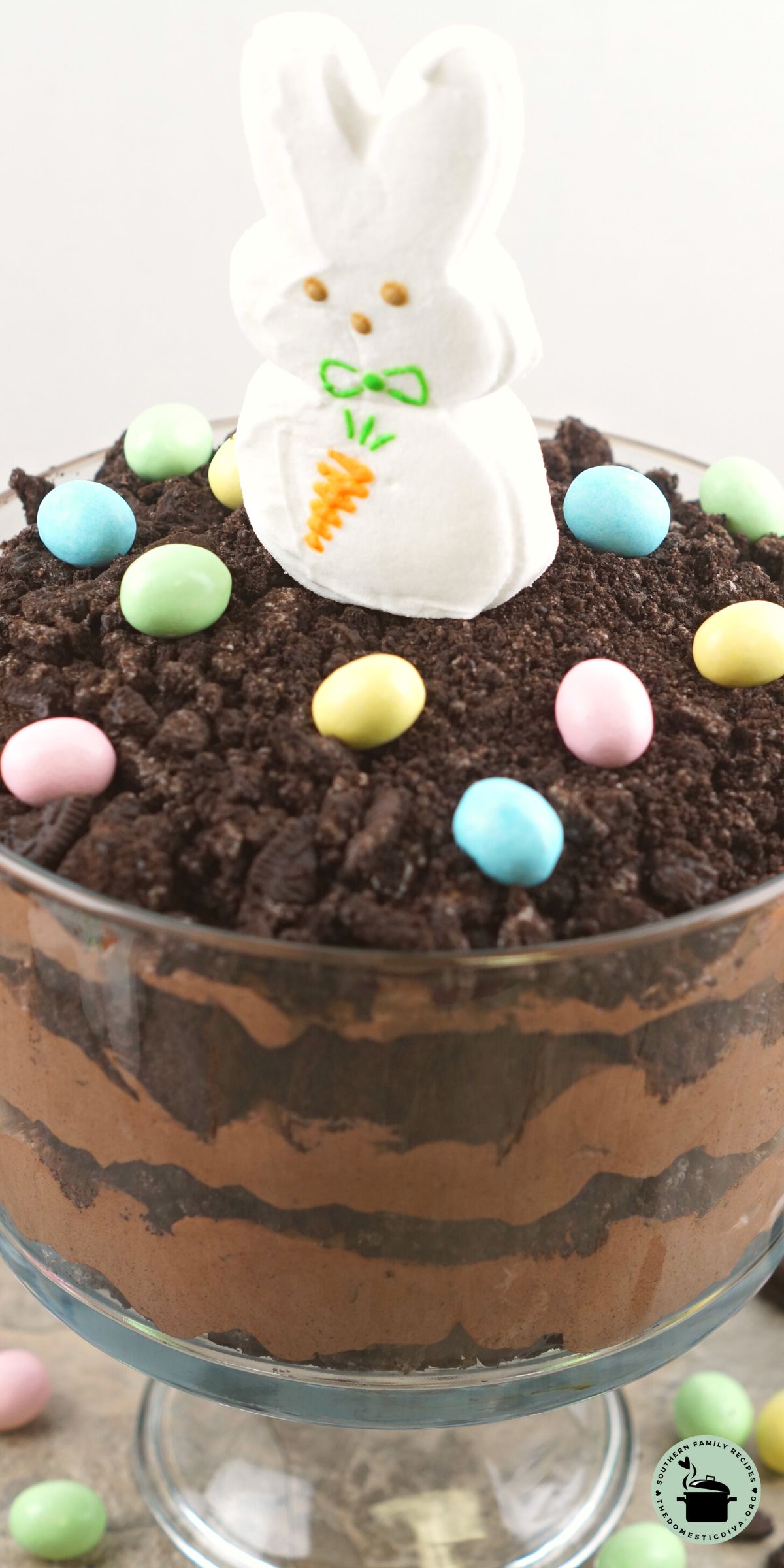 How to Store this Easter trifle
This Easter trifle needs to be stored in the refrigerator before serving.
Don't put on the candy coated eggs or Marshmallow bunny until ready to serve.
Cover your trifle dish with plastic wrap while in the fridge to prevent it from drying out.
This trifle recipe can be made a day ahead and should be consumed within 3 days of being made.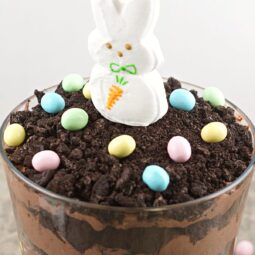 Easter Bunny Dirt Cake Trifle Recipe
Rich chocolatey cake trifle with decadent layers of chocolate pudding and crushed oreos. Top this trifle with Easter themed edible decorations like a marshmallow bunny and milk chocolate candy coated eggs and you have a dessert everyone will be talking about.
Ingredients
1

3 count

box of Bunny Peeps or any other bunny shaped candy

Hershey's Candy Coated Milk Chocolate Eggs

1

box of Betty Crocker Super Moist Cake Mix: Chocolate Fudge

1

Family Size Oreos

crushed

1

Family Size Chocolate Instant Pudding Mix

1

8 oz

tub of Whipped Topping
Additional ingredients needed:
water, oil, and eggs

to make cake according to package directions

milk

for pudding
Instructions
First mix and bake cake in a 13×9 inch baking dish according to package instructions. Set aside and allow to cool completely before assembling your trifle.

After the cake has completely cooled, divide the cake into 3 equal sections.

Slice each section into small 1 inch cubes and set aside. In a mixing bowl, mix together the chocolate pudding with 1 1/2 cups milk (which is half of the milk that the box requires).

Then fold in the whipped topping with a rubber spatula until it is combined with the pudding mixture. Set aside. Divide the crushed Oreos into 3 equal portions.
Video

Frequently Asked Questions
How do you serve this Easter Dessert out of a Trifle Dish?
Do you remove the Cream before Crushing the Oreos?
No, you do not have to remove the cream before crushing the Oreos. Crush the Oreos just as they are with both the cream and the cookie pieces until they are tiny crumbs.
Can I make this Easter Trifle in Advance?
Absolutely. This Easter Trifle recipe can be made the day before and refrigerated until ready to serve.
What size Trifle Dish do I need?
The trifle dish I used for this recipe holds about 4 quarts. So any glass dish that is 4 quarts or larger should work. If you don't have a large enough dish you can always split the dessert into 2 separate dishes.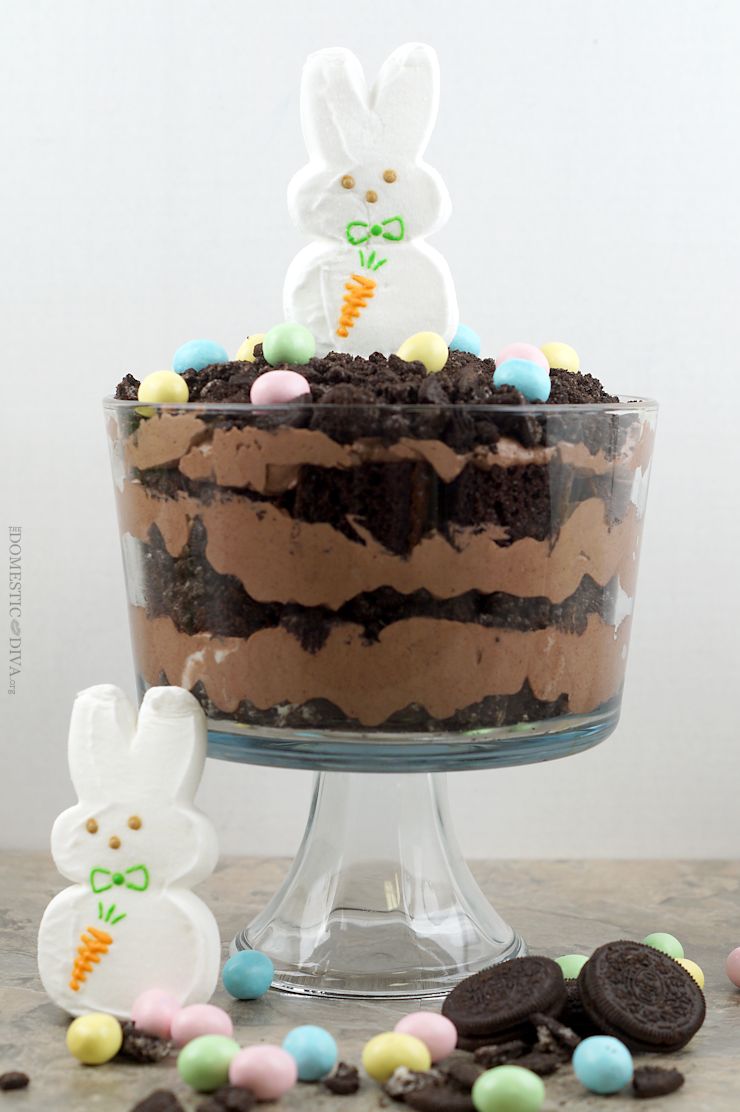 Other Easy to Make Easter Desserts