This post contains affiliate links to Amazon. For more information, please read our Disclosure Policy.
(sponsored post)
I'm back again with another round of new products that one can now find in the grocery section of Walmart. As a part of the Walmart Moms, I was sent some for my family and I to try out which is always a lot of fun. I like the challenge of creating something with a new product to share with my family and friends, like you. Some of the new products we sampled were a great fit for my family and they have instantly become favorites in our household.
Those of you that like hot stuff will love seeing Lee Kum Kee Siracha Mayo and Mae Ploy Sweet Chili Sauce. The new Wish Bone E.V.O.O. Dressing Extra Virgin Olive Oil gives a new spin to traditional olive oil with flavors like Sundried Tomato that not only tastes great on a salad but also pairs great with grilled chicken on a bed of pasta. Speaking of dressing did you know that Hidden Valley now offers Greek Yogurt dressings? These dressing contain fewer calories of your favorite ranch dressing perfect for dipping or pouring over salads.
Last month, I shared with you all a recipe using a fun-shaped pasta for kids that's now available at Walmart. Not only does it come in a fun space theme but it also comes in this fun train shape as well. These pastas are great as they are made with 100% natural ingredients that are GMO free with no added sugar or salt.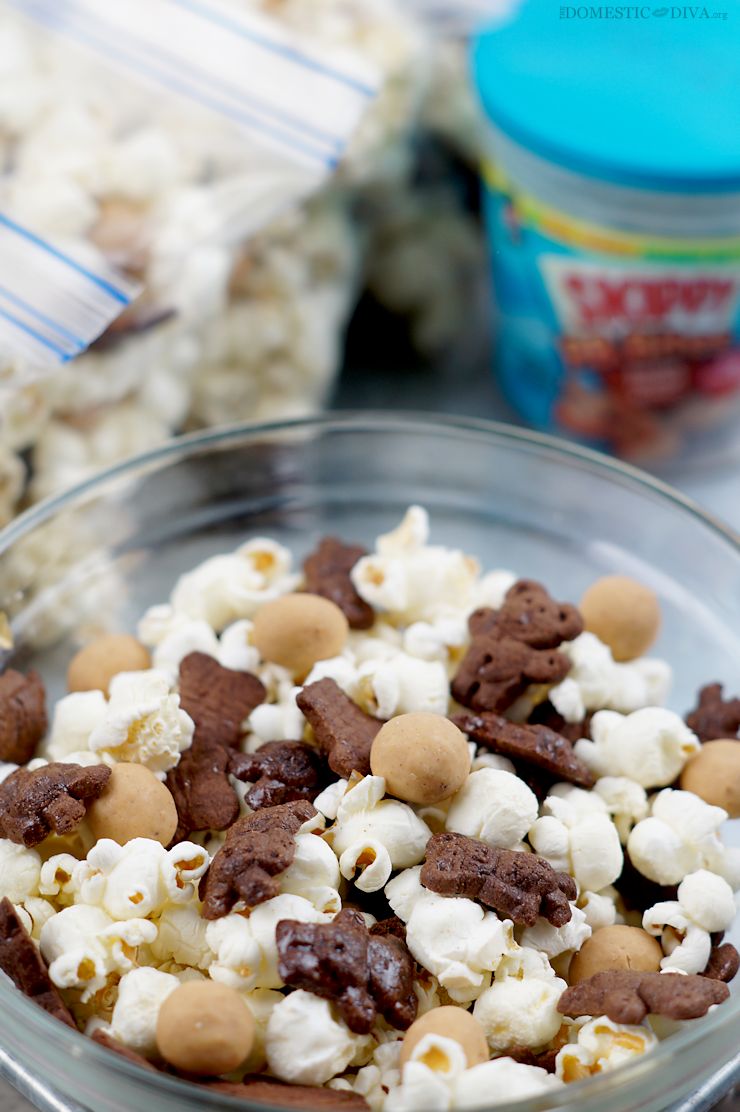 Out of all of the products that I had the opportunity to try, my absolute favorite for both me and my boys were the Skippy Peanut Butter Bites. We love the double peanut butter ones that has delicious peanut butter in the center but there is a pretzel variety available for those that like a little bit of crunch. By themselves they are absolutely delicious. I love that this snack is an easy, delicious way to get 5 grams of protein into our diets. I love having a container at my desk and they are super simple to take along as a snack on the go with their resealable container.
For the boys, I thought it would be great to create a snack pack for them using the Skippy Peanut Butter Bites. These snack packs are super simple to create and are easy to customize to one's own individual taste. Create one for the kid's lunch boxes, a take along on a picnic, or as an at-home movie night snack.
Peanut Butter and Grahams Popcorn Snack Pack for Kids
2 cups Sea Salt popcorn
1/2 cup Chocolate Teddy Grahams
10-15 Skippy Peanut Butter Bites
Combine all of the ingredients into a large bowl. Lightly toss so that each ingredient is evenly distributed throughout the mix. Scoop into a resealable sandwich bag and enjoy!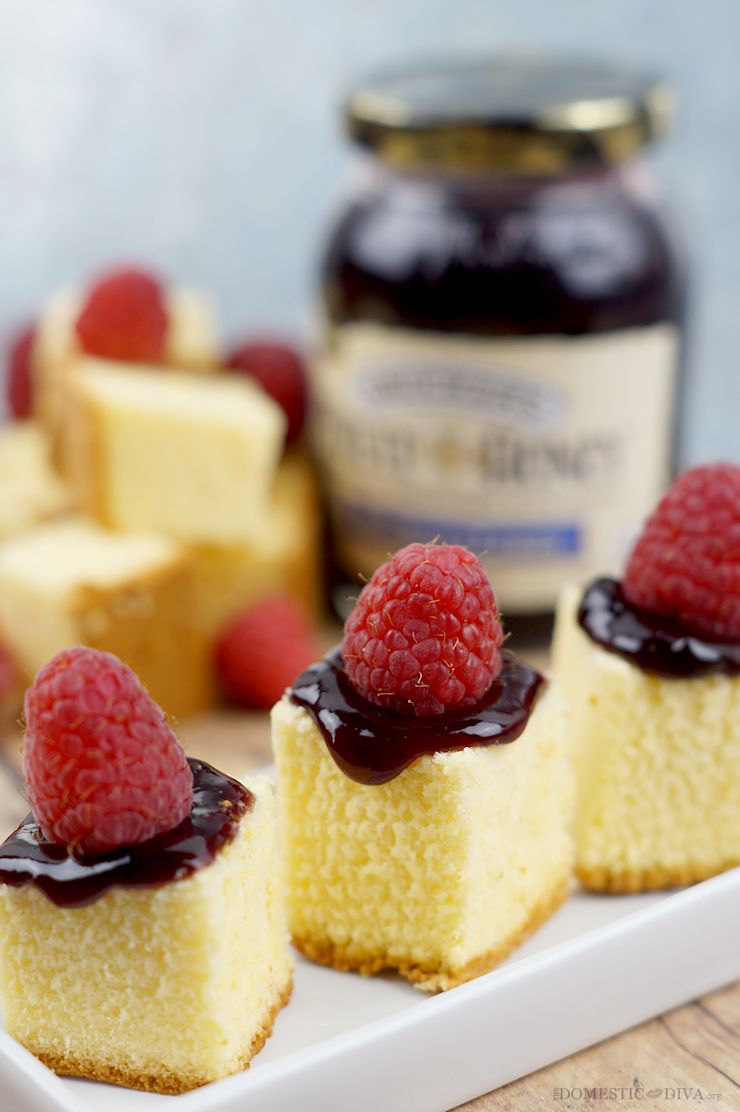 The other new product that is available at Walmart that caught my eye was the Smuckers Fruit and Honey Blueberry Lemon spread. As soon as I saw the jar I knew that I had to create a dessert with it. So I created these pound cake bites that really let the flavor of the fruit and honey spread shine.
Fruit and Honey Pound Cake Bites
1 Family Size Sara Lee All Butter Pound Cake
Smuckers Fruit and Honey Blueberry Lemon spread
42 raspberries
Remove the Sara Lee Pound Cake from the packaging. Slice off the ends. Then slice the remaining loaf into 7 slices. Take each slice and cut it in half in the middle. Then with the two halves together cut two more times to create 6 small squares from each slice of pound cake. Repeat these steps for the remaining 6 pieces of pound cake so that you have a total of 42 pound cake squares.
Top each pound cake square with Smuckers Fruit and Honey Blueberry Lemon spread and one raspberry.
Serve and Enjoy!
Of course, these are just a few of the new products available at Walmart and some of the ways that one can use them in their own kitchen. Be on the lookout for these and other new products on the store shelves at your local store.
Have you tried any of these new products? What do you think of them?
Disclosure: As a participant in the Walmart Moms Program, I've received compensation for my time and efforts in creating this post. All thoughts and opinions are my own.