This post may contain affiliate links to Amazon. For more information, please read our Disclosure Policy.
Disclosure: This post has been sponsored by Walmart.
Did you know that Walmart carries locally grown produce in their stores? I took a trip to my local store to see what kinds of locally grown produce my store had to offer. Immediately when I walked into the produce section of Walmart, I noticed this sign.
So I began looking for our locally grown sticker. I was able to find several different kinds of locally grown produce on several different days. There were locally grown cantaloupes, peaches, blueberries, Vidalia onions, and watermelons! Looking closely at the sticker on the watermelon shows where it was grown as well as the name of the local grower.
I was given the opportunity by Walmart as a part of the Walmart Moms to interview a local grower that supplies watermelon's to Walmart in my state. As you can probably imagine the farm is a busy place so I spoke with the wife of the farmer at Sweet Dixie Melon. She was super sweet in answering my questions:
What are the benefits to buying local produce? Knowing the grower. Parents can take their kids to see where it is grown, look at the farm, and look at the package shed.
-I love this idea of visiting the farm where the produce is actually grown and having the kids meet the farmer (and ask questions) about how it all works. I also appreciate Sweet Dixie Melon encouraging taking a visit to their farm. Maybe we'll take a homeschool field trip in the future :)
Where is your farm located? near Tifton, GA
How long have you been a farmer? 30 years total with 20 years growing produce
What types of produce do you grow? Watermelon, cantaloupe, bell peppers, and egg plant
Do you have an recipes you could sharing using watermelon? No, I don't have any recipes. I like to eat watermelon out of the fridge with salt on it.
-I love how she mentioned putting salt on watermelon. This is a trick that many might not know that actually makes your watermelon taste a bit sweeter.
How did you feel when you first saw your watermelons in Walmart stores? Very proud!
-when I saw the sticker for Sweet Dixie Melons on the watermelon I chose at Walmart I was just as excited and proud for them.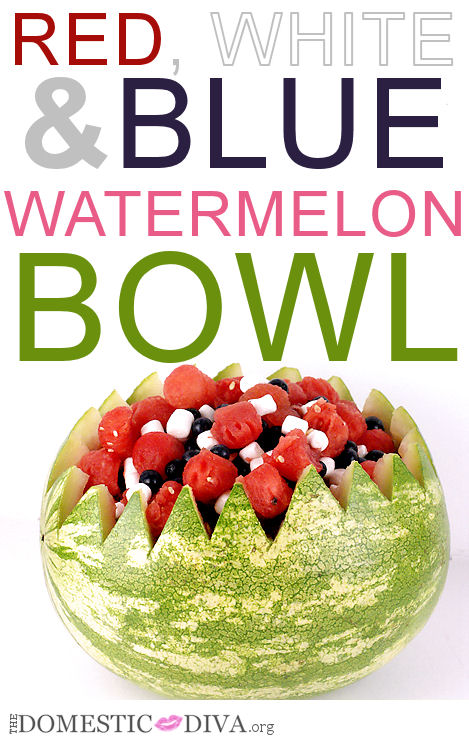 Red, White, and Blue Watermelon Bowl
1 large watermelon
2 cups blueberries
2 cups mini marshmallows
To make your Red, White, and Blue Watermelon Bowl, first find the spot on the watermelon where it will sit without rolling. This will be the base of your bowl. On the opposite end, the top, make a cut across the watermelon removing about 1/3 of the watermelon. With a melon baller scoop out the flesh of the watermelon into a large bowl draining the liquid as it accumulates. When all of the watermelon has been removed clean out watermelon to make a bowl. I used a spoon to scrape the remaining pink flesh out of the watermelon and drained out any remaining liquid. To add some decoration to your watermelon bowl, cut "V" shapes along the edge of the watermelon to give it a zig-zagged edge. In the bowl with the balled watermelon add blueberries and marshmallows. Carefully mix together so evenly distributed then add back into the watermelon bowl. Serve immediately. This recipe is best made right before serving.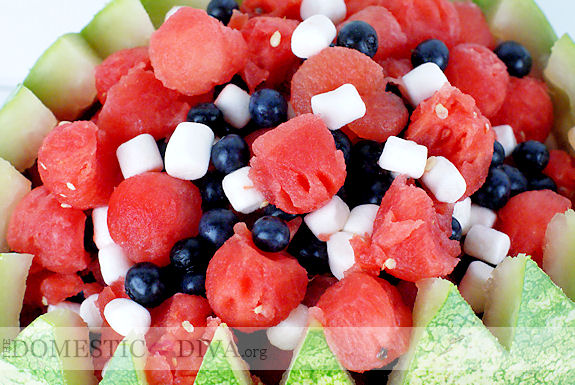 What kind of locally grown produce is available at your local Walmart?