This post may contain affiliate links to Amazon. For more information, please read our Disclosure Policy.
An easy to make cake that will wow your guests with beautiful pastel layers of delicious vanilla cake inside. Perfect for spring, this cake can be decorated in a variety of ways.
Jump to Recipe
While this spring cake recipe is great for an Easter centerpiece with it's marshmallow decorations, that is not the only occasion this cake would be perfect for.
Spring is the perfect time for cake! There are plenty of BBQ's, Birthday Parties, and other special occasions where this cake would make the perfect centerpiece.
As the weather begins to warm, what better way to celebrate the beginning of spring than with cake! I mean, do you really need an excuse to eat cake? No, of course not! But it is fun to get creative in the kitchen as the first cool, spring breezes blow in through the windows.
The best part of this spring cake recipe is the surprise center! No one will expect to see the beautiful pastel layers of delicious vanilla cake inside.
This easy Easter recipe is so simple to put together, using a simple boxed cake mix, some food coloring, spring themed sprinkles, and marshmallow treat toppers, your family will love this Easter dessert.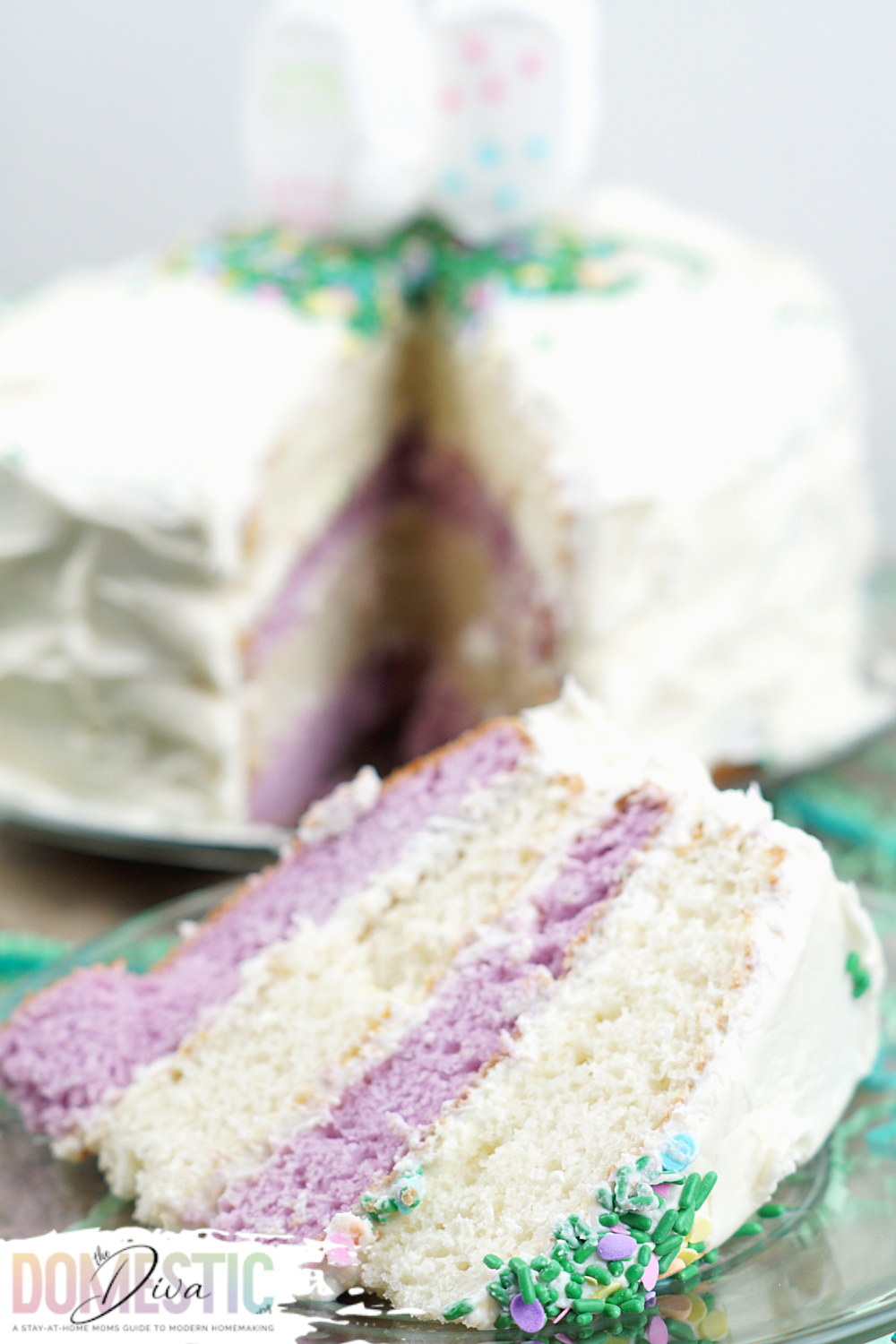 Decorate Any Way You Want
I love how easy it is to make this spring cake. All one needs is a few boxes of cake mix and frosting. The sprinkles and marshmallow egg toppers are, of course, completely optional. However, adding these elements really makes the cake come to life and it gives it that wow factor.
Perfect Pastel Cake Layers for Spring
The real showstopper of this spring cake is on the inside. The layers of this cake are classic white and pastel purple. When you cut into the cake it is such a fun surprise to see. I love the way that the center of this cake turns out. No one will expect to see the fun pastel layers of vanilla cake until you cut into it.
Don't like the color purple? That's cool. You can easily dye your cake layers any color you would like by using natural food coloring.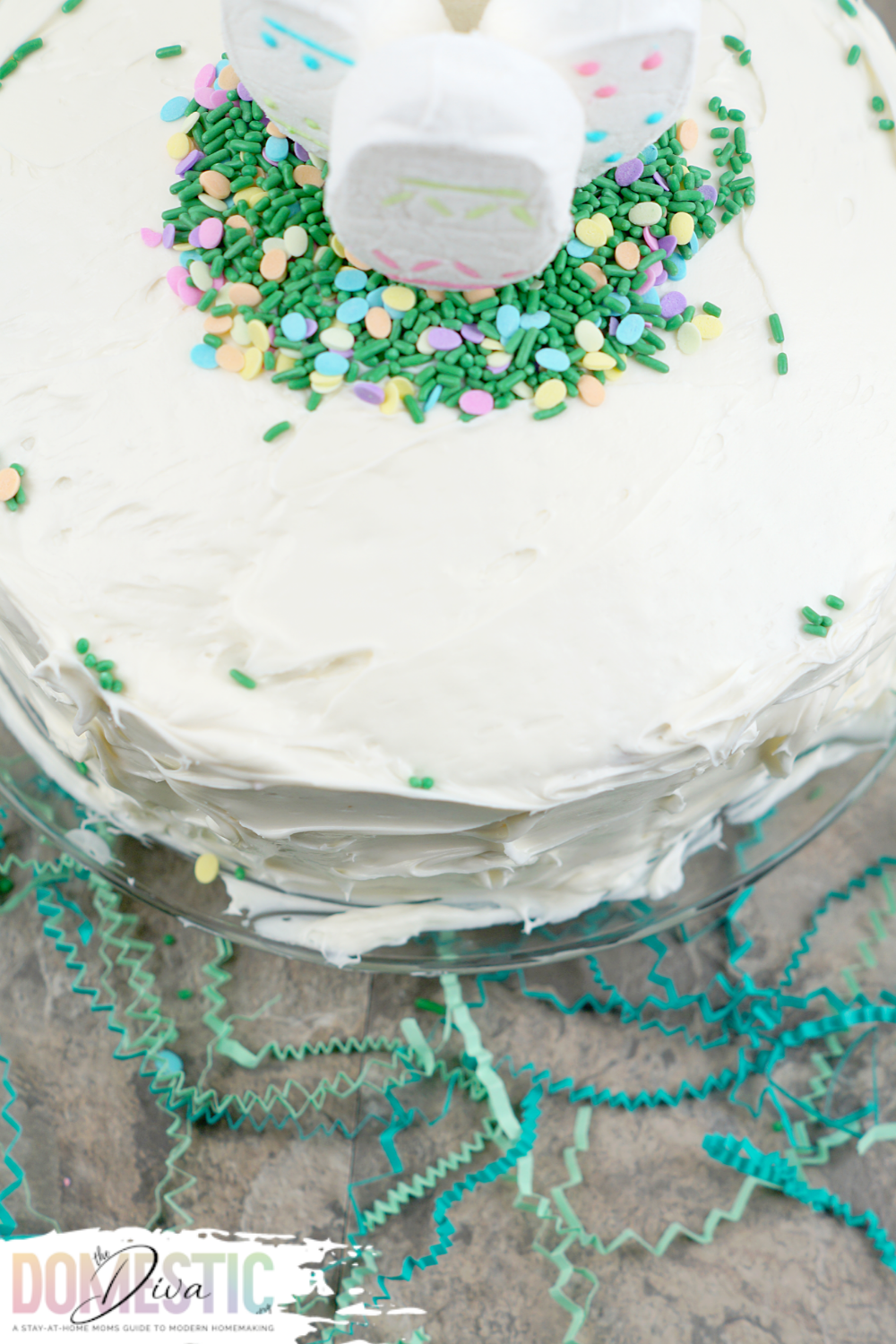 You Don't Need an Excuse to Make a Cake
Of course this cake would be the perfect centerpiece for any get together with friends and family doing the Spring. But, honestly, you don't have to have a special occasion to want to make or eat cake. This delicious cake is super simple to make and just as fun to eat.
Faced with a rainy day and don't know what to do with the kids? Make this cake together. The kids would have a blast helping to change the color of the batter. Littles one will love to help decorate the finished cake with fun sprinkles and mashmallow treats.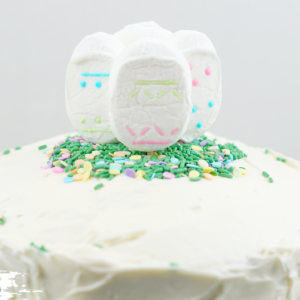 Spring Cake Recipe
An easy to make cake that will wow your guests with beautiful pastel layers of delicious vanilla cake inside. Perfect for spring, this cake can be decorated in a variety of ways.
Ingredients
2

boxes of White Cake mix

3

cans of white vanilla frosting

Liquid Food Coloring

Red & Blue

Easter sprinkles

4

Large Marshmallow Eggs

(or any large – spring themed – shaped marshmallow like a bunny, duck, egg, etc. )
Also Needed:
ingredients to make white cake mixes according to package instructions

(usually oil, water, eggs, etc.)

cooking skewers

(for marsmallow center piece)
Instructions
While the first batch of cakes are cooling, prepare the second box of white cake mix according to the package direction except add 8 drops of blue liquid food coloring and 12 drops of red liquid food coloring to the batter before separating into two, greased 9 inch round cake pans. Bake according to the package instructions. Cool completely.

Once the 4 cake rounds are completely cool, cut off the top of the round cakes so that it is level. Place a purple cake round onto your cake plate and ice with half of a can of white frosting. Place a white cake round on top and ice with the remaining white frosting. Continue layering purple and white cake rounds using the remaining cans of white frosting to ice the entire cake.

Serve & Enjoy! Happy Easter!!!

What do I decorate My cake with?
You can decorate your cake with anything you would like. I chose to decorate my cake with spring themed sprinkles and egg shaped Peep marshmallows.
You might not be able to find these decorating items where you live, so get creative. Use whatever spring themed sprinkles that you can find. As for the cake topper, you can completely omit it or use something different like chicks or bunnies like I decorated this Easter Bunny trifle recipe with.
Let's Make Cake!
Spring not your thing? Looking for more cake ideas? Check out these other cake recipes that you can easily make at home…