This post contains affiliate links to Amazon. For more information, please read our Disclosure Policy.
Making homemade biscuits couldn't be any easier with this authentic southern recipe. Using only 5 ingredients and a cast iron skillet, this simple recipe can be made for breakfast or dinner. 
Jump to Recipe
Table of Contents
The best, authentic southern biscuits recipe that makes perfectly soft and fluffy biscuits using only 5 ingredients.
There is one thing you need when living in the south and that's a good homemade biscuit recipe. Biscuits are a southern staple for breakfast and a welcomed compliment to southern comfort food.
Not all biscuits are the same. If your biscuit recipe has too many ingredients, forget about it. This is a southern biscuits recipe without buttermilk.
Biscuits were made to be simple.
Simple and delicious, that is the secret to good southern biscuits.
The type of flour matters
Many will argue that flour doesn't really matter when making biscuits. If you want a really, good southern biscuit you have to use the right kind of flour.
Many southerners will swear by White Lily brand flour.
However, the brand for me doesn't matter so much as what type of flour that you use.
For southern biscuits I only use self-rising flour.
Now, yes it is true that you can make your own self-rising flour but there is just something magical about a bag of self-rising flour.
You will notice that self-rising flour is perfectly soft and light. That is because it has already been sifted along with the addition of baking powder and salt, which saves you an extra step in the kitchen.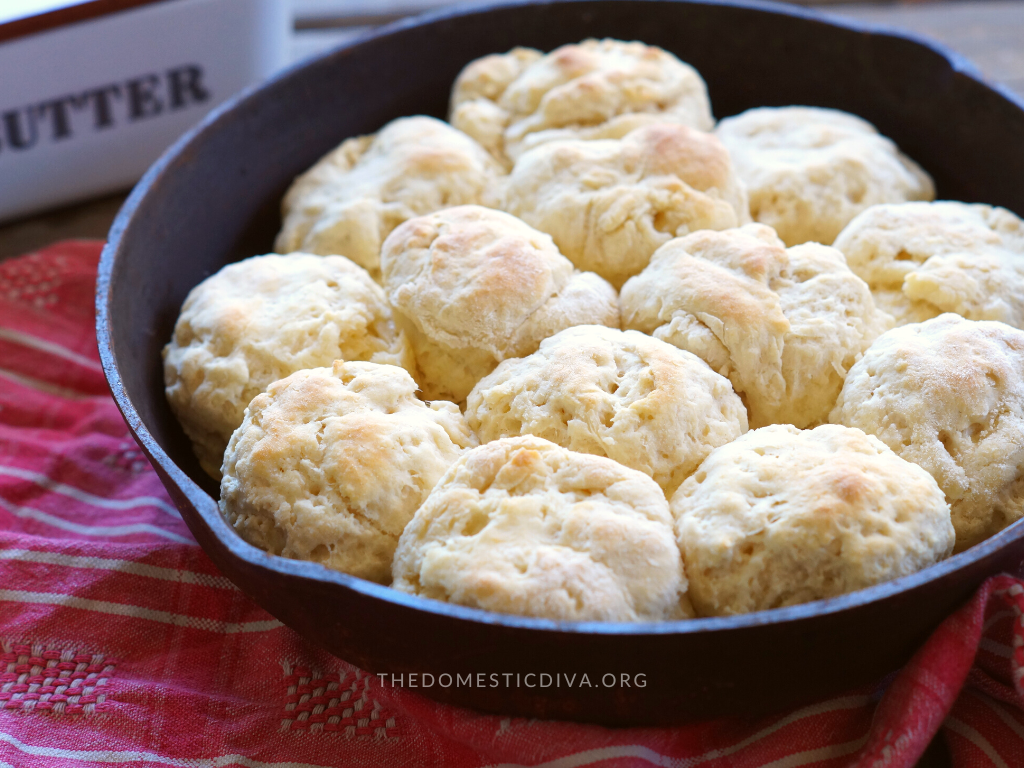 Don't handle the dough so much
You'll notice in the ingredient list for these fluffy southern biscuits that it calls for some cold ingredients.
If you handle the dough too much you will warm up these cold ingredients and they won't do their job in the oven.
So try your best not to over work the dough, so that your biscuits will be light and fluffy.
Do I have to use a Cast Iron Skillet?
I think that a cast iron skillet adds to the flavor of southern biscuits but it isn't absolutely necessary to use one.
If you don't have a cast iron skillet you can use a cake pan, just make sure the biscuits are touching when placed in the pan.
Do I have to use Shortening?
Many will argue that shortening is not necessary in a biscuit recipe.
While you can substitute butter for shortening in a biscuit recipe, the taste and texture will be different. Shortening is what sets apart a true southern biscuit recipe from all of the other recipes out today. There is only 1/4 of a cup of shortening in this recipe but it makes a big difference in the texture of the final baked biscuit.
Traditionally, in the south we use an all vegetable shortening like Crisco but if you want a healthier alternative you can use an organic all natural shortening that is on the market today as a substitute.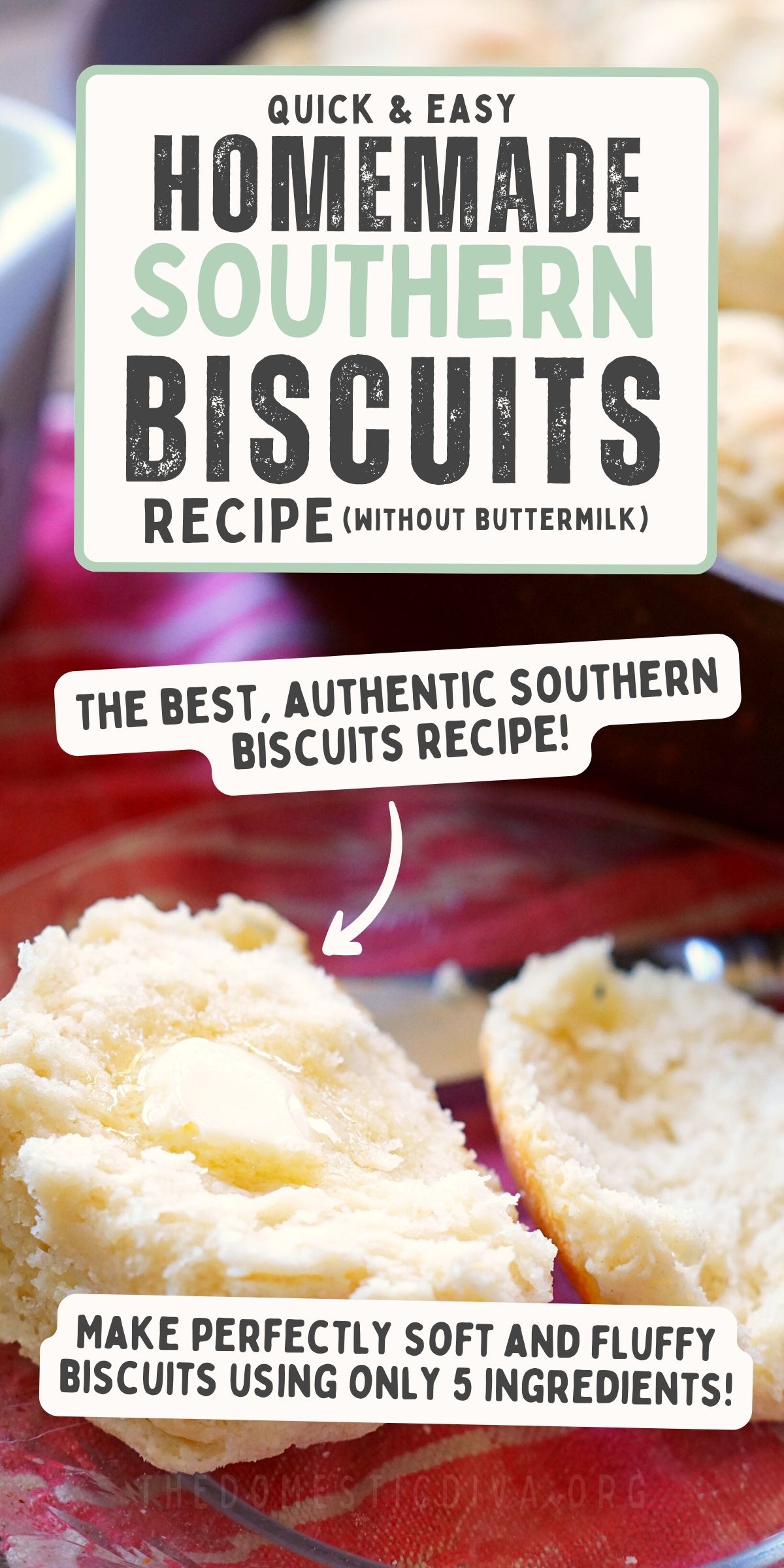 What do I serve with this southern biscuits Recipe?
Biscuits can be served for either breakfast, dinner, or a midday snack.
Commonly biscuits are served in the morning for breakfast. You can serve them alongside bacon and eggs.
These biscuits are great to make homemade breakfast sandwiches. Split them in two and add your favorite cooked meat like bacon, ham, or sausage. Add egg and cheese to make your own breakfast sandwich that you can freeze and heat on busy mornings for a no-fuss breakfast.
A typical country breakfast served with biscuits contains any combination of bacon or sausage, eggs, hash browns, and grits .
You can eat biscuits plain as they are or top them with butter or jam.
Southern biscuits pair well with dinners like fried catfish and cheese grits.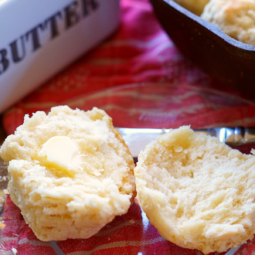 Homemade Southern Biscuits Recipe
Making homemade biscuits couldn't be any easier with this authentic southern recipe. Using only 5 ingredients and a cast iron skillet, this simple recipe can be made for breakfast or dinner. 
Ingredients
3

cups

Self-Rising Flour

1/4

cup

Cold Vegetable Shortening

1 1/4

cups

Whole Milk

4

tbsp

cold, salted butter

1

tbsp

granulated sugar
Instructions
In a stand mixer add self-rising flour, cold shortening, cold salted butter, and sugar. Mix on low with the whisk attachment until crumbly (see notes).

Once the butter and shortening has been incorporated into the flour, it should look crumbly. Add the milk and mix with a spoon until just mixed. 

Turn out dough onto a floured surface. Make sure you have enough flour on your hands so that the dough will not stick.

Pat the dough down with your hand, until about 1 inch thick.

Fold the dough in thirds by taking the right side of the dough and folding over to the center and taking the left side of the dough and folding over to the center.

Flatten the dough again with your hand to 1 inch thickness. Rotate the dough 90 degrees and fold the dough again in thirds. Repeat the process of flattening and folding the dough one more time. The folding of the dough is what will help create layers in your biscuits.

Flatten the dough one last time to about 1 1/2 to 2 inches in thickness. The overall shape of the dough does not matter, just the thickness. A rolling pin can also be used if desired.

With a large mouth mason jar or biscuit cutter, cut out 8 biscuits from your dough. Depending on the size of your jar / cutter will determine how many biscuits you'll be able to cut. 

Bake in a 450°F oven for 12-15 minutes or until golden brown.

Remove from oven and allow to cool in pan for 10 minutes before serving. Tops of biscuits can be brushed with melted butter if desired.
Notes
Do not over mix. This will cause your biscuits to come out tough. Mix the wet and dry ingredients together until no longer dry.
You can use all purpose or self-rising flour on your floured work surface.
If you don't have a stand mixer or whisk attachment, you can either use your hands to break up the cold butter and shortening with the flour to make a crumb mixture or you can use a pastry cutter or a fork. 

What are some other breakfast foods you eat in the south?
Southern Cheese Grits Recipe
This easy cheese grits recipe is a breakfast staple in the south. A Georgia recipe for southern style cheese grits is quick to make in less than 15 minutes. American cheese grits an be served with your favorite seafood like shrimp or fried catfish for dinner. This southern cheese grits recipe uses cheddar cheese and quick cooking grits.
Get this Recipe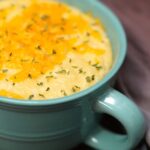 Easy Homemade Waffles Recipe – Better Than Waffle House
Want to make the best homemade waffles ever! This easy Waffle House copycat recipe tastes even better because they are homemade. Fluffy waffles made in minutes with or without buttermilk. No need for a fancy belgian waffle maker. You can make this simple waffle recipe using any waffle maker.
Get this Recipe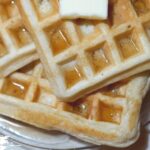 Banana Nut Oatmeal
Creamy homemade banana nut oatmeal tastes like warm banana bread in a mug. This breakfast recipe will fill you up and keep you going till lunch. Made with real bananas, old fashioned rolled oats, and pecans it has just the perfect balance of sweetness and only 10 minutes to make!
Get this Recipe