This post may contain affiliate links to Amazon. For more information, please read our Disclosure Policy.
Lemon cake combines with sweet berries and creamy vanilla pudding to make a mini trifle single serve dessert in a half pint mason jar.
Jump to Recipe
These mini lemon berry trifle are perfect to have in the fridge for a quick dessert during the week.
I love a simple dessert that I can just grab out of the fridge and enjoy.
Our favorite aspect of summer is fresh fruit. We always keep our fridge well stocked with a variety of fresh fruit both during the summer and the other months throughout the year.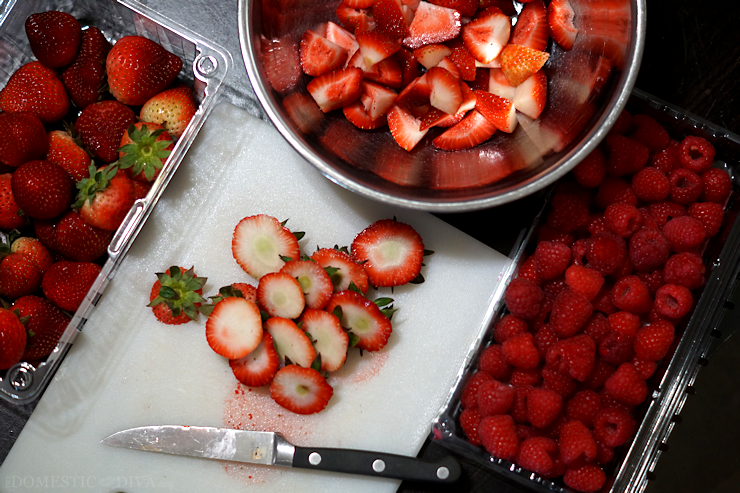 Fruit is one of our favorite snacks.
While this dessert isn't considered to be "healthy". It does utilize some of our favorite summer fruits: strawberries and raspberries. You, of course, can substitute any fruit you would like in this dessert but I think these berries make the perfect compliment to each other.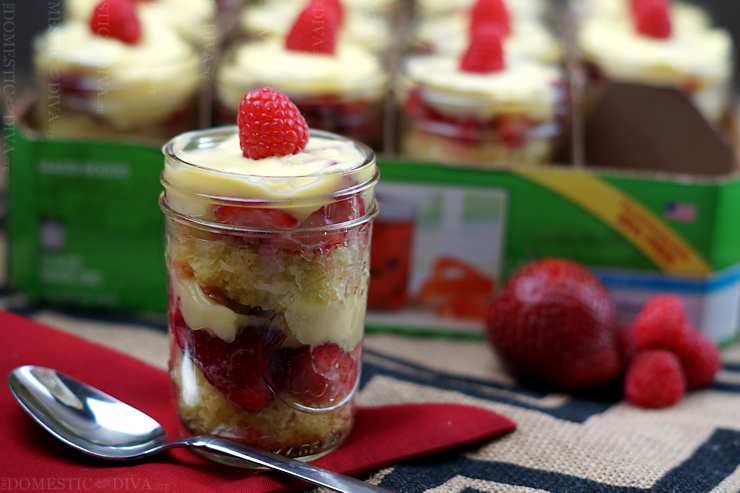 My family raved about these mini lemon berry trifles. These trifles are full of flavor with fresh berries and a hint of lemon cake.
I love that they are served in individual portion sizes because of the half pint mason jars.
If taking these to a gathering the lids can be placed on top of the jars for easy transportation. I saved the box that the half pint mason jars came in as a way to store the finished trifles.
These would also be great to pack in a lunch for an extra special treat during the middle of the week.
Who wouldn't love to unpack and eat a mini trifle after lunch at school or work?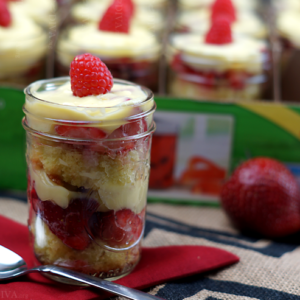 Mini Lemon Berry Trifle Dessert Recipe using Fresh Fruit
Lemon cake combines with sweet berries and creamy vanilla pudding to make a mini trifle single serve dessert in a half pint mason jar.
Equipment
12 half pint mason jars with lids
Ingredients
1

box

Betty Crocker Super Moist Cake Mix- Lemon

1

box

Jell-0 Instant Pudding and Pie Filling- Vanilla

5.1 ounces

1

Pint

Strawberries

6

oz

Raspberries

reserve 12 raspberries to garnish the top

1/4

cup

Sugar
Instructions
First start by baking the lemon cake according to the package instructions in a 13 x 9 baking pan. Allow the cake to cool completely.

Next, cut off the ends of the strawberries and cut into 4 pieces. In a large bowl toss the quartered strawberries with 1/4 cup sugar. Cover and refrigerate for 1 hour.

Prepare vanilla instant pudding according to package instructions and refrigerate until ready to assemble the trifles.

Once the cake is completely cooked, flip out of the pan onto a flat surface. Take 1 half pint mason jar and use it as a "cookie cutter" to cut out 12 circles out of the cooked lemon cake. Slice each cake round in half and set aside.

After strawberries and sugar have chilled for one hour, mix in raspberries (reserving 12 raspberries for the top of the trifles) with the strawberries before assembling the trifles.

To assemble the trifles, first start with a half of a round of lemon cake. Next, add a spoonful of the strawberry and raspberry mixture. Then add a spoonful of vanilla pudding. Repeat the same process with one more layer of each: lemon cake, strawberries & raspberries, then ending with vanilla pudding. Top the trifle with one raspberry in the middle.