This post contains affiliate links to Amazon. For more information, please read our Disclosure Policy.
I have a new love in my life and it comes in a very tiny, seed-like shape. I'm talking Chia Seeds. Have you heard of them? Yes, that popular commercial jingle from way back when…ch-ch-ch-CHIIIIAAA! Did you know that the same seeds that you used as a kid to give "hair" to a "pet" (I had a pig when I was little) are actually good for you? I've been doing research on chia seeds like crazy over the last several weeks after finding a pin about them on Pinterest. Chia seeds have many fascinating health benefits it's no wonder they are an ancient superfood.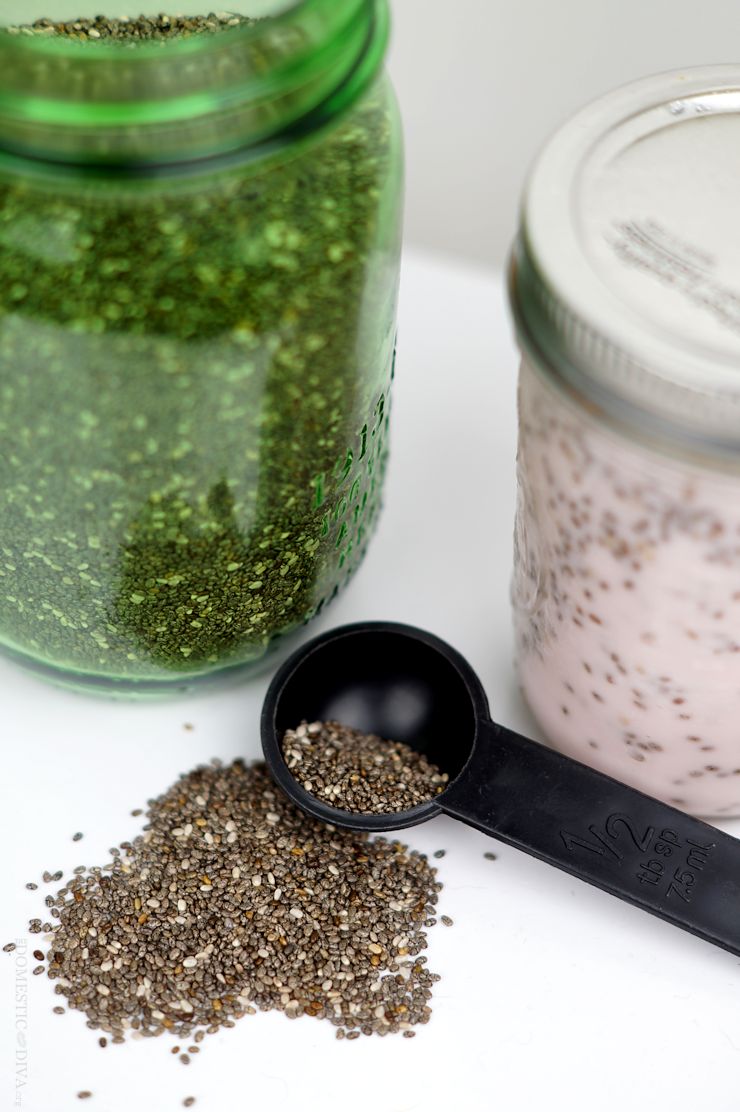 So how do you use chia seeds? Unlike Flax seeds which need to be ground when using them in recipes, chia seeds can be added to a variety of different recipes. When added to liquid, Chia seeds absorb a lot of water resulting in a squishy, gel like texture. My favorite way to consume chia seeds is by dividing a large tub of yogurt into small 1/2 pint mason jars. Each jar I mix 1/2 tbsp of chia seeds into. I seal the jars and place them in the fridge for the chia seeds to do their thing. The next morning, the chia seeds have absorbed as much water from the yogurt that they can. The seeds are plump, jelly like little balls adding a uniquely different and fun texture to regular, everyday yogurt.
My favorite aspect of chia seeds is that they have no taste whatsoever, at least I can't taste a different when I add them into different foods. Now I eat chia seeds and yogurt most mornings for breakfast but there are many other ways to use chia seeds like adding them to instant chocolate pudding for a slightly healthier dessert. I also like to add chia seeds to cold beverages like sweet tea, juices, or smoothies.
Chia Seeds are pretty easy to find at most supermarkets now. I found mine at Aldi and even spotted some at Big Lots last week. I like to take them out of their store packaging and keep them in a pint mason jar with a lid. The seal on the lid helps to keep out any additional moisture.
What are your thoughts on Chia Seeds? Have you tried them?