This post contains affiliate links to Amazon. For more information, please read our Disclosure Policy.
How to make a Caramel Macchiato at home better than Starbucks. Easy coffee recipe of rich coffee, steamed milk, and homemade vanilla syrup.
Jump to Recipe
Making a Caramel Macchiato at home is better than a trip to Starbucks. Making a Caramel Macchiato at home is also a lot easier than one would think. It is all about figuring out what ratio of espresso, milk, and sweetness that you prefer.
Those that know me well, know that I'm obsessed with that perfect cup of coffee. My mornings don't start until I have my favorite latte in hand.
So when my favorite coffee shop closed it's doors near me several years ago, I knew I had to figure out a way to continue enjoying my favorite coffee house drink, a caramel macchiato, at home.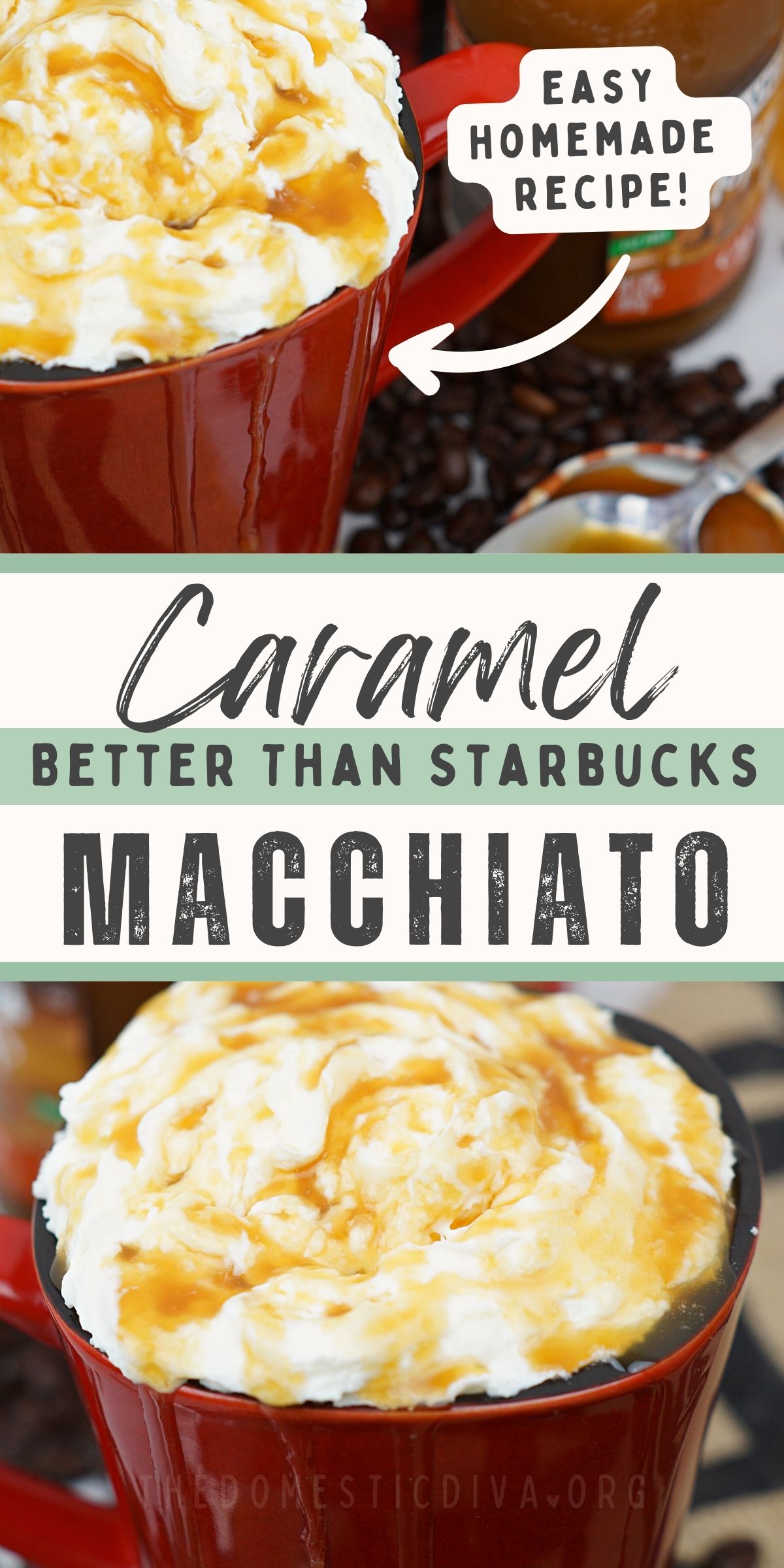 How to Make a Caramel Macchiato at Home like Starbucks?
Espresso and milk is the base for most coffee house drinks, the hard part is figuring out what ratio you like best. But I was determined to figure it out. The hint of vanilla paired with the sweet delicousness of caramel continues to call my name.
Some days I like a bold, intense espresso flavor to get me going while others I prefer a sweeter sip.
An espresso machine is a must in my opinion and so is the use of espresso roast coffee. This intense blend of coffee adds that "coffee house" flavor to the beverage that really makes it stand out against all other coffee.
Whether you pick up the espresso blend of your favorite coffee shop brand or a more budget-friendly alternative from the grocery store, espresso is called espresso because it gives your at home latte', cappuccino, or in our case caramel macchiato that unique coffee shop taste.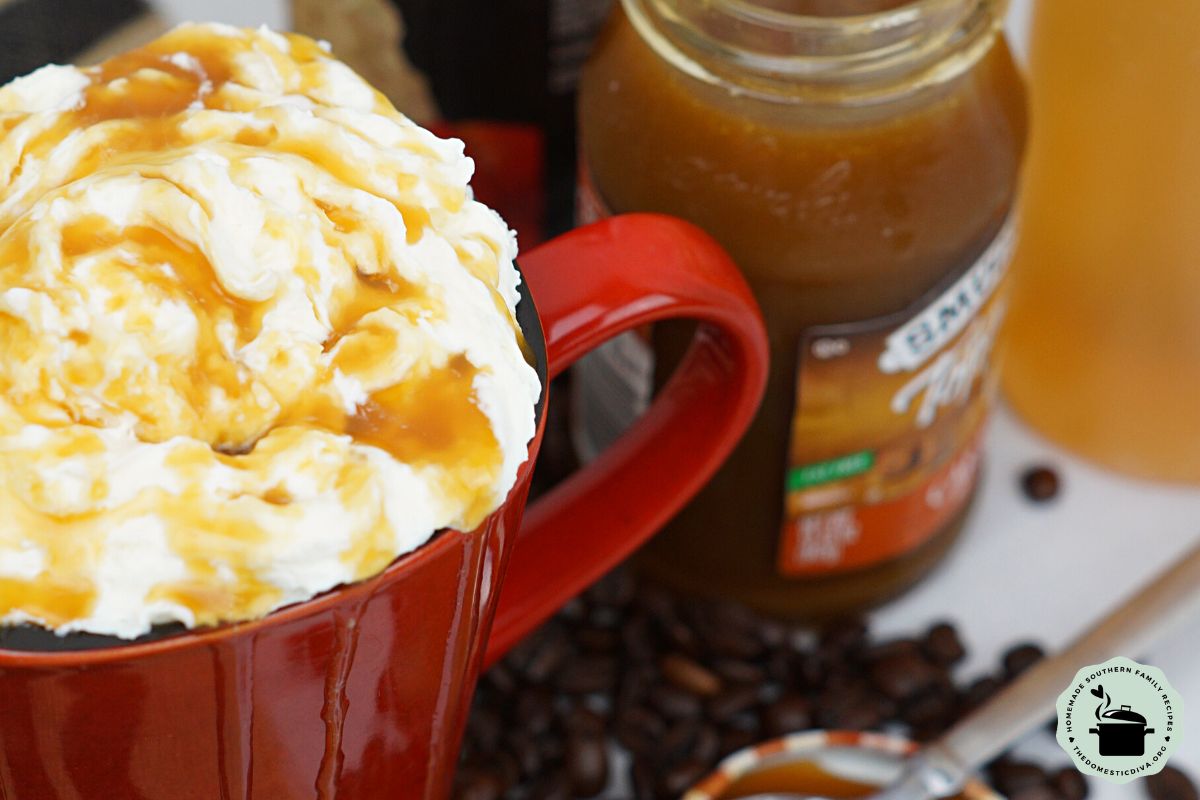 There is something unique about how an espresso machine is able to extract that pure, intense coffee flavor from the finely ground beans that just can't be achieved from a coffee maker.
Some espresso machines can be very expensive and overly elaborate. But a simple espresso machine is really all you need.
You can find a budget-friendly espresso machine in stores or online. You might even luck up and find one at a garage sale or thrift shop. Once you learn how to make espresso, the machine really doesn't matter as long as it produces espresso.
I've had several machines throughout the years. My current favorite is one I found at a thrift shop for only $5.
Making your own coffee house inspired drinks at home is all about figuring out your personal taste.
Use this recipe as a start and adjust it to your own personal preferences.
Before you know it, you'll be sipping on your own custom, delicious, coffee shop inspired beverage that's a bit more budget-friendly and a lot more convenient than a trip down the street.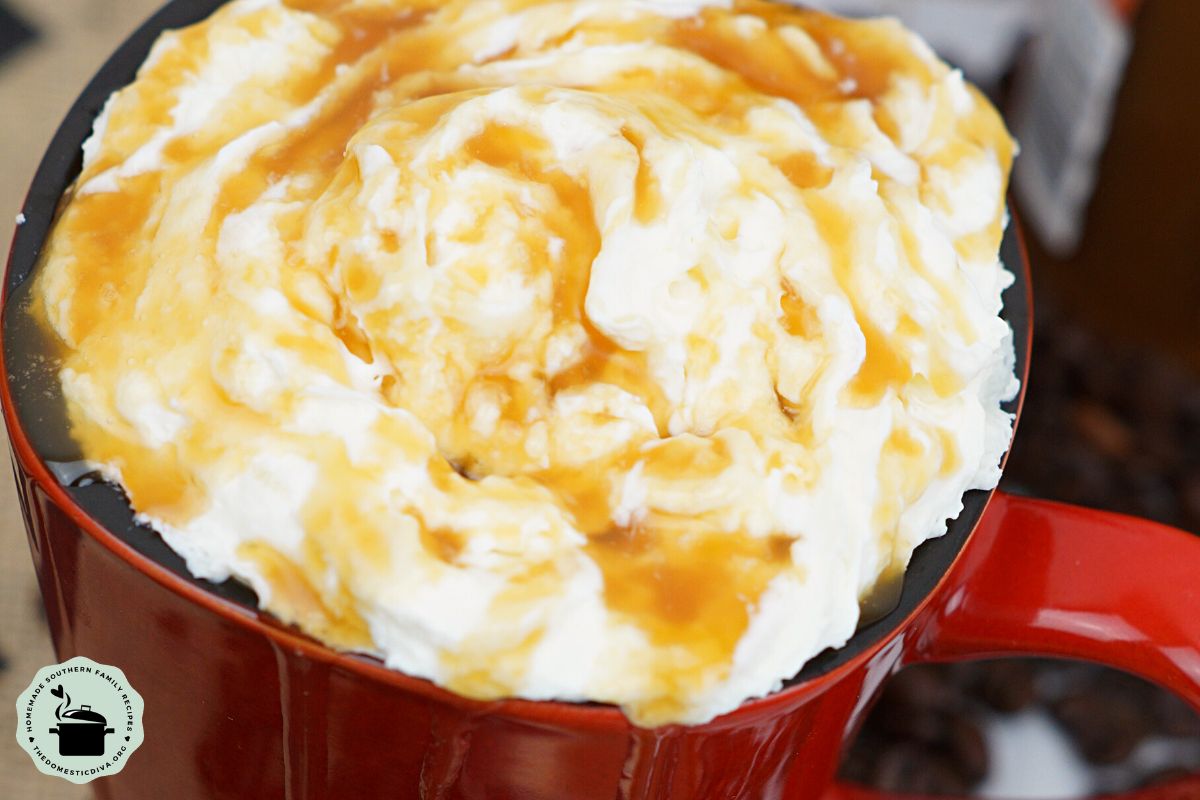 What can I substitute for Espresso?
If you don't have an espresso machine don't worry about it. Now a days there are plenty of instant espresso options on the market that taste great!
Don't like espresso?
Use your favorite coffee and brew it with double the strength.
Want to reduce the amount of caffeine but still enjoy a caramel macchiato?
Can't tolerate caffeine but miss all your coffee house favorites?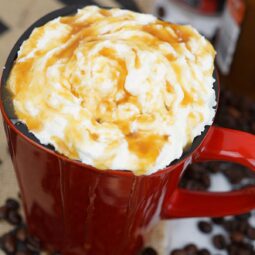 Caramel Macchiato Recipe
How to make a Caramel Macchiato at home better than Starbucks. Easy coffee recipe of rich coffee, steamed milk, and homemade vanilla syrup.
Ingredients
1 1/2

cups

steamed whole milk

1/8

cup

espresso

2 1/2

tbsp

vanilla simple syrup *

Drizzel: Caramel Ice cream Topping

Extra Creamy Whipped Cream
Vanilla Simple Syrup *
1

cup

sugar

1

cup

water

1 1/2

tsp

vanilla extract
Instructions
How to Make a Caramel Macchiato:
Once brewed, add 1/8 cup of hot espresso to the steamed milk. (add more or less espresso to taste depending on how strong of a coffee flavor you prefer, but start out with less and slowly add a little bit at a time as espresso is very strong). 

Then, add the vanilla simple syrup to taste (again more or less depending on your desired level of sweetness).

Top with extra creamy whipped cream if you desire. Drizzle the caramel ice cream topping in a zig zag pattern on top of the whipped cream. 

Serve hot and enjoy carefully.
How to Make Homemade Vanilla Syrup:
Notes
In this recipe, I used caramel ice cream topping because it is a thick caramel sauce that can easily be found at the grocery store. All you need is a tiny bit drizzled over top of your finished drink. Caramel ice cream topping is different from caramel syrup in it's consistency. To top our coffee house drink, we definitely want the thicker sauce. For the ever popular salted caramel macchiato, choose a salted caramel ice cream topping instead of regular caramel.
Check out my favorite kitchen gadgets for stay-at-home chefs on Amazon. 

What is your favorite coffee house drink?
If you love coffee, you'll want to check out our other coffee recipes like: