This post may contain affiliate links to Amazon. For more information, please read our Disclosure Policy.
Disclosure: CBD Living provided 3 jars of tea for the purpose of this review.
Unless you have been living under a rock, you have probably noticed the rise in CBD products being produced lately. It seems like every time I turn around I'm hearing about a new product that contains CBD. CBD is taking over the health industry and for good reason. It can offer our bodies many different benefits for our overall health and well-being.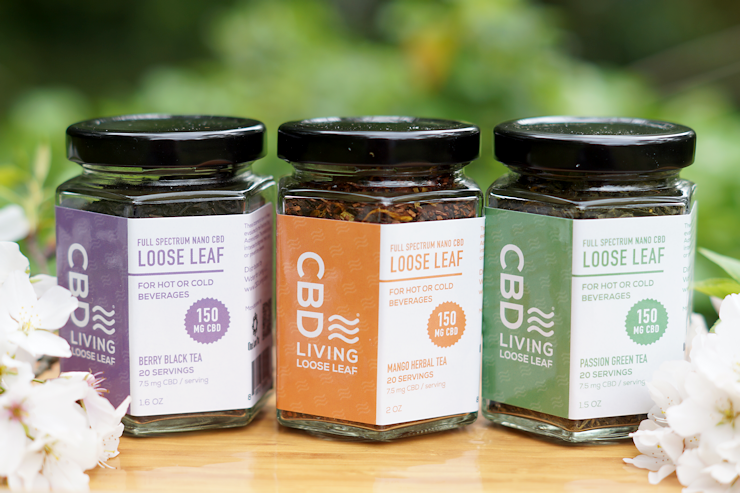 So what exactly is CBD?
CBD, called cannabidiol by it's scientific name, is derived from the hemp plant1. CBD does not contain THC. THC is the psychoactive part of the cannabis plant that makes you feel "high". The way your body reacts to CBD and THC are completely different2. Within each and every one of us is an endocannabinoid system3 which controls the CB1 and CB2 receptors in our bodies. CBD does not give you that "high" feeling because it works with the endocannabinoid system in a completely different way.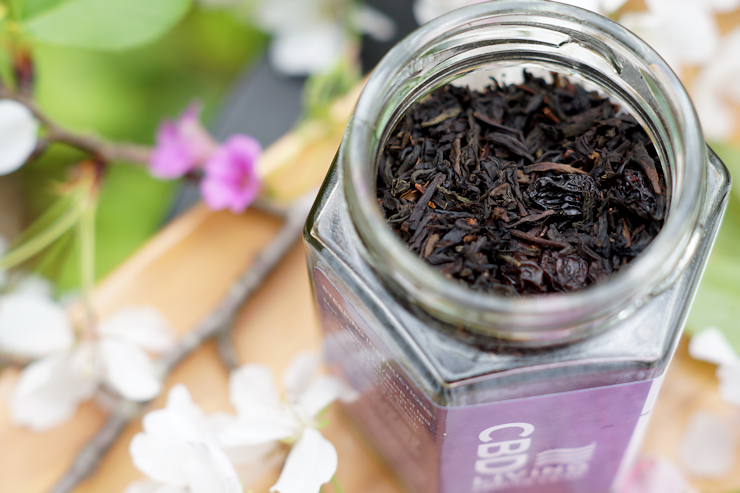 How is CBD Living Loose Leaf Tea Different?
CBD Living uses hemp that has been "organically grown in Colorado at a state-licensed hemp farm and extraction facility". They also use "nanotechnology" to reduce the CBD molecules into teeny-tiny little droplets so that all that CBD goodness can be delivered to your CB1 and CB2 receptors easily through your endocannabinoid system. CBD Living infuses their loose leaf teas with "nanoparticles" of CBD so that your body can absorb and use as much of the CBD as possible. Each 1.6oz. glass jar of CBD Living Loose Leaf Tea contains 150 mg of Full Spectrum Nano Hemp Extract CBD.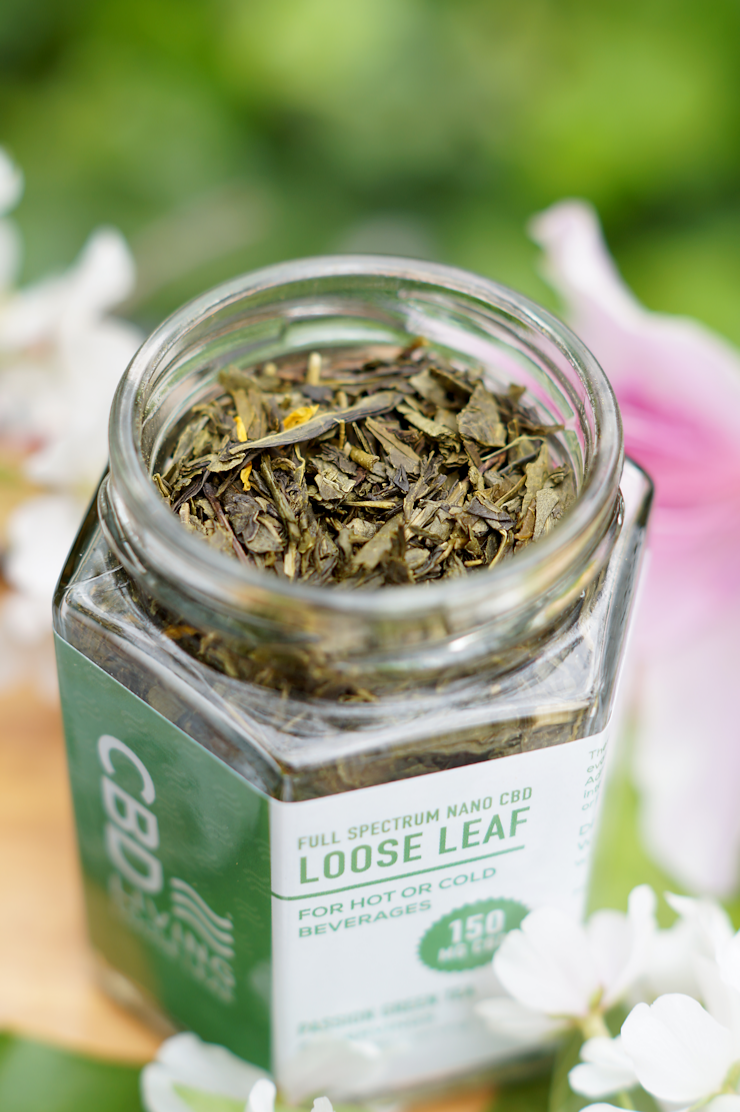 How to Use CBD Living Loose Leaf Tea
CBD Living Loose Leaf Tea comes in a variety of different flavors. Out of the flavors currently available I was sent 3 of my choosing to try out for myself:
Passion Green Tea which contains Organic Sencha Green Tea, Organic Marigold Petals, Organic Passion Fruit Extract, Proprietary Full Spectrum Nano Hemp Extract (aerial parts) 150 MG (Cannabidiol / CBD
Berry Black Tea which contains Organic Assam Black Tea, Organic Dried Black Currants, Organic Blackberry Extract, Full Spectrum Nano Hemp Extract (aerial parts) 150 MG (Cannabidol / CBD)
Mango Herbal Tea which contains Organic Honeybush, Organic Calendula Petal, Organic Dried Peach, Organic Mango Extract, Proprietary Full Spectrum Nano Hemp Extract (aerial parts) 150 MG (Cannabidol / CBD)
The one thing that you will notice with CBD Living Loose Leaf Tea is how flavorful they are. If you are used to using bagged tea bags, loose leaf tea is a completely different experience. The flavor is much richer. To prepare loose leaf tea you will need some sort of diffuser. I prefer to use a mug that has a stainless steel mesh strainer type diffuser that can easily be removed when I'm ready to drink my tea.
Why is loose leaf tea better than tea bags?
Each serving of CBD Living Loose Leaf Tea contains 7.5mg of CBD with each jar containing 20 servings of tea. CBD Living is so flavorful that you can make several cups from one serving. By reusing the loose leaf tea for a second or even third cup you get every last drop of flavorful goodness from the tea leaves.
I enjoyed every flavor of tea that I was given the opportunity to try. They smell amazing from the jar and taste incredible when brewed. The affects of the CBD can definitely be felt. With one sip, you can see that the combination of flavors in the ingredient list of each type of tea have been carefully planned out. The flavors mix so well with each other.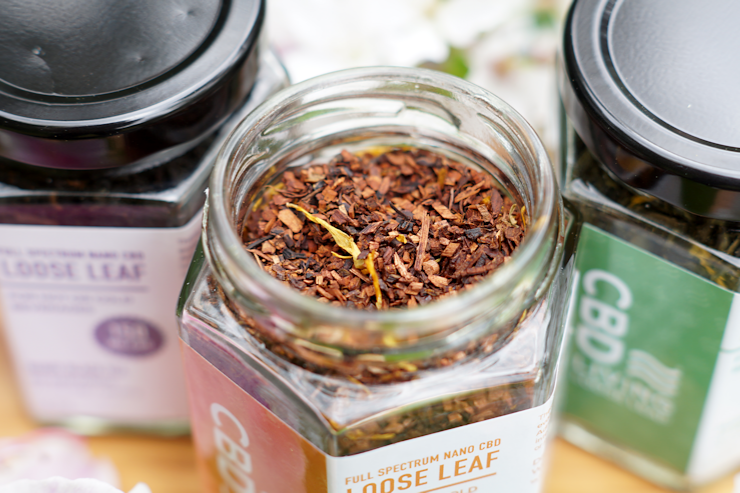 Drinking CBD Tea at Night was the Self-Care I didn't kNow I needed!
Adding CBD Living Loose Leaf Tea to my night time routine has been a life changer. I am naturally a night owl. As I get older I've found that I want and NEED to be more of a morning person. The problem is when it is night time my mind wants to be wide awake. Depending on the activities from the day, sometimes I have a hard time going to bed at a decent time. Ideally, I would like to be in the bed between 10-11pm but I definitely need to be asleep by midnight if I want to get my day started on a good foot the next morning.
On the days when I find myself struggling to get to bed on time, I like to take a moment of "self-care" to brew myself a cup of CBD Living Loose Leaf Tea. The CBD helps me feel relaxed. After just a few sips from a warm cup my brain feels like it starts to go into "bedtime mode". By the time I have finished my cup of tea I'm ready for a good night of rest.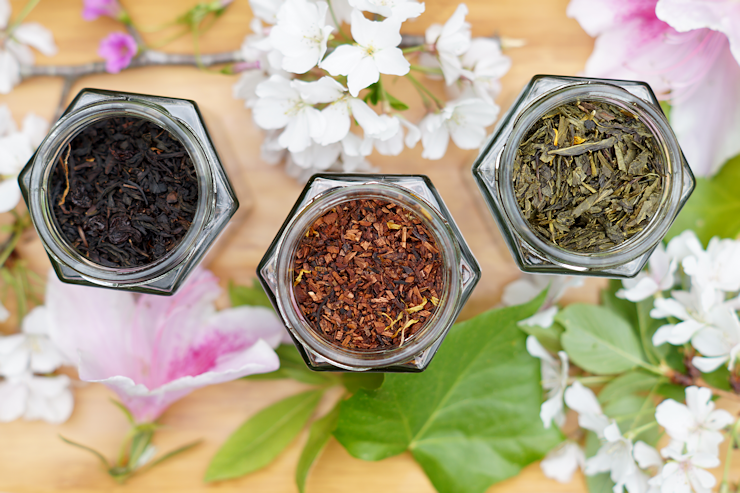 How to Prepare CBD Living Loose Leaf Tea
Heat some water to boiling. I prefer to use an electric kettle to do this step but you could also use a stove top kettle if you prefer.
Select the flavor of CBD Living Loose Leaf Tea you would like to enjoy. I can not tell you which flavor is the best because out of the 3 that I was able to try it is too difficult to choose a favorite – they are THAT good.
Place your loose leaf tea of choice into your diffuser and brew for the recommended amount of time.
Remove diffuser after brewing and set aside. You might want to save and reuse these leaves for your second cup of tea.
Sweeten to taste with honey or sugar if you would like and Enjoy!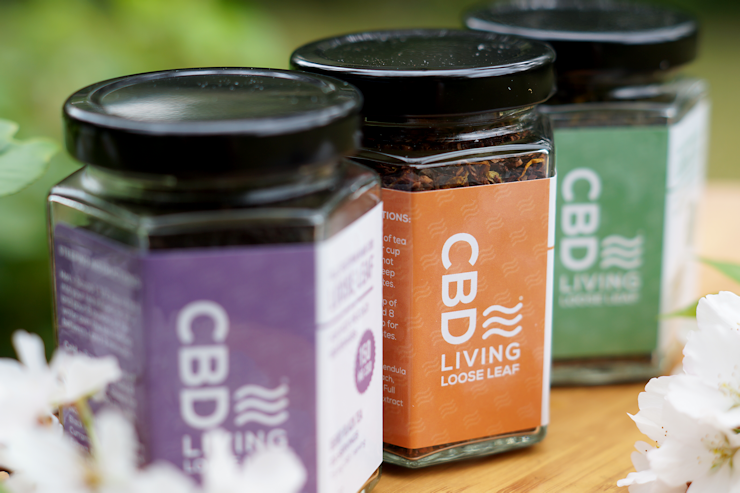 Are you are regular tea drinker? Have you ever tried CBD?
Sources:
A note of thanks to CBD Living for providing a couple of jars of their CBD Loose Leaf tea for the purpose of this review. They were delicious!