This post may contain affiliate links to Amazon. For more information, please read our Disclosure Policy.
Disclosure: product provided for editorial consideration.
Do you want to know what I love about the weekends in the south? I enjoy watching the beautifully colorful sunsets while sitting on my deck sipping on my favorite beverage. My favorite beverage of the moment could be classic Southern Sweet Tea or it could be a fruity delight in the form of a cocktail. When it comes to "adult beverages" I'm not much of a wine or beer connoisseur. They just aren't my style. Instead, I love the thrill of mixing my own cocktails in the comfort of my own home.
Smirnoff recently added some new, refreshing light flavored vodkas to their line of products that are perfect for mixing cocktails at home. I was sent some "Smirnoff Sorbet Light in White Peach and Summer Strawberry to try out a few of Smirnoff's cocktail recipes. If you are just starting out mixing cocktails at home and you are of legal drinking age, I would recommend checking out Smirnoff's website as a great place to start. There you will find recipes like Strawbasil Splash & Crandazzle. My personal favorite that I tried out was The Porch Sipper.
Smirnoff Sorbet Light flavored vodkas are light in calories not in flavor so of course I had to try my hand at creating my own signature cocktail. Inspired by southern sunsets in GA, I created a fruity, flavor filled cocktail that is not only refreshing but sweet, delicious, and perfect for sipping on the weekends.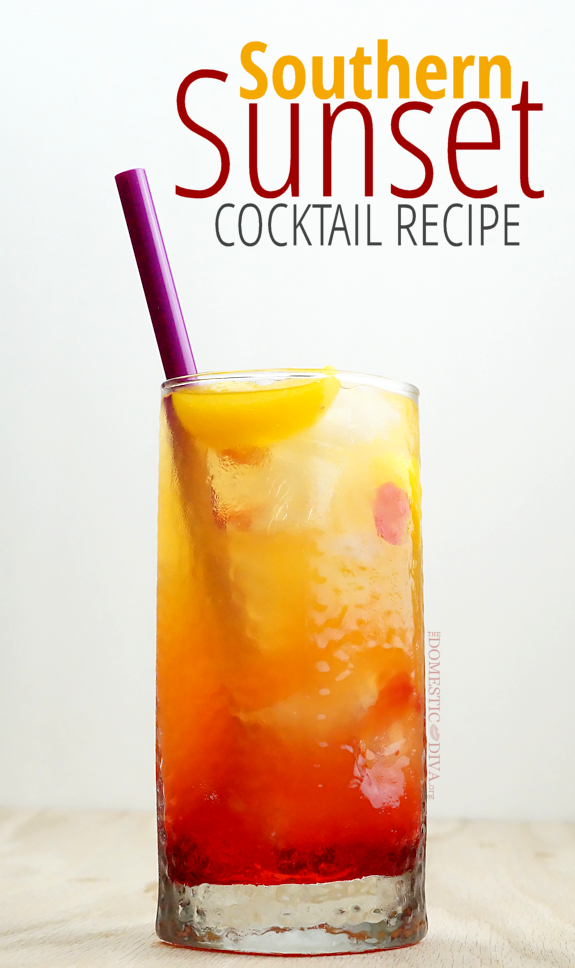 Southern Sunset Cocktail
1 oz. grenadine
2 oz. pineapple juice
1 oz. Smirnoff Sorbet Light White Peach (Summer Strawberry could also be used as substitution if you prefer Strawberries over Peaches)
5 oz. Orange Strawberry Banana Juice
Garnish with peach slices and cherries
Fill a tall glass with ice. Pour ingredients in order over ice: grenadine, pineapple juice, Light Peach Smirnoff, and Orange Strawberry Banana Juice. Layering in order will give a gradient effect similar to a sunset. Garnish cocktail with peach slices and cherries. Stir to mix all ingredients together before enjoying. Serve with a straw for sipping on the deck while watching a southern sunset (optional). Of course, beverages like this one are only intended for responsible drinking age adults. Enjoy in moderation.
What is your favorite cocktail?