This post may contain affiliate links to Amazon. For more information, please read our Disclosure Policy.
Disclosure: This post has been sponsored by Walmart.
The same sandwiches everyday can get to be a little boring after a while. As a homeschooling Mom, I struggle with keeping lunch time exciting. Since I have to make lunch at home everyday for the boys I'm all the time looking out for ideas. On a recent trip with the Walmart Moms, I learned of a few awesome ways to make lunch time a little more exciting. Today I'll be sharing with you just a few of the ways that you can shake up lunch time and get the kids excited to see what is in their lunchbox for the day.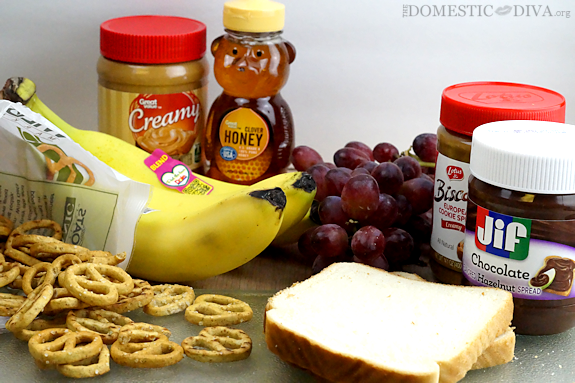 Today we will be making a kid-friendl lunch in a bento box. Bento boxes are very cool. The Lunch Blox for Kids from Rubbermaid has a freezable ice pack on the bottom with several snap on containers to keep food cool till lunch time. The individual containers are great for separating foods. In our bento box, we are going to make sandwich sushi which I learned how to make on my trip. For this lunch, I used the following ingredients:
bananas
grapes
peanut butter
Jif Chocolate Hazelnut Spread
Honey
Biscoff Creamy Spread
Wild Oats Honey Wheat Pretzels
Yoplait Strawberry Banana Yogurt (any of your favorite yogurt will do)
Bread
To make Sandwich Sushi, first take two slices of bread and flatten each one using a rolling pin. After the bread is flatten then it is time to choose what type of sandwich sushi you want to make. Below are a few combinations that I have come up with using the ingredients above:
Honey + Peanut Butter + Banana
Double Peanut Butter + Banana
Jif Chocolate Hazelnut Spread + Peanut Butter
Biscoff Creamy Spread + Banana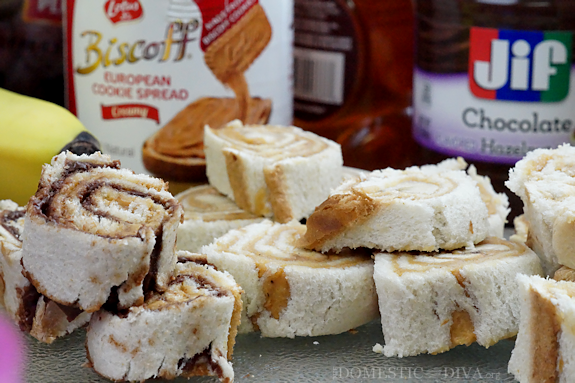 To assemble your sandwhich sushi, spread one of your choice spreads on one of the flattened pieces of bread. Then spread your other choice spread on top of the second piece of flattened bread. Place the covered pieces of bread on top of one another with the covered piece of bread facing out. If you using banana, cut a thin slice of banana and place on one end of the bread. Roll the pieces of bread together. Cut with a sharp knife into about 5 or 6 pieces, discard the ends if you would like.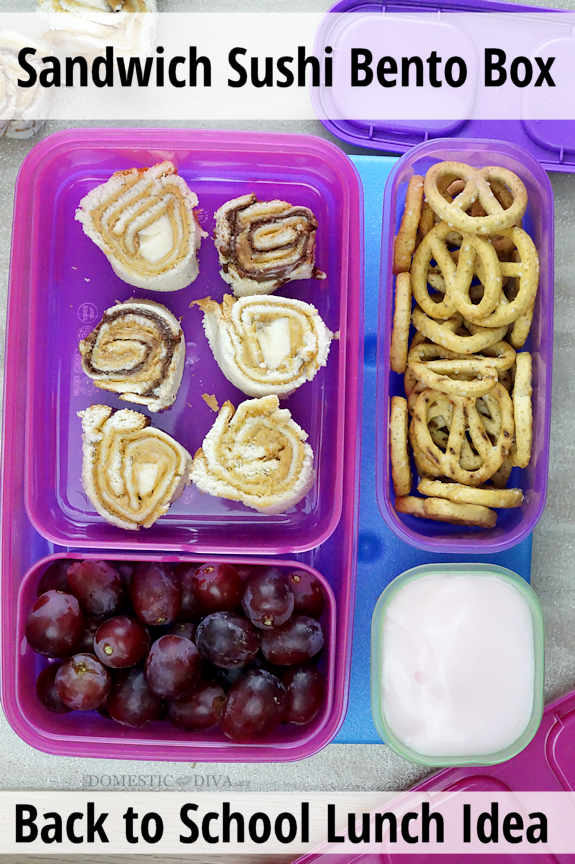 To assemble our bento box, I took he Rubbermaid Lunch Blox for Kids and placed yogurt in the smallest container. I filled the container next to it with Wild Oats Honey Wheat Pretzels. In the main compartment I added a mixture of the different variations of sandwich sushi that I made just like you would find on a plate of real sushi. About 6 sandwhich sushi rolls were able to fit inside this container. And the container that was a part of the main compartment I just simply added some grapes to round out the meal.
My whole family raved about how much they loved the sandwich sushi bento box. The Jif chocolate hazelnut + peanut butter combo was an absolute favorite. I'm pretty sure this will be a regularly repeated lunch in our house from now on. I love how the Rubbermaid Lunch Blox keeps everything together neatly so it's easy to take our lunch with us on field trips. Speaking of lunch on the go, did you know that Walmart also sells reusable sandwich and snack bags? I wish I had a drawer full of these as I'm all the time forgetting to buy sandwich bags and these would be perfect to have on hand for on-the-go snacks for the kids!
Do you have some quick school lunch ideas?