This post may contain affiliate links to Amazon. For more information, please read our Disclosure Policy.
Summer fruits, peaches and watermelon, paired perfectly with peppermint leaves for a refreshing salad to feed a crowd.
Jump to Recipe
Summer is here and so are all of the fresh fruits like peaches and watermelon. As soon as spring hits, I'm stocking my fridge with all of the fresh fruits and vegetables. One easy to way to enjoy fresh fruit this summer is in a fruit salad. Made of deliciously ripe peaches and thirst-quenching watermelon it's easy to beat the heat with this recipe. This peach and watermelon fresh fruit salad is sure to be a hit at your next gathering.
It's true what they say, fruits and vegetables tastes best when they are in season. So take advantage of this wonderful season that we are in and enjoy as many fresh fruits and vegetables that you can.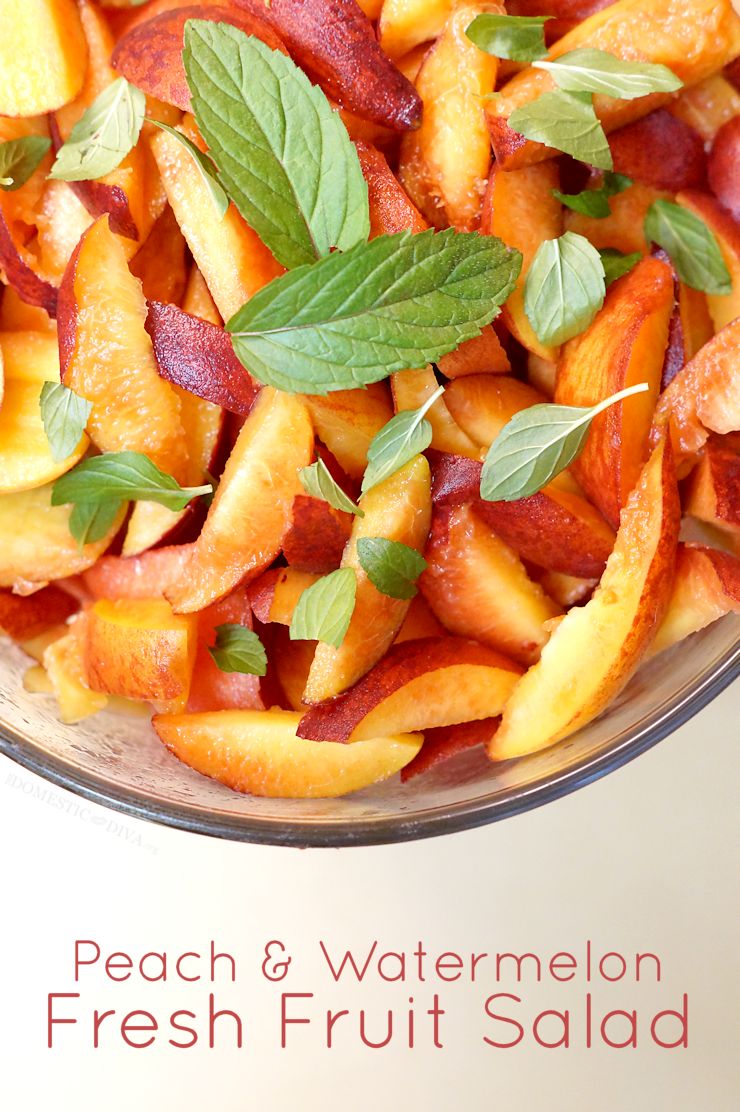 Since I have a bit of a sweet tooth, I can't seem to get enough fresh fruit throughout the warmer months. Not only do they satisfy that sweet craving but they are also a healthier alternative to cookies or candy. One of my favorite ways to enjoy fruit is in the form of a salad. Mixing different types of fruit together is a wonderful way to add some variety to your diet.
Perfect for a Hot Summer Day: Peach and Watermelon Fresh Fruit Salad
Living in the peach state, peaches are some of the first fruits you see at roadside stands and farmers markets. There are several peach orchards around where I live. These local farms will often sell not only fresh peaches but also various products made from those peaches. Have you ever had peach flavored BBQ sauce or peach ice cream?
Along with peaches, watermelon is also a fruit that you will often find in my fridge in the summer. I love seedless watermelons because it is such a wonderful way to cool down on a scorching hot summer day here in GA. We like ours to be cut into cubes and chilled in the fridge. Watermelons are great for large families as they are large enough to feed a crowd.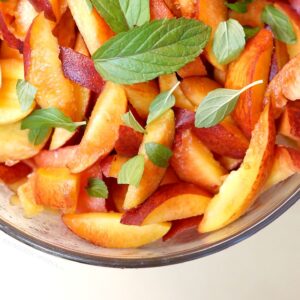 Peach and Watermelon Fresh Fruit Salad
Summer fruits, peaches and watermelon, paired perfectly with peppermint leaves for a refreshing salad to feed a crowd.
Ingredients
1

seedless watermelon

10

peaches

fresh peppermint leaves
Instructions
Remove watermelon rind, then cut and cube watermelon and place in a large bowl.

Remove pits from the peaches, and slice each peach into 8-12 slices.

Remove stems from peppermint leaves. The amount of peppermint leaves needed are dependent upon personal taste preference and the amount of fruit. Peppermint leaves should be more of a garnish as the leaves are very strong in flavor.

In a trifle dish or large bowl, layer the watermelon and peaches with a few peppermint leaves on top of each layer.

Serve immediately. Can be stored in refrigerator for 1-2 days.

Even though this fruit salad is so simple and easy to make, I'm sure it will be a great side dish or snack for your next get together. Sometimes the simplest things end up being the best recipes. Just one tip before you go: Always buy fruit when it is in season for the best, sweetest fruit possible. If you find this recipe in the dead of winter, save it and come back to it in the summer months. Just because you may be able to find peaches or watermelon at the store all year round doesn't mean that they will be any good unless it is during the peak of their season during the late spring and summer months.
This summer fruit salad is so beautiful it is best served in a clear glass bowl or trifle dish.