This post contains affiliate links to Amazon. For more information, please read our Disclosure Policy.
Whether you are cooking thanksgiving dinner for the first time or looking to learn how to prepare thanksgiving dinner ahead of time, this post has all of the tips to simplify cooking a thanksgiving dinner.
Don't let cooking Thanksgiving dinner get you down. With a thanksgiving meal plan, and time saving tips you'll be a pro at cooking Thanksgiving dinner for your family.
1. Make Cooking a Thanksgiving dinner Easier by Creating a menu
It's easy to get caught up in adding lots of dishes to Thanksgiving dinner. Everyone has their favorites. Ask your family to pick their favorite dishes and create a menu.
Don't make dishes only a few people will like. Try to stick to making the recipes that the majority of people like and will eat. This will eliminate having too many leftovers after you are done cooking a Thanksgiving dinner.
2. Create a Shopping List
First make a list of all of the ingredients that you need to make all of the recipes that you wrote done for your Thanksgiving menu.
Then, take inventory of ingredients that you may already have on hand before heading to the store.
By "shopping" your own kitchen you can eliminate the need to buy more ingredients that you may not need at this moment.
3. Save Time with pre-made Desserts
Pre-made Desserts in the Bakery section of the Grocery store
Most grocery stores sell a variety of pre-made pies, cakes, and cookies all year round not just during the holidays. When it comes to preparing for Thanksgiving, picking up a premed pie from the bakery section of your local grocery store can save you a good bit of time in the kitchen.
Just be aware of the expiration date and make sure you pick your pre-made dessert with an expiration several days AFTER Thanksgiving so you and your family have plenty of time to eat it.
Baking Kits in the Baking Aisle
Another option would be to use a baking kit from the baking aisle at the grocery store. There are plenty of cakes, cookies, bars, and breads available in kits that only require a few more ingredients and some baking time that you can make at home.
Take and Bake Frozen Desserts
If you don't want to take the time to whip something up from a box, you can also check the frozen food section where they have frozen pies available that you can thaw and bake the day before Thanksgiving. This is a great option if you are planning on buying ingredients to make Thanksgiving well in advance and want to store them for an extended period of time and bake at a later date.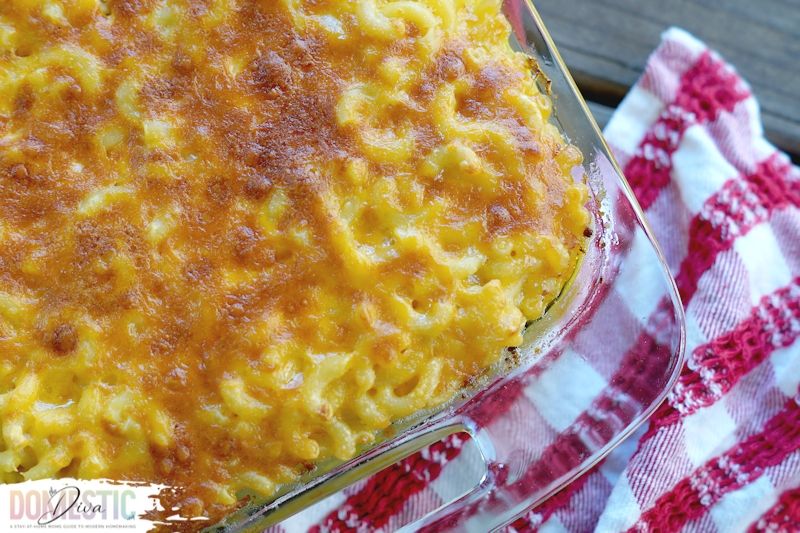 4. Make or assemble side dishes for baking the day before
Are you wondering what to cook first for Thanksgiving Dinner?
The sides!
When should you start cooking Thanksgiving Dinner?
The day before Thanksgiving.
My poor oven sure does get a workout on Thanksgiving day. There are lots of things to bake. The night before I will assemble all of my side dishes that need to be baked in the oven and store them in the fridge.
On the day of Thanksgiving, all I have to do is pull them from the fridge and pop them in the oven to bake after the turkey is done cooking.
Cook Homemade Desserts the Day before Thanksgiving
If you are planning on serving homemade desserts instead of a premade dessert for after Thanksgiving dinner then be sure to make them the day before as well. We typically have a variety of desserts to choose from so there is typical a mix of both premade and homemade on our Thanksgiving Table.
5. Use Disposable cooking pans, plates, cups, and silverware.
I don't just assemble my side dishes in regular baking dishes though. Clean-up after Thanksgiving Dinner is not very much fun so to cut down on the after dinner clean up time with disposable cooking pans, plates, cups, and silverware.
For example, I like to make my homemade green bean casserole in a 9×13 disposable baking pan with lid. I am able to assemble the casserole ahead of time and bake the morning of Thanksgiving dinner. The lid helps with storing before cooking and after as leftovers in the fridge. And cleanup after it's all gone couldn't be easier, simply throw the pan away when all the goodies are gone.
100% Compostable disposable plates, cups, and silverware set makes clean up time after a delicious Thanksgiving meal a breeze.
6. Planning the right Size Turkey for a Family Thanksgiving Dinner
Buy the right Turkey for a Family Thanksgiving Dinner
Turkey's come in a variety of different sizes the trick is to find the right sized turkey to feed everyone at your get-together. My ideal turkey is one that feeds everyone at our family Thanksgiving with just a little bit leftover for sandwiches the next couple of days. So for a small family buying just a turkey breast rather than a whole turkey may be a better option. Also keep in mind that larger turkeys will need longer time to cook.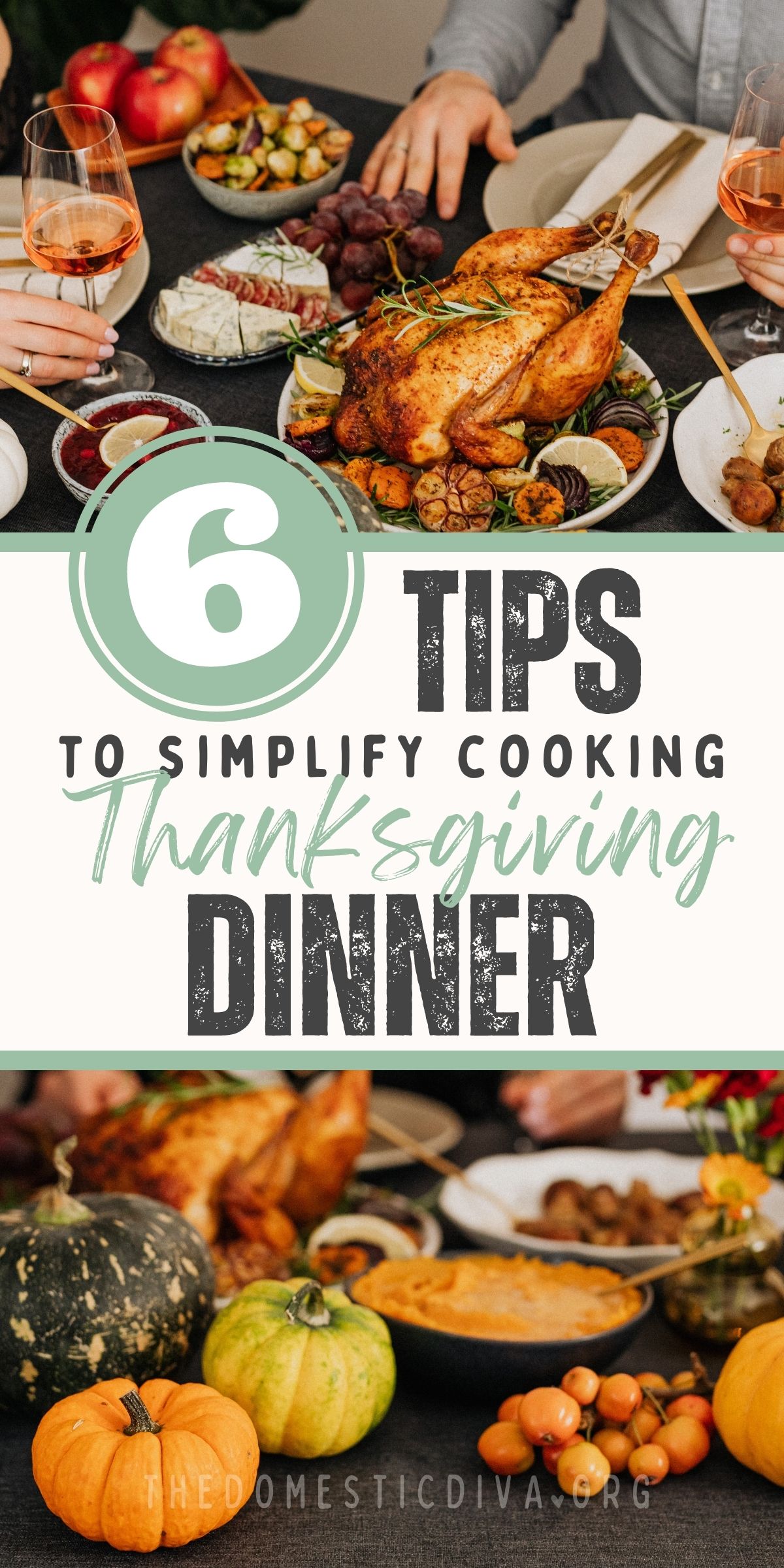 Cut out the prep and thawing time of cooking a turkey with an oven ready variety.
Don't want to go through all of the trouble of cooking a turkey from scratch. No problem! Thank goodness for companies like Jennie O that makes Oven Ready Turkeys and Turkey Breasts in a Bag.
There is no prep before cooking this turkey. Simply remove from the freezer on Thanksgiving morning and pop it directly into the oven.
Although I'm pretty good at making gravy from scratch, these oven ready turkeys can save you an additional step with a gravy packet that is included. Just heat and serve.
Save Oven space by Cooking Turkey without an Oven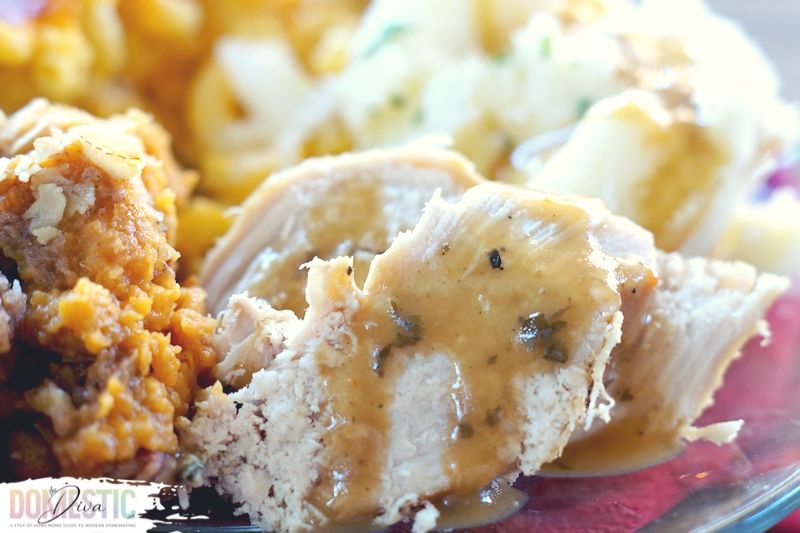 Another way that I like to cook turkey on Thanksgiving is in the Instant Pot. I love my Instant Pot and the versatility it gives me in my cooking. By cooking a turkey in an Instant Pot I not only cut my cooking time in half but also it frees up the oven for other delicious dishes to be prepared like my family favorite macaroni and cheese casserole.
What are some tips that you have to make cooking a Thanksgiving Dinner easier?
By doing some advanced prep work the night before, eliminating clean up with disposable, loving the bakery section for after dinner indulgences, and picking the right sized, oven-ready turkey Thanksgiving meal prep becomes a lot more manageable.