This post contains affiliate links to Amazon. For more information, read our Disclosure Policy.
Not your mamas sangria recipe is a light and perfectly balanced cocktail with a little bit of sweetness. What better way to celebrate the sunniest time of the year than with a refreshing glass of sangria at the end of a hot summer day. The pop of citrus flavors really shines in this sangria made with moscato white wine and coconut water. This cocktail is so easy to make you'll want to keep a batch made in the fridge all summer long.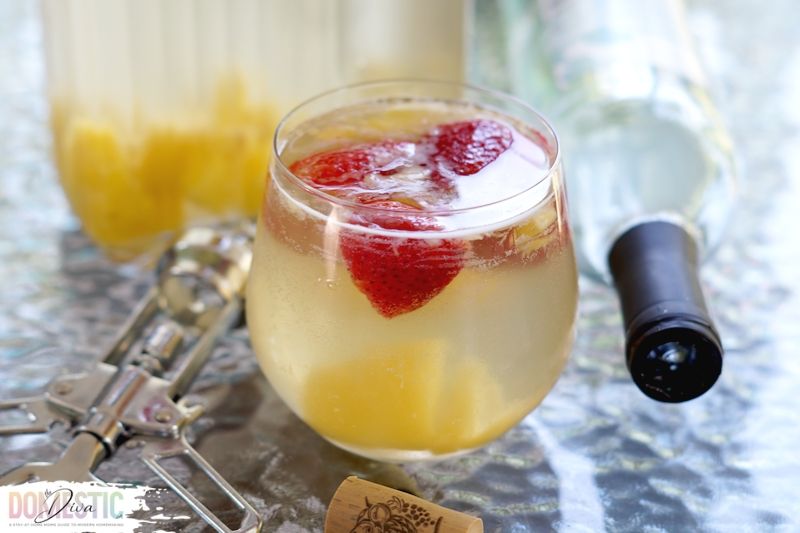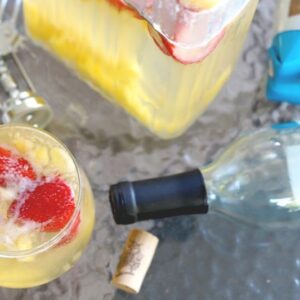 Not Your Mamas Sangria Recipe
This white wine sangria is light and perfectly balanced with a little bit of sweetness. The pop of citrus flavors really shines in this sangria made with moscato wine and coconut water.
Ingredients
1

bottle

moscato

(any white wine of choice)

4

cups

coconut water

(1 liter)

1/4

cup

sugar

3

cups

fruit of choice

(strawberries, pineapple, orange slices, honey crisp apples, etc.)
Instructions
Add wine, coconut water, and sugar into a pitcher.

Stir until sugar has dissolved.

Add the fruit and top pitcher with a lid.

Chill in the fridge for a couple of hours if you are in a rush or overnight for the perfect fusion of flavor. Trust me the wait is definitely worth it. 

I prefer to serve this recipe in a glass pitcher instead of plastic because over time plastic pitchers tend to get a little funky and need to be replaced more often. Glass pitchers tend to hold the test of time and are a great investment piece for any stay at home chef's kitchen. I personally have this pitcher with the diamond patterned glass on my wish list for future sangria recipes.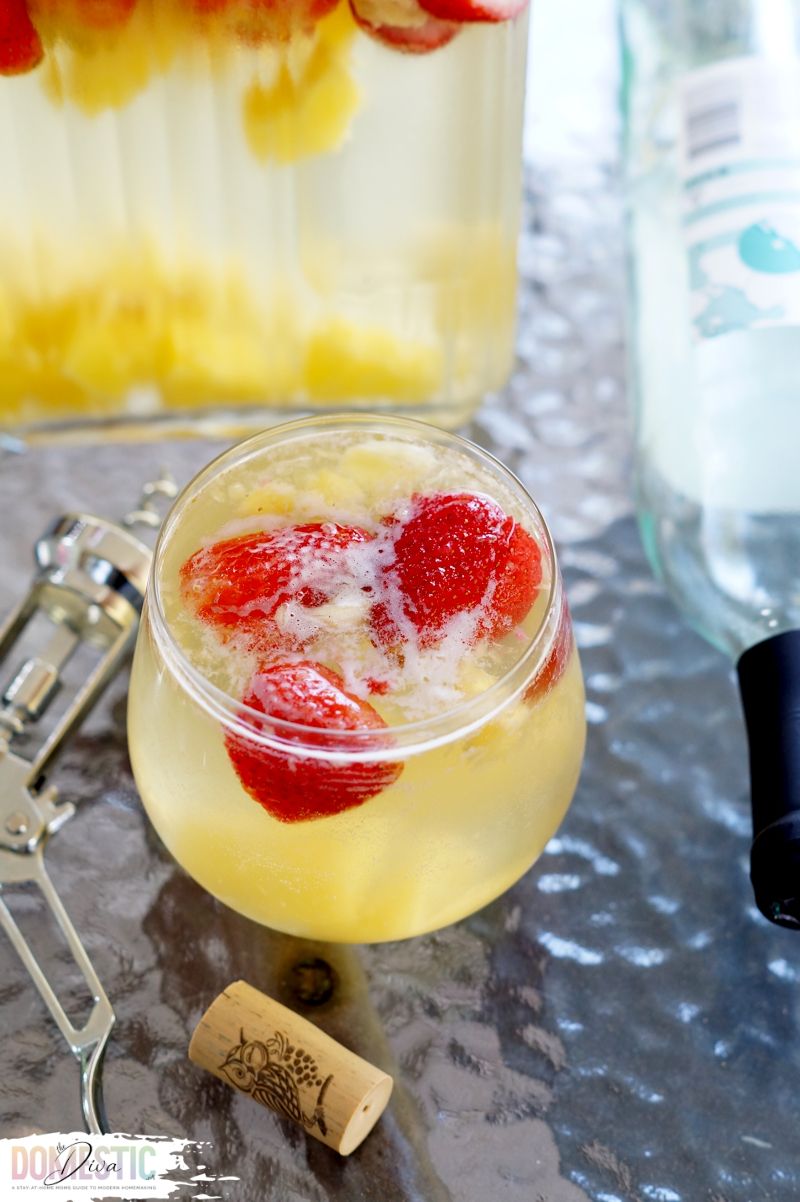 For this recipe you can use any white wine that you choose, or even non-alcoholic moscato wine if you prefer. I like to use moscato wine from Aldi by the brand Winking Owl. This wine taste delicious and it is also budget friendly at just under $3 a bottle. Who doesn't love a good, cheap wine?
I've found that this white wine sangria recipe pairs perfectly with a good book (check out the domestic book club for book recommendations) at the end of a long day. Whether you are looking to relax at the end of a busy week or just need some "me time" in the middle of the week.
Not Your Mamas Sangria + a good book = the perfect combination of self care.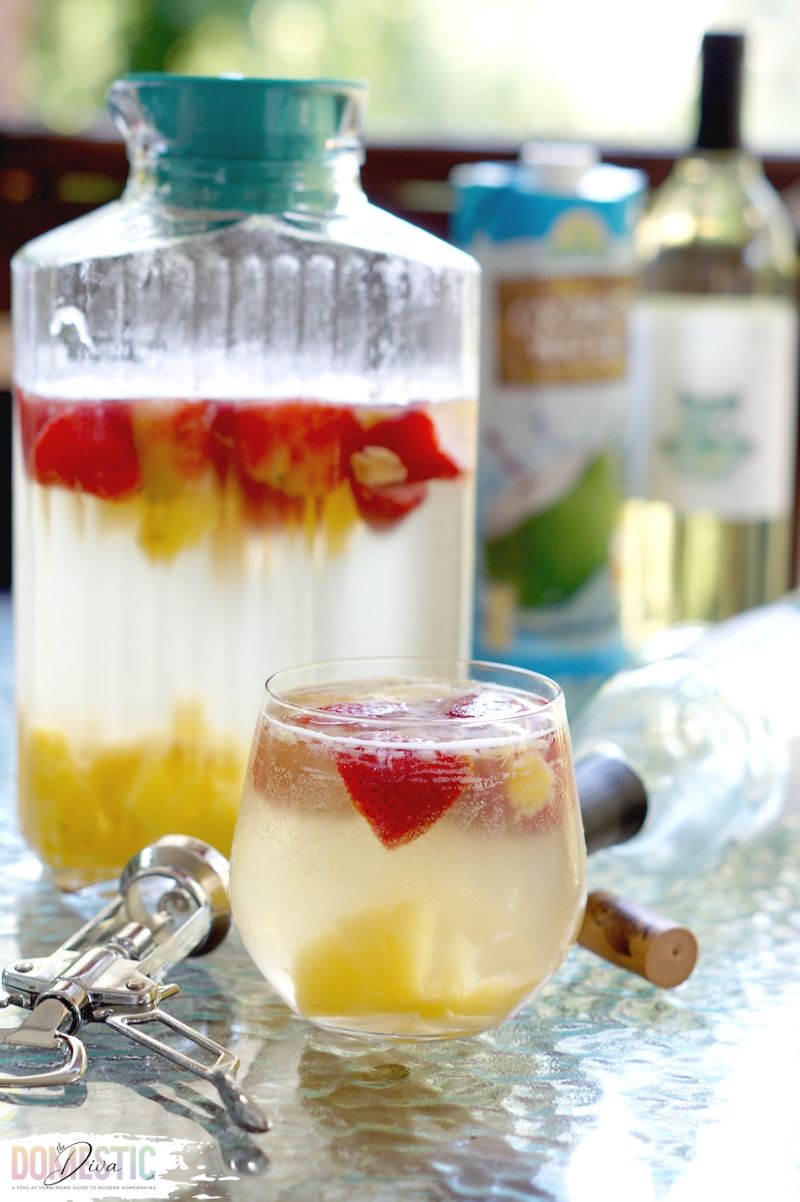 Not your mamas sangria recipe is the perfect cocktail to make for a crowd. Whether you are having a family get together or just a couple of friends over on the weekend, this cocktail recipe is sure to please the crowd. The fruit in this recipe can be mixed in any way you choose. Make a pitcher with strawberries and oranges and another pitcher with lemons and limes. It's easy to customize this recipe to suit anyone's taste preferences.
Don't like white wine?
Speaking of good wine, if white wine is not your thing, don't worry. Lambrusco is my absolute favorite red wine. This single-serve sangria with Lambrusco is heavenly, especially during the colder months.