November 17, 2017
This page contains affiliate links to Amazon. By purchasing something after clicking one of these links on this blog or my Amazon Page, I may receive a small commission (at no additional cost to you). Thank you for helping support my family. For more information, please see Disclosure Policy.
Thanksgiving is a week away which means now is the time to start gathering those recipes and figuring out what dishes you'll be cooking in the kitchen on the big day. You could be making a full blown Thanksgiving spread or just a few dishes to take over to a friends. Homemade Southern Green Bean Casserole is one recipe that is sure to please a crowd.
Nowadays it is all about the quick and easy for convenience sake. But, did you know that making southern green bean casserole from scratch is just as easy as using pre-packaged products. Let's ditch the canned stuff this holiday season for real ingredients. Let's get back to our roots of creating homemade recipes in the kitchen.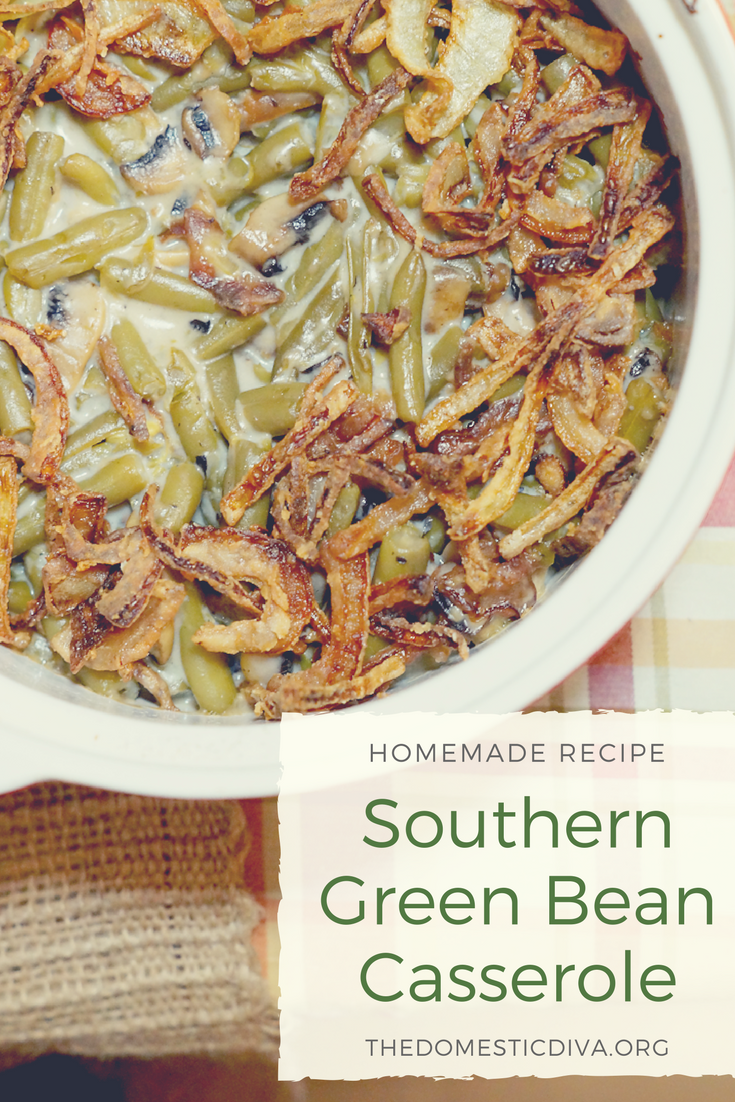 Making green bean casserole from scratch starts by creating your own cream of mushroom soup and french fried onions at home. Sure opening the seal on a can is going to be an easier and time saving method when you need to make a meal fast. But, there is a specific taste that only comes from something homemade. The sense of pride one has when you make it yourself simply can not be purchased from a store.
Have you ever made southern green bean casserole from scratch?
Store bought ingredients do have their time and place when looking for a quick cooking solution. However, a little extra effort can yield incredible homemade dishes your family will love. You will be amazed at how easy making your favorite dishes from scratch can be.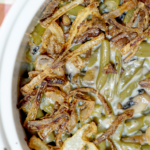 Homemade Southern Green Bean Casserole
Ditch the canned stuff for this delicious, completely from scratch green bean casserole recipe. Your classic green bean casserole recipe gets a makeover using fresh, real ingredients for an authentic homemade taste.

Ingredients
2

tbsp

butter

unsalted

9-10

white mushrooms

sliced, stems removed (1 cup)

1

cup

whole milk

3

tsp

corn starch

1/4

tsp

himalayian salt

1/8

tsp

black pepper

2

tsp

soy sauce

low sodium

2

cans

cut green beans, drained & rinsed

(3 cups fresh green beans, cooked)
French Fried Onions
1

small yellow onion

halfed

1

cup

all purpose flour

Oil for frying
Instructions
First slice the mushrooms. Then to slice the onion. First peel the onion. Then cut the onion in half. Place the onion cut side down and cut each half of the onion into thin strips. Half the strips as one half will be used for inside the green bean casserole and the other half will be fried for a french fried onion crunchy topping.


In a skillet, melt butter on medium-high heat.


Add sliced mushrooms and half of the sliced onion. Cook until mushrooms begin to brown and onions are translucent in color.

Sprinkle mushrooms with salt and pepper.

Then in a measuring cup whisk together the milk, cornstarch, and soy sauce.

Once combined, pour mixture into skillet with mushrooms.

Stir well. Stir regularly until the mixture begins to thicken like a soup.

Once thickened, turn off the heat and stir in the green beans until coated. Set aside.
How to make French Fried Onions
Fill the bottom of a skillet with oil (vegetable, canola, or peanut) for frying your onions.


In a bowl toss half of the sliced onions with flour until coated.




Heat on medium-high. Once the oil is hot, add the floured, sliced onions. Cook until slightly brown in color. Do not brown the onions too much at this point as they will brown a bit more in the oven.


Remove fried onions from skillet and allow to drain on paper towels. Set aside until ready to top your green bean casserole.

Green Bean Casserole from Scratch
In a greased baking dish, add the green bean mixture we made earlier.


Bake the green in the oven for 15-20 minutes or until the green bean casserole is bubbling.


Remove from oven and sprinkle the top with the french fried onions we made earlier.


Return back to the oven to bake for an additional 5 minutes or until onions have crisped up and browned a bit more. Allow to sit for 5 minutes before serving.



Recipe Notes
Note: this recipe can be doubled or tripled to feed a crowd.
I love the way that this recipe turns out. This recipe is perfect for any weeknight or Sunday family meal. You can doubled or triple the recipe to feed a larger crowd on Thanksgiving, if you need to. Once you learn to make green bean casserole from scratch you won't want to go back to the canned version, I'm sure.
Make Holiday Cleanup and Storage Easier
When it comes to cooking and baking, I always like to use oven safe, glass baking dishes, especially for casseroles. For this recipe I recommend using a glass baking dish with a storage lid. I have used these glass baking dishes for years. Not only have they held up well but when it comes to storing leftovers in the fridge, nothing is easier than just snapping the lid on the container. When your baking dishes have storage lids you don't have to mess with aluminum foil and plastic wrap which reduces waste and helps out the planet.
Need more easy, southern recipes for your holiday table?