This post contains affiliate links to Amazon. For more information, please read our Disclosure Policy.
Have you heard about a new Kraft product called Philadelphia Indulgence? Philadelphia Indulgence is a combination of mouthwatering chocolate and Philadelphia Cream Cheese.
Walmart recently started carrying this product on their store shelves and gave me the opportunity to try it out. I opted to pick up the milk chocolate flavor as my first flavor to try out but there is also dark chocolate and white chocolate Philadelphia Indulgence available. The Philadelphia Indulgence was just the chocolate fix I was looking for in this Triple Chocolate Icebox Pie recipe (below). Of course, using the Philadelphia Indulgence in a no-bake dessert like I've shown below is just one of many ways that this product can be used. Friend and fellow Walmart Mom, Renee, likes to dip strawberries into Philadelphia Indulgence.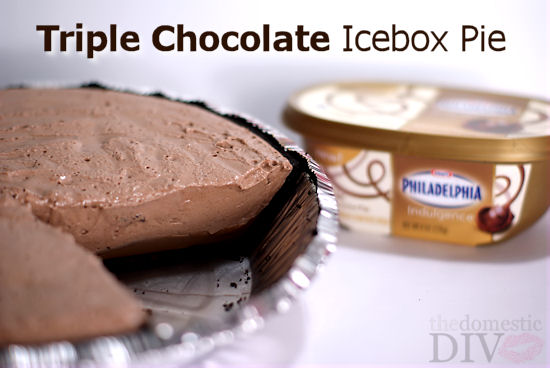 Ingredients:
1 pre-made Oreo pie-crust
1 box of instant chocolate pudding
1 tub of whipped topping
1 cup of milk
1 tub of Philadelphia Indulgence (whatever flavor you prefer, I used milk chocolate)
Directions:
Spoon entire contents of Philadelphia Indulgence into bottom of pre-made pie crust. Smooth out layer.
Prepare top layer by mixing pudding with 1 cup of milk. Then fold in tub of whipped topping. Spoon mixture on top of Philadelphia Indulgence layer.
Cover & chill pie for approximately 30 minutes in refrigerator.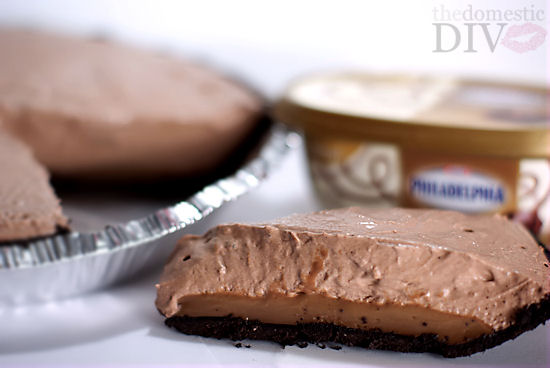 Have you given Philadelphia Indulgence a try? What do you think of this product? What is your favorite flavor?
Disclosure: I am a Walmart Mom. I have been compensated for my time and efforts in creating this post as well as given a giftcard to purchase the products mentioned in this post. As always my participation is voluntary and opinions are my own. My experience may differ from your own.