This page contains affiliate links to Amazon. By purchasing something after clicking one of these links on this blog or my Amazon Page, I may receive a small commission (at no additional cost to you). More information can be found on this Disclosure Policy.
One staple that is on my families holiday table is Southern Macaroni and Cheese Casserole.  It really isn't the holidays without this dish.  Its so good that it doesn't feel like the holidays without it.  We just celebrated Thanksgiving and as you might have guessed, this macaroni casserole was one of our main side dishes that was devoured by the entire family.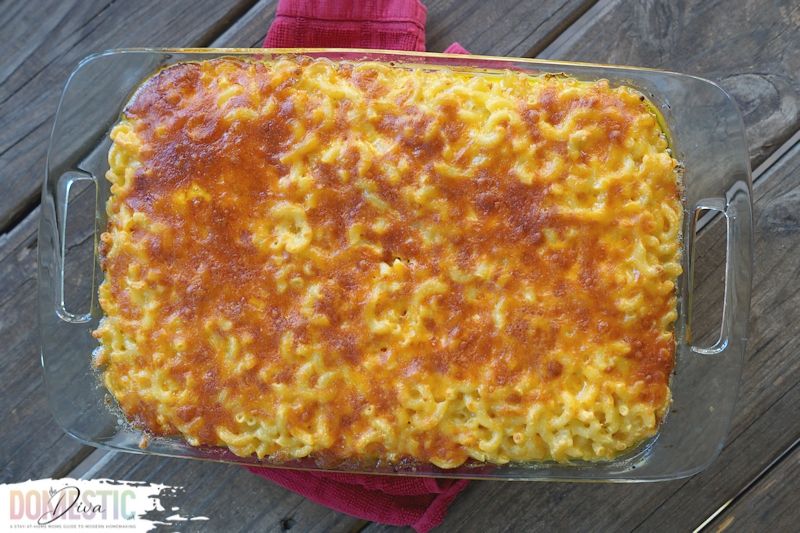 Macaroni and Cheese is often served alongside other traditional southern dishes in restaurants throughout the south.  In fact, I prefer a scoop of macaroni and cheese from a casserole in my favorite restaurants versus the traditional stovetop version of macaroni and cheese. 
Mac & Cheese Casserole: A Southern Family Tradition
The tradition of having this recipe served at our family table during the holidays began with my grandmother.  We have reserved this recipe to only making it during a family get together.  This isn't something that we make year round which is what makes it extra special.  Although grandmother's recipe will always be the best, I've since taken the family recipe and added my own unique tweaks to it.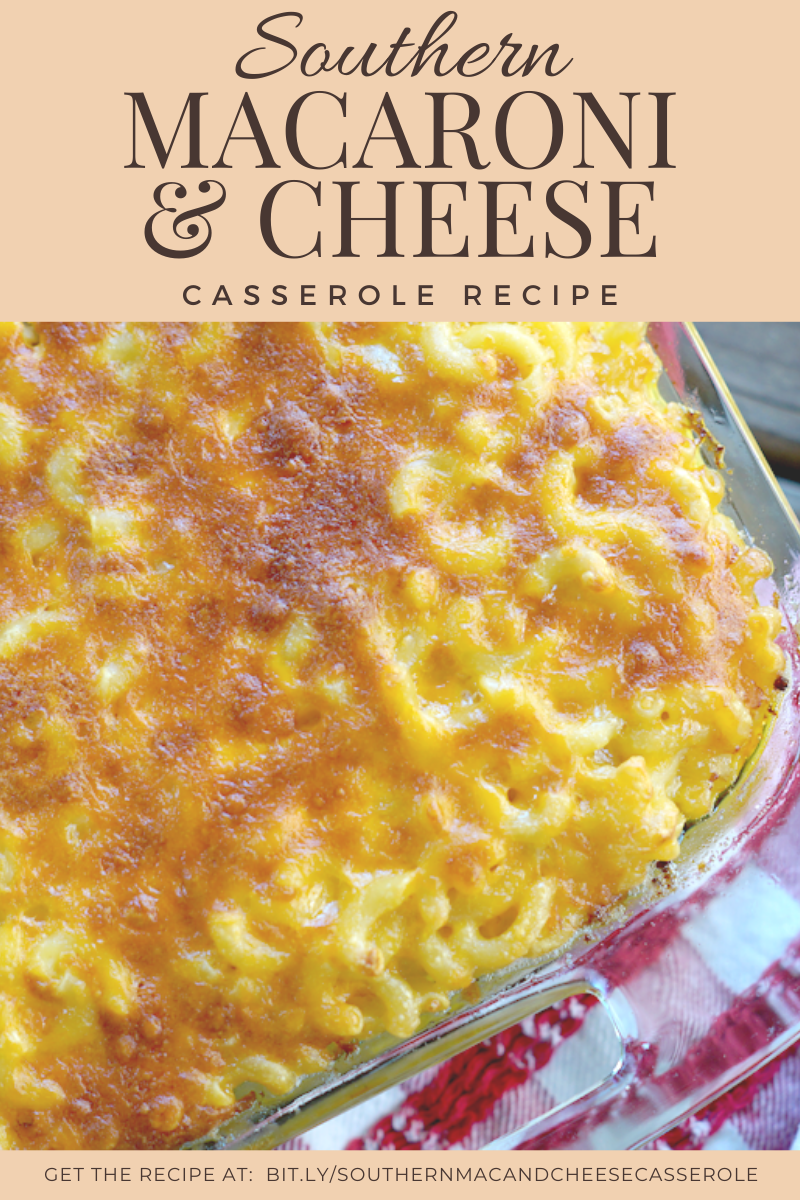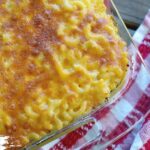 Southern Macaroni and Cheese Casserole
A baked macaroni and cheese recipe to feed a crowd. Holiday get-together or large family gathering, this southern macaroni and cheese casserole is a winner.
Keyword:
baked, Cheese, Macaroni and Cheese, Pasta
Ingredients
4

cups

dry elbow macaroni

2

lbs

Shredded Sharp Cheddar Cheese

halved

1/2

cup

unsalted Butter

4

TBSP

all-purpose flour

2

cups

whole milk

6

eggs

1/2

cup

milk

1/2

tsp

salt
Instructions
Cook elbow macaroni according to package directions.  Drain into a colander and rinse with cold water to stop the cooking process.

While the elbow macaroni is draining prepare the cheese sauce in the original pot that you cooked the macaroni in.  First melt the butter on low-medium heat. Then, add the flour and let cook for approximately 3 mins.

Stir in 2 cups of milk. Continue stirring on low-medium heat until mixture begins to thicken.

Then add half of the sharp cheddar cheese (1 lb.). Continually stir until all the cheese has melted and formed a velvety cheese sauce.

Add the drained elbow macaroni noodles to the prepared cheese sauce.

Stir to coat completely and remove from heat.

Once combined, stir the egg mixture into the macaroni and cheese. Stir well until everything is combined.

Sprinkle half of the remaining 1 lb. of shredded sharp cheddar cheese onto the first layer of macaroni in the casserole dish.

Add the rest of the macaroni and cheese mixture to the casserole dish and top with the remaining shredded sharp cheddar cheese.

Bake in a preheated oven at 350°F for 45-60 minutes or until the middle is firm and not runny when you insert a knife. 

Serve warm. Refrigerate leftovers.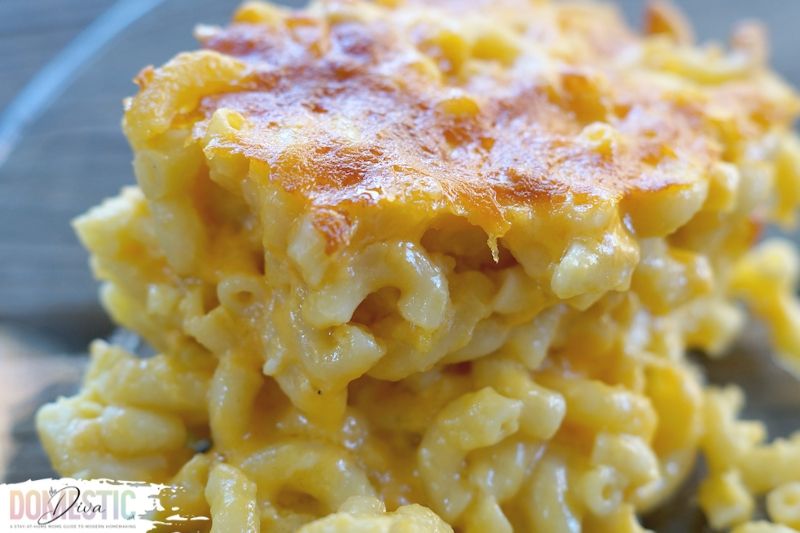 Save Time: Make this recipe the day before your celebration
What I love about this recipe is that you can easily make it ahead of time. If you have a lot of dishes to cook the next day, save some time by assembling this casserole the day before. That way all you have to do is pop it into the oven to finish baking the day of your big celebration.
Need to bring something to a party?
This recipe also travels really well. I love glass baking dishes with lids just for occasions such as this. After baking this recipe, just pop the lid onto your baking dish and it's ready to be taken to your next party.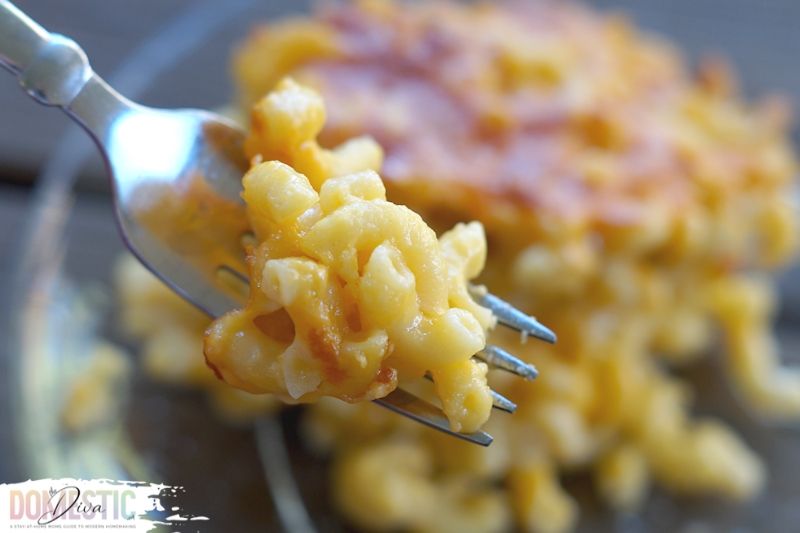 Does your family have a traditional dish that you only make during the holidays?