September 15, 2017
I've already shared how easy it is to make jasmine rice in an electric pressure cooker. In keeping with the same theme, today I'll share how quickly you can make parboiled rice in your Instant Pot. Parboiled rice is one of my favorite types of rice. Parboiled rice is similar nutritionally to brown rice making it a better choice over white rice (source). The process needed to create parboiled rice gives the rice it's own unique texture and flavor. If you have never tried parboiled rice, I would highly recommend it. After my first taste, I was hooked and no longer purchase traditional white rice.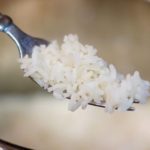 How to make Parboiled Rice in an Instant Pot
Ingredients
4

cups

parboiled rice

4

cups

water

2

tbsp

unsalted butter

pinch

of salt
Instructions
Removing the lining from your electric pressure cooker (Instant Pot). With the rice measuring cup, measure out 4 cups of parboiled rice into the liner.

Next fill the liner with water and swish the rice around to help loosen any starch.

Drain and repeat the process several times to rinse off all of the starch from the rice until the water is no longer cloudy.

Drain a final time and return the rice to the pot liner.

Next, measure 4 cups of water and add to the rinsed rice in the pot.

Give a slight stir, then add 2 tbsp of unsalted butter and a pinch of salt.

Place the liner back into the instant pot or electric pressure cooker. Lock the lid and set the valve to sealing.

Then, on your Instant Pot press the white rice pre-set button TWICE.

Once cooking has completed, use the quick release valve to release the pressure. Once all pressure is released, remove the lid and fluff the rice with a fork.