October 5, 2012
(sponsored post)
We are officially ready for Halloween. All week we have been busy pulling up weeds, cutting the grass, and putting up our Halloween decor. It feels nice to have it done so early this year which of course means I get to enjoy it that much longer.
I was sent some of the new costumes at Walmart for the boys to try out. With all of the super heroes running around my house these days, I knew they wanted to be one of their favorite characters come Halloween night. With so many super hero costumes at Walmart to choose from, coming up with just one was a very tough decision for them. But after much debate, my oldest son picked Iron Man which came with a pretty awesome mask and my youngest picked his favorite character, Thor (he already had the matching accessories). Both costumes are under $20 at Walmart.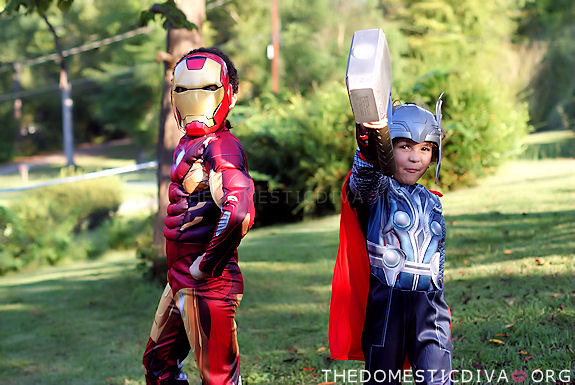 I had so much fun decorating the house for Halloween. Since Halloween is one of my favorite holidays, I may have gotten a little too excited about it. When decorating I wanted the decorations to not only look good during the day time but also at night as well. With the giftcard provided I went to my local Walmart to see what I could find. One of my favorite pieces is the glitter, light-up pumpkin that was shockingly less than $5. The black skull wreath is simply adorable in person, the photo doesn't do it justice. I also picked up a 6-pack of tombstones to put out into our freshly cleaned out garden and some spooky fabric to drape across the furniture.
To light up the night, I switched our regular porch light with a black light bulb. I also taped a string of purple Halloween lights around the door and a purple light up spider web on the window.
What are your kids going to be for Halloween? Do you like to dress up too?
Do you decorate for Halloween or just stick with the costumes?
Disclosure: I am a Walmart Mom. I have been compensated for my time and efforts in creating this post as well as given samples and a giftcard to purchase the items mentioned in this post. As always my participation is voluntary and opinions are my own. My experience may differ from your own.