October 1, 2014
(sponsored post)
I'm no stranger to Wet N Wild cosmetics. I'm obsessed with their pigmented eye shadows and the prices are oh so nice. Wet N Wild makeup is available in Walmart stores with most of their products being under $5. Talk about budget-friendly! As a part of the Walmart Moms, I recently had the opportunity to take a trip to Vegas to learn all about Wet N Wild cosmetics and also check out the I Heart Radio Music Festival for the first time.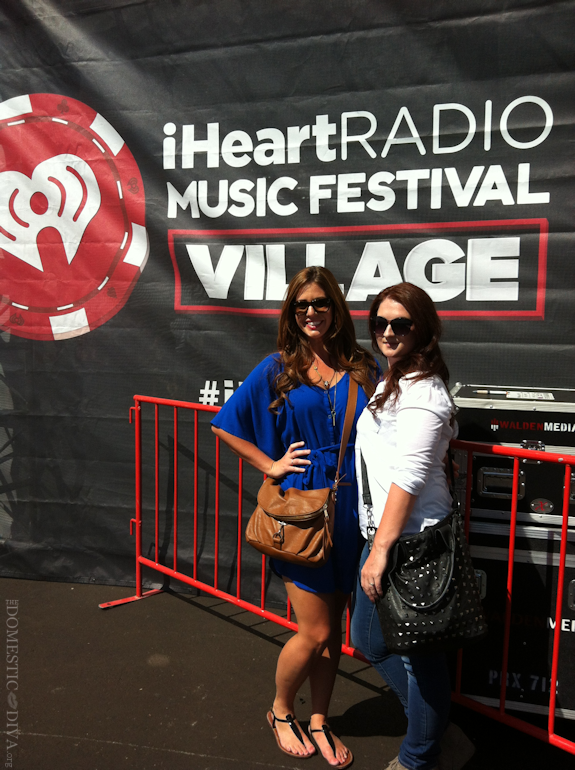 To say that I had a fantastic trip would be an understatement. My trip was AMAZING! I can not tell you how much fun Erika of Chic Shopper Chick and I had on our Wet N Wild adventure. I loved visiting the Beauty Glam lounge in the MGM Grande chatting with the makeup artists and getting my makeup done for that nights concert. While there we learned all about Wet N Wild's new app called Steal the Look. This app is actually pretty cool because it allows you to take a photo of anyone's makeup look and the app will suggest for you Wet N Wild products to get a similar look!
Speaking of concerts, did I mention that we had the opportunity to attend I Heart Radio Music Festival? We did and it was amazing! Taylor Swift, Nicki Minaj, and Lorde were all rockin' their own unique makeup looks. I definitely wanted to "Steal The Look" from several of them! Don't forget to check out my twitter or instagram feeds to check out more concert photos.
I was blown away by the fierce eye makeup look that the Wet N Wild makeup artist did for me the first night. I love the dark smokey eye look paired with a very simple lip. Speaking of makeup looks, we also checked out the Wet N Wild Beauty Lounge in the I Heart Radio Village. This air conditioned tent was a welcomed sight in the Vegas heat. Inside the tent makeup artists were standing by so concert goers could come in and get their makeup touched up with Wet N Wild products.
Inspired by my I Heart Radio Music Festival experience I created a Rocker Chic eye makeup look using the Wet N Wild products that I received. Check out the video below to find out how to recreate this look:
I used the following Wet N Wild products to create my Rocker Chic: Concert Inspired makeup look:
Wet N Wild Megalast Retractable Eyeliner in 691A Black
Wet N Wild Coloricon Blusher in 832E Heather Silk
Wet N Wild Coloricon Single Eyeshadow in 251B Brulee & 252C Nutty
First apply foundation as you normally would. Curl your lashes then apply an eyeshadow base or primer all over the lid to help against creasing and to make your shadow last all day. Next, with a big fluffy eyeshadow brush apply the eyelid shade from the Wet N Wild Comfort Zone palette with windshield wiper motions into the crease. With a smaller eyeshadow brush gently pat the Wet N Wild Single Eyeshadow "Nutty" onto the lid. Press the definer shade of the Wet N Wild palette Comfort Zone onto the outside corner of your lid and also sweep a bit onto the corner of the bottom lashline as well. Next, apply the Wet N Wild Single Eyeshadow "Brulee" onto the browbone with a fluffy eyeshadow brush. Line the upper lashline with the Wet N Wild Megalast Retractable Eyeliner in Black. To make the line not so harsh use the black eye shadow from the Wet N Wild Tunnel Vision palette to soften the liner. To complete the eye look, apply several coats of Wet N Wild MegaImpact Mascara in Black. Then apply the Wet N Wild Megaslicks Balm Stain in Rico Mauve to the lips and sweep a pop of pink on the cheeks with Wet N Wild Coloricon Blusher in Heather Silk to complete the look.
I love knowing that you can find great products like Wet N Wild at Walmart that won't break the budget. Don't forget to check out the Steal the Look app in the Google Play or Apple App Stores. Snap your own pic and find out what Wet N Wild products you'll need to "steal the look".