June 13, 2012
Last Updated on
Our youngest kidlet can cross off one of his to-do's from his summer list and that was to see some dinosaurs. As I mentioned earlier, our littlest kidlet just had a birthday. And just around that time he had mentioned that he would love to go see the dinos at the museum here in town. The best part about being local is that on certain days of the month local residents can go to the museum for FREE.
So we waited about a week before we had our visit. If you ask me and the littlest kidlet, it was definitely worth the wait. He absolutely loved it!
At first he was a little scared when he saw that the dinosaurs actually moved (they were robots). But after a little reassurance he proceeded through the exhibit until we saw…..
T-REX!!!!! The little kidlet definitely didn't want to be too far from mommy or daddy as we walked past the T-Rex.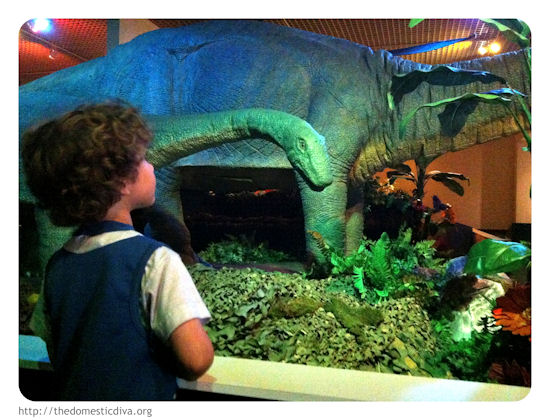 But as we rounded the corner, he saw his favorite long neck dinosaurs and all was well again. After going through the exhibit once he couldn't wait to go again and again (all the while staying very cautious of that T-Rex).
What is on your summer to-do list?